Syrian Refugee, Artist Finds Home in the Archdiocese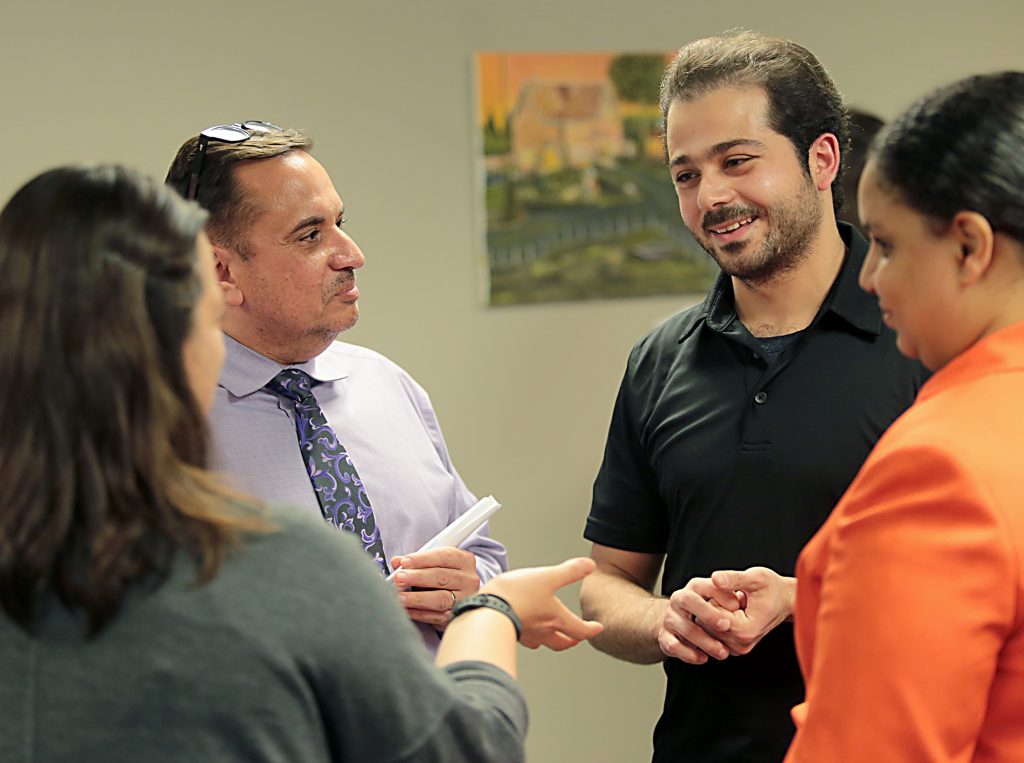 By Walt Schaefer
An oil painting on the wall of Ahmad Darouich's Bond Hill home depicts a police officer, arm outstretched, one hand up, telling the viewer to stop.
     It has a deeper meaning to Darouich, who came to the United States from Aleppo, Syria, 11 months ago. Syria's civil war, now in its fourth year, has ravaged Darouich's hometown and homeland. He escaped across the Turkish border with bullets flying overhead. Sponsored by Catholic Charities of Southwestern Ohio (CCSWO), Darouich, a Muslim, arrived here with his family before the much-debated travel ban took effect on immigration from Syria and eight other countries.
     "When I came here, I was surprised to see so many police around," Darouich said through an interpreter, explaining the painting. "In Syria, there are no cops. There are gangsters and gangs, and some call themselves police — but actually, what they are is something far different.
     "America is a well-respected country because of the law. In my perspective, there are regulations for everything, and that has caught my attention. I would not go back to Syria if the war ended next week — and it will not. 
     'If I thought the war would end right now, with my situation in the United States, it makes me see things differently. The quality of life is so much better. It is a great honor to live in a free country like this."
    Darouich, a self-taught artist who paints houses by day for a local employer and canvas on weekends and at night, recently sold six paintings at a show the Clifton Arts Center. He has been invited to the Cincinnati Art Museum for a showing soon. 
     As his family builds a new life in Cincinnati, the 28-year-old artist has filled their home with his work. Some of it speaks of the horror he witnessed, as well as beautiful memories of Syria. Kelly Anchrum, director of marketing and communications for CCSWO, said his parents, a sister, and a brother are with him in Cincinnati. Two other brothers are in Turkey.
     "Several Syrian refugee families here are separated from loved ones who were slated to travel here, and now they cannot," Anchrum said. "Catholic Charities expects to settle fewer than 240 refugees this year, far less than the 333 resettled in 2016.
      "Assisting refugees and immigrants is a fundamental Christian duty," she added. "Christians are called to welcome new neighbors with the same love and compassion we would want for our families. Migration can be a polarizing subject, but we cannot ignore families fleeing persecution, war, and violence."
     CCSWO is sponsoring an art exhibit, "Columbus Crossing Borders," at the National Underground Railroad Freedom Center to help Americans "experience the migrant's journey." The exhibit and a companion film "tell the story of forced migration," Anchrum said.  
     Several of Darouich's paintings are part of the exhibit. His canvasses reflect his life. "One expresses my situation in Syria — surrounded by pain and darkness, but I always see a glimmer of hope," he explained. Another "conjures the war in Syria — the jails, the blood, the torture — all of those things related to Syria today."  
       After escaping from Syria, Darouich approached USA for UNHRC, the UN Refugee Agency, and learned of a project aimed at bringing Syrian refugees to the United States. He and his family enrolled. After many interviews and a two-year wait, he was accepted and CCSWO offered sponsorship.
      "My decision was because of the government — arresting young people, torture, breaking of our spirit, destruction of Aleppo," he said. "I have seen people pleading to the government asking for their freedom and their lives. 
    "I remember standing by a group of protesters and there were five cars and there were scary people inside them. They looked like animals. These people in the cars were carrying weapons and sticks and swords. And behind the five cars there were two other 'police cars' and people were afraid. I did not move. I stayed silent as they were killing people in front of me."
    Darouich said he misses the university he left in Syria. "I was taking art and sociology, but I dropped out. I did not continue my study there because the government recruits people for the war in the school. I did not want to be a part of that. They choose people and yank them out of school to fight. I have thought about going to one of the universities in this area, but I have to think about the difference between my income and my study. 
      "I miss friends. There are a lot of things I miss — the food, and there are so many memories," he said.  But, I will not go back. I cannot be comfortable in Syria because there is no democratic government run by the people.
      "Here I will paint and be happy."