Posts Tagged
Father Bernard Weldishofer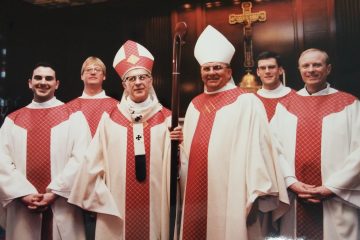 Reverend Ronald J. Piepmeyer died on July 4, 2021 in Liberty Township, Ohio. He was born on December 5, 1946 in Cincinnati, Ohio. He received a B.S. and M.A. in History from Xavier University, Cincinnati and a M.Div. from The Athenaeum of Ohio, Cincinnati. He was ordained on May 17,
By John Stegeman The Catholic Telegraph  Father Bernard Weldishofer is not claiming that if you build it they will come. He does, however, acknowledge that since the opening and dedication of the new church building, St. Francis de Sales parish in Lebanon has seen a 40 percent increase in mass
Thursday, June 10, 2010 ST. ANDREW DEANERY — There were multiple reasons to celebrate at St. Francis de Sales Parish in Lebanon on June 6.