St. Francis de Sales sees mass attendance increase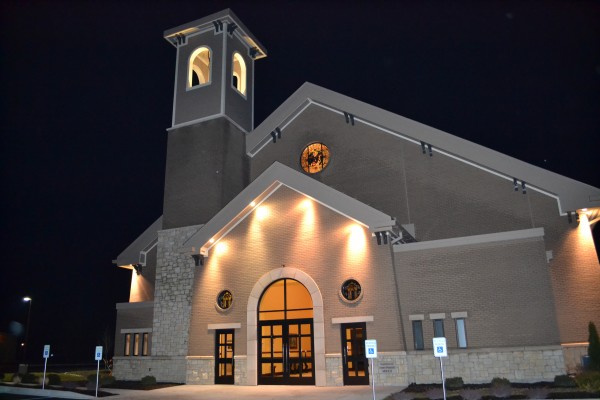 By John Stegeman
The Catholic Telegraph 
Father Bernard Weldishofer is not claiming that if you build it they will come.
He does, however, acknowledge that since the opening and dedication of the new church building, St. Francis de Sales parish in Lebanon has seen a 40 percent increase in mass attendance.
"There's probably many factors that have to do with that," Father Weldishofer said. "Lent is always a time when more folks come but we have seen an increase in people. I think part of it is there just wasn't enough room in the old church. At the 11 a.m. mass folks would have to stand or be out in the foyer and such and I think people knew that. I think there were folks in the area that would go to some of our neighboring that are perhaps much larger than what we were in the past. Now I think they might be starting to come here."
The new building, dedicated by Archbishop Dennis M. Schnurr in January, is the third church in the parish's 130-year history. While the build has a sleek, new look, it's incorporation of historic elements from other parishes still gives off the impression of a sacred space.
Twenty of the 22 stained glass windows are nearly a century old and came from the now-close St. Pius X in South Cumminsville. The cast plaster stations of the cross are nearly 100 years old as well, and came all the way from Boston. Bronze candlesticks (not out now because of Lent) came from St. Mark in Evanston and a monstrance from 1917 came to the church from the Glenmary Missionaries.
A window in the front of the church, as well as the statues of Joseph and Mary, came from the original church building.
"My whole goal was to make the best use of things that are out there because they're such beautiful items," Father Weldishofer said. "Folks are exceptionally pleased with it."
Parishioners also helped give the church its look. The baptismal font, some painting and the general contracting work were all done by parishioners.
Despite the new church's visual appeal, Father Weldishofer cautions that the spike in attendance might not be permanent.
"It's a little too early to tell but we have seen an increase," he said. "We did a February count much like the October count and the increase was a significant number so that's a good thing. Next week it could go down, but it was a 40 percent increase. I'm not sure if that's people coming just to see the new church. There's a lot of factors involved."
No matter the reason, St. Francis de Sales is clearly a growing parish. The old church building held 350 people, the new one holds 762. The new building cost $4 million to build, but should be paid off in just three years.
"Especially in these economic times it says a great deal that we were able to raise the necessary funds," Father Weldishofer said. "We have been talking about building a new church since long before I got here as pastor. As more and more people move out this way to Warren County and to Lebanon specifically there's plenty of area to build and grow."
The next project for the growing parish will be to turn the old church building into a usable multi-purpose space. After that, the plan is to build a parish center.
"It just emphasizes the generosity of the people themselves," Father Weldishofer said. "I think that's pretty telling. It was interesting how the community… was excited, even people who weren't of the parish. It was the talk of the town so to speak. I think that's always a good thing.
"Hopefully this will serve us well for years to come."