Teens say Steubenville conference inspires them, bolsters their faith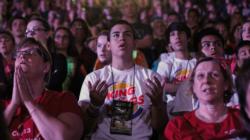 By Angela Cave Catholic News Service
JAMAICA, N.Y.  — The first Steubenville Youth Conference to be held in New York drew 1,800 teenagers from around the country Aug. 7-9 to St. John's University in Jamaica in the New York borough of Queens.
They came seeking to bolster their faith and left feeling inspired by the turnout and enlightened about topics such as spiritual friendships, self-esteem, recognizing sin, chivalry and surrendering to God.
"This experience is nothing like I've ever had before," said Olivia Helbach, an incoming high school sophomore who spent three days traveling by bus with a group of 97 other teens from central Wisconsin.
They donned T-shirts reading in Star Wars style, "Jesus Is My Life Saver," featuring a cartoon Jesus wielding a cross like a lightsaber.
"It was amazing," she told Catholic News Service. "There are over 1,000 people here, and everyone knows the same prayers and sings the same songs. There's a unity.
"Before," Olivia continued, "I was afraid to share my ideas with my friends and even my family. I feel confident expressing it now."
Olivia's friend Megan Manske, a fellow sophomore, chimed in to explain this phenomenon: "They're all here for the same reason you are."
Megan also took comfort in the fact that other teens struggle with the same issues as she.
"Being OK with yourself is a good thing," she learned from a women's talk with Leah Darrow, the former model and Catholic convert who preaches modesty and chastity. "You don't have to hate yourself. I've never been all right with my self-image. I feel better. God created us and God loves us for who we are."
Olivia appreciated a talk with speaker, vocalist and beatboxer Paul J. Kim, who told the audience to beware of sin creeping into their lives.
"It's gradual," Olivia said, recalling her own life's temptations, like drugs, promiscuity and skipping homework to see friends. "It's like leading you into more and more. You just have to remember your faith and what you believe. You have to take a step back and know if you do make a mistake, God will still love you."
Lauren Warnick, a 10th-grader from St. Mary's Parish in Washingtonville, New York, resonated with the same talk.
"Relationships that are grounded in Jesus will last, and the devil is real and will stare you right in the face," she learned. She also enjoyed singing and dancing under flashing lights to high-energy worship music. "It's amazing," she told CNS with enthusiasm. "It's what I expected and plus some. I'm going to go home and tell everyone all about it. I'm really happy to be here."
A group of boys from St. Raphael-Holy Angels Parish in Hamilton, New Jersey, echoed the others' sentiments.
"I'm having a blast!" said Steven Dressler, a junior who has been to other Steubenville conferences and always feels incentivized to work on his faith. "I don't pray much, and I don't read the Bible much. I do a lot of stupid things and I get in trouble a lot. Just coming here, I'm like, 'Wow, I should try to fix it.'"
The boys said the conference gives them the opportunity to bond and form a "bromance" — and to hear what it means to be a man and respect women.
Manny Ramirez, an incoming college freshman, said speaker Mark Hart, executive vice president of Life Teen International, "really knows how to connect" with youth. Ramirez's takeaway from his talks was, "You have to give God a chance to open yourself up to him. Once you give him that one chance, he's not going to let you go."
Life Teen hosts the Steubenville conferences, which have been an outreach of Franciscan University in Steubenville, Ohio, for 40 years. The New York gathering was one of four regional conferences held this year.
St. Mary Parish in Anna, Illinois, sent 11 teens to the conference.
High school senior Logan Mattingly said it gave him "a chance to experience college life," describing St. John's campus as "really serene."
He's a Steubenville conference veteran and calls the experience "a fresh start every year" to combat complacency in faith life. "You just forget what it's about and do it automatically," he said. "Seeing all the excitement and people cheering and clapping reminds me of how great it can be."
Junior Elle Basler said confession at her parish didn't compare to receiving the sacrament in a field house with 300 other people around. "Being in this atmosphere with so many happy people makes me more proud to be a Catholic and makes it easier to get involved," she said.
Eucharistic adoration also made an impression on many teens.
"It's an experience you don't really get to feel anywhere else," said Caroline Pitten, a junior from St. John Newman Parish in Merrimack, New Hampshire. "I feel peaceful. It's one of the mysterious things of adoration. Anything can happen, and I realize how important my family is."
Posted August 11, 2015