The Catholic Difference at College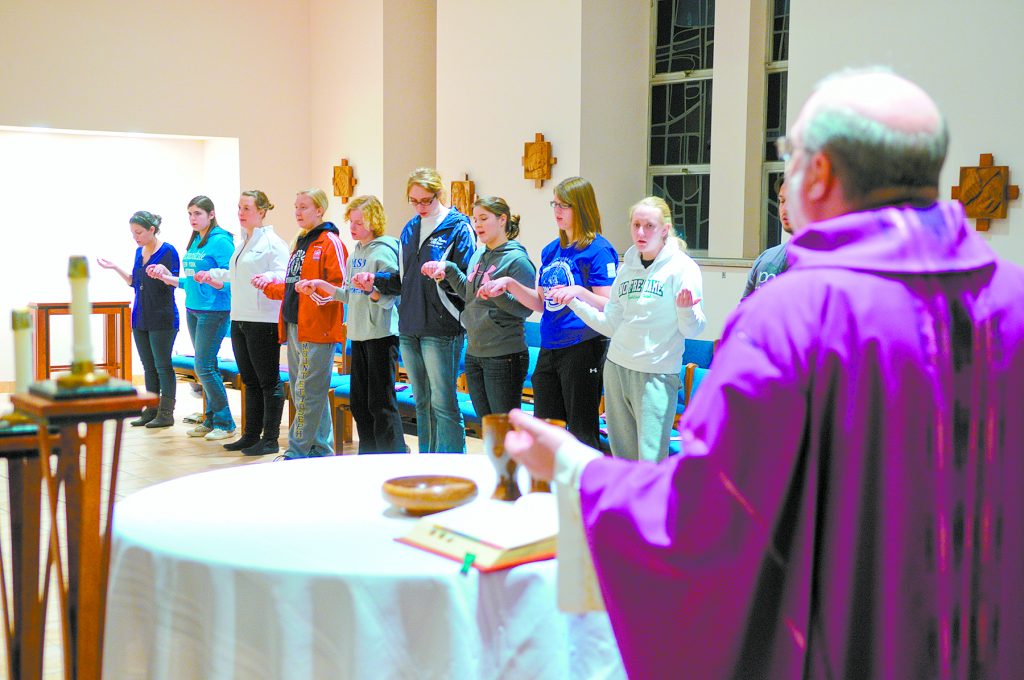 By Eileen Connelly, OSU
High school students are faced with a dizzying array of options during their college search.  A local native with parents who are both alumni, it was only natural for the University of Dayton to be on Jacob Montgomery's short list. Yet the young man also knew he had to find his own path, which ultimately did lead to UD — a place where he found a diverse and welcoming community and a myriad of ways to grow in his Catholic faith. 
     "I had never gone to Catholic school, so I was looking for a way to integrate my education with my faith," explained Montgomery, a junior engineering major. "That was definitely a draw for me. Plus, UD has a good engineering program and is strong academically, so I knew I'd be challenged in that way." 
     Students like Montgomery who choose to attend a Catholic institution of higher learning can expect an atmosphere that will foster spirituality and strengthen their relationship with God, empathize academic excellence, provide the chance to expand their worldview and be of service to others, and be supported by caring faculty members dedicated to their success. 
     Marianist Father James Fitz, vice president for mission and rector at UD, said the university's extensive campus ministry program plays a significant role in the faith formation and personal development of students. Each residence hall has a campus minister who actively engages the young people in faith-based activities, and student leaders guide their peers in faith sharing groups, retreats, Bible studies, prayer experiences and Mass. 
      "All of the halls have chapels that have been renovated in the last 10 years, and weekly Mass is offered," said Crystal Sullivan, executive director of campus ministry. "The chapels are always open so students can pray and be with Jesus. Students use them every day for a sense of peace and to experience the presence of God. You can't get that in a public university."
     UD students also benefit from the Marianist mission, Father Fitz said. "A strong part of our charism is building community and a sense of service in terms of transforming the world. We have the Marian Library, courses to reflect on the role of Mary in bringing Christ to the world, and as a model of spirituality." 
     "The chapels are always open so students can pray and be with Jesus. Students use them every day for a sense of peace and to experience the presence of God. You can't get that in a public university."
     Montgomery admits that during his first semester at UD he felt as though "I was just going through the motions with my faith. I didn't think about it, or how it influenced my actions or my life." 
     That changed when he was accepted into the Chaminade Scholars Program, which brings first-year honors students together to grow in their faith and understanding of whom they are called to be and what they are called to do. Now as a student leader involved in campus ministry, Montgomery said he enjoys sharing his faith with others and knows his own has been deepened through the connections he's made. 
     "It's good to be there for each other to see how we grow in our faith and discover what God is telling is us," he said. 
      "For me, I feel like you can't really live out your faith unless you're using it to work for the common good," said Donald Foley, a Xavier University senior majoring in social work. He came to XU via a Jesuit high achool in Milwaukee,. Actively involved as a retreat participant and leader at XU, he has also been engaged in a variety of social justice and service projects, including tutoring refugee students at Withrow High School. 
      "I really feel that I've been able to more clearly recognize God's presence in my life and what he's asking me to do through relationships and service here," he said. "It has to do with real life examples of people living out their faith, taking part in peer-led faith sharing groups, and having deep theological discussions with professors. 
      "What I really appreciate about Xavier is that when there are major social justice issues in the news, our president [Jesuit Father Michael Graham] is really good about making students aware of where we, as a Catholic Jesuit university, stand. It makes me really proud to be a student here, and proud as a Catholic to know that we, as people of faith, are committed to recognizing where humanity falls short and what we need to do to improve those situations." 
     Having been involved with both public and private institutions, Linda Schoenstedt, director, Faculty Programming for Mission & Identity and an associate professor at Xavier, said there is definitely a difference. "It's the emphasis on social justice, spirituality, and diversity," she noted. "The vehicle is provided to give students the recognition and ability to get outside of themselves." 
     For Xavier students, this begins with Manresa. Named for the town in Spain where St. Ignatius Loyola, founder of the Jesuits, reflected on his life, XU's first year orientation is designed to introduce students to campus and to each other before classes begin. "It's not easy to go away to school and feel like you belong," Schoenstedt said. "Manresa is not only a way to introduce students to Jesuit Catholic values, but to provide the opportunity to meet people and help students feel comfortable in their own skin." 
     The opportunities continue through the Dorothy Day Center for Faith and Justice, which Schoenstedt noted is an integral part of Xavier's mission to form men and women for others. Emphasizing inclusiveness across faith and culture, the Center offers service opportunities locally, nationally and globally, the chance for alternative spring breaks, retreats, and faith and justice immersion programs. 
      "We're trying to give students multiple avenues to grow — spiritually, intellectually and emotionally," she said. "We want to offer them ways to improve the community around them, to find their place, and live their faith."  
     Michael Sontag, dean of the  School of Arts and Humanities at Mount St. Joseph University in Cincinnati's Delhi neighborhood, said he thinks the value of attending a Catholic college, "on the largest scope, is being part of a tradition. Each school has its own mission, its own way of serving God, the church, and the community." 
     At the Mount in particular, he said, there is a grounding in the values of the Sisters of Charity of Cincinnati, who founded the school in 1920.
     "Something that is also a real benefit is being able to talk about faith and religion in the classroom," Sontag added. "It's welcomed and supported." 
     During his time at the Mount, Sontag said it's been a blessing to see students grow in their faith. "They're able to engage in new ideas at college, from the sciences to philosophy, all across the curriculum.
     "Within the context of a Catholic university, there are people around to help students integrate new knowledge with their faith, without being contrary to it. Having that compatibility between faith and reason really allows you to grow as a whole person, and there really isn't any part of yourself that you have to leave outside." 
     Students of other faith traditions can also find a place to call home at Catholic institutions, Sontag said. "The priority of respect and concern for all persons is taken so seriously at Catholic universities that non-Catholic students feel very welcomed and encouraged to share their perspective." 
     Emma O'Dell, a communications/new media studies major and incoming president of the Student Government Association at the Mount, is just one example. O'Dell, who is Baptist, said she wanted to attend a college with sense of community where she could deepen her spirituality. 
     "As a young person, you can be very insecure on your spiritual journey," she said. "But we're all in this together and need to help each through tough questions about our faith,
     "I really feel like being at the Mount has helped me become firmer in my faith. Wherever I go, the foundation in my faith will always be with me and it's something that won't be shaken."