The Catholic Telegraph honored at Catholic Press awards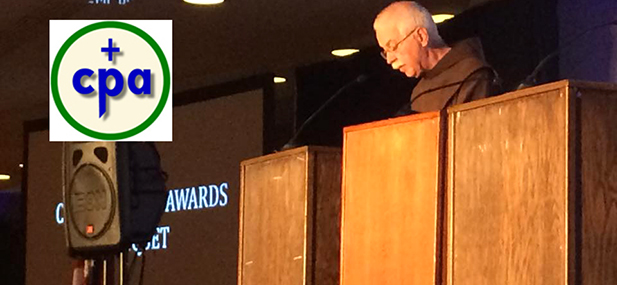 Staff Report
Roughly 300 individuals representing scores of publications and other media gathered in Buffalo, N.Y. from June 24-27 for the 2015 Catholic Media Conference. The final day of the conference included the Catholic Press Association of the United States and Canada awards banquet and The Catholic Telegraph was honored twice.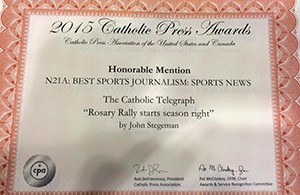 In the category of Best Sports Journalism: Sports News, New Media Editor John Stegeman took home two honorable mentions. Stegeman won for "St. Henry prayer service serves athletes from adjacent public school" and "Rosary Rally starts off football season right."
The awards mark the first for The Catholic Telegraph at the CPA banquet since 2011.
Another Cincinnati-based Catholic organization, St. Anthony Messenger, was strongly represented at the CPA awards. St. Anthony Messenger won several magazine division awards on the night,
including first place for Best Illustration either with Art Work or Photograph for "St. Peter's Regret" by Heidi Younger and Best Coverage of the 2014 Synod on Family for "Special Report: Synod on the Family" by editors Jeanne Hunt, Jim and Susan Vogt.
The Catholic Media Conference, according to the event website, "provides opportunities for networking and professional development for journalists, communicators, and service providers."
For a complete listing of winners at the Catholic Press Association awards, click HERE.
Posted June 27, 2015