The Catholic Telegraph joins Instagram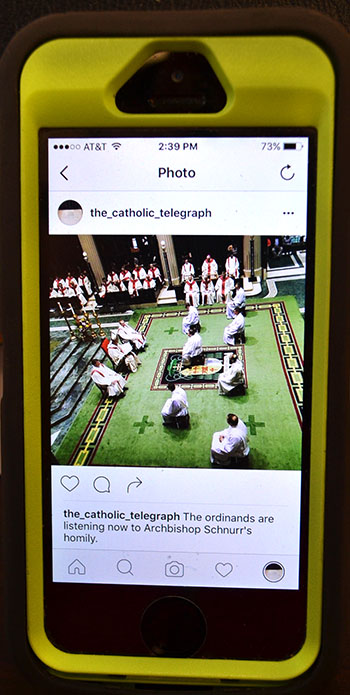 The Catholic Telegraph, official newspaper of the Archdiocese of Cincinnati, has joined the popular social networking app Instagram as part of ongoing efforts to engage a younger, more diverse audience of Catholics. Users may connect with the newspaper's newest account by searching the username the_catholic_telegraph within the app.
Instagram was founded in 2010 as a mobile app for photo sharing but is now a fully functional social network where users can share photos and videos privately and publicly, while following other accounts of interest.  Instagram claims more than 400 million monthly active users (MAU), which is far less than worldwide leader Facebook (1.55 billion MAU), but above Twitter (320 MAU).
"Our first editor, in 1831, said The Catholic Telegraph's primary purpose was, 'to aid in diffusing correct knowledge of of the Catholic faith,'" said John Stegeman, new media editor for The Catholic Telegraph. "To do that, they took the news where the people were — all over a vast diocesan territory. Our continued growth via social media is a continuation of that mission to bring the news to the faithful where they are. Today, many of them are online."
The Instagram app is available for free on most mobile devices. Instagram has only limited functionality via desktop computer use, but The Catholic Telegraph's account can be found at www.instagram.com/the_catholic_telegraph.
Among major networks like Facebook, Twitter, Pinterest and Tumblr, Instagram appears to have the largest appeal for users between 25 and 34 years old, but also a strong component with those aged 18-24.
The Catholic Telegraph has been active in social media since early 2009, in conjunction with the initial launch of TheCatholicTelegraph.com. The CT joined Facebook in February of 2009, Twitter in March of 2009 and Youtube in April of 2013.
The CT isn't the only Archdiocese of Cincinnati office to use Instagram. The Archdiocesan Chancery Archives, led by Sarah Patterson, joined the app in June of 2015. Patterson posts unique finds from local church history, such as a photo of a slipper worn by a pope, or interesting bits from past issues of The Catholic Telegraph on what she calls #TelegraphTuesday.
"We decided to start an Instagram account because it is a fun platform to be able to share the various bits of history we find in the archives that might not otherwise find the light of day," she said. "A lot of the things we find that go online may not warrant a full story or article, but it is fun nonetheless."
The archives' account can be found by searching "catholiccincyarchives" within the app or visiting www.instagram.com/catholiccincyarchives.