The Catholic Telegraph staff reflects on opening of historic conclave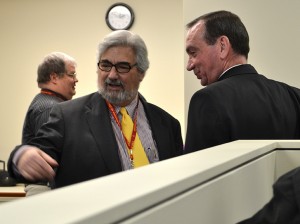 Staff Report
The Catholic Telegraph 
By nature, all conclaves are historic. They tie the Church in a clear and visible way to the apostolic succession of the previous popes. In a spiritual way, they are events in which the guidance of the Holy Spirit is assured.
Most conclaves have taken place after the death of a pope, causing a period of mourning. This conclave does not, as Pope Emeritus Benedict XVI is alive and well. Moreover, only one other conclave has taken place in the age of the internet, and social media's reach was not as extensive in 2005 as it is now.
Those factors have converged to create substantial interest in this conclave. Below are reflections from several of The Catholic Telegraph's staff members on what is a historic time.
Steve Trosley, Editor-in-Chief
In this age of jaded secularism, it's encouraging to see how much interest there is in the papal election and the Catholic Church in general. Regardless of what the media says, we still matter greatly as a church and as a faith.
Greg Hartman, Circulation Manager
I don't recall this much excitement in the past, and a feeling of the true universal church. The interest seems to be at every level, young and old alike, as well as many non-catholics seem very interested. It's an exciting time.
Eileen Connelly, OSU; News Editor
It's both humbling and exciting to witness history in the making with the election of our new Holy Father and a reminder of the oneness of our church and the faith we share. I join with my fellow Catholics in prayer and trusting that the guidance of Holy Spirit will be with us as a new shepherd is elected.
John Stegeman, Reporter
I was fortunate enough to have an assignment this morning that had me attend a Mass for the election of the new pope. It was humbling to be reminded that during that mass that millions of Catholics around the world were united, not just in our faith, but in the same cause of prayer. I have faith in the Holy Spirit and look forward to continuing to cover this historic time for the Church.