The Sound of Music


Bands Build Community at Catholic Schools by Bonny Van
Nothing heralds the change of seasons from summer to fall like the rat-a-tat-tat of snare drums in a high school marching band.
"The first football game always feels electric," said Carl Soucek, band director for 23 years at Carroll High School (CHS) in Dayton. "The sense of anticipation and excitement is paramount."
Throughout the summer, Catholic high school bands across the Archdiocese of Cincinnati were blowing their horns, clanging their cymbals and beating their drums as they prepared to hit the football field and stands this fall. Some rehearsals began the first week of June to learn spirit music and movements on the field. Introductory workshops, overnight camps and band practices filled other weeks, and by mid-July, many young musicians picked up their instruments and hit the field.
"As a marcher, getting into the swing of memorizing music and movements can be difficult, but the payoff is definitely worth it in the end," said drum major CeCe Sharp, a senior at CHS.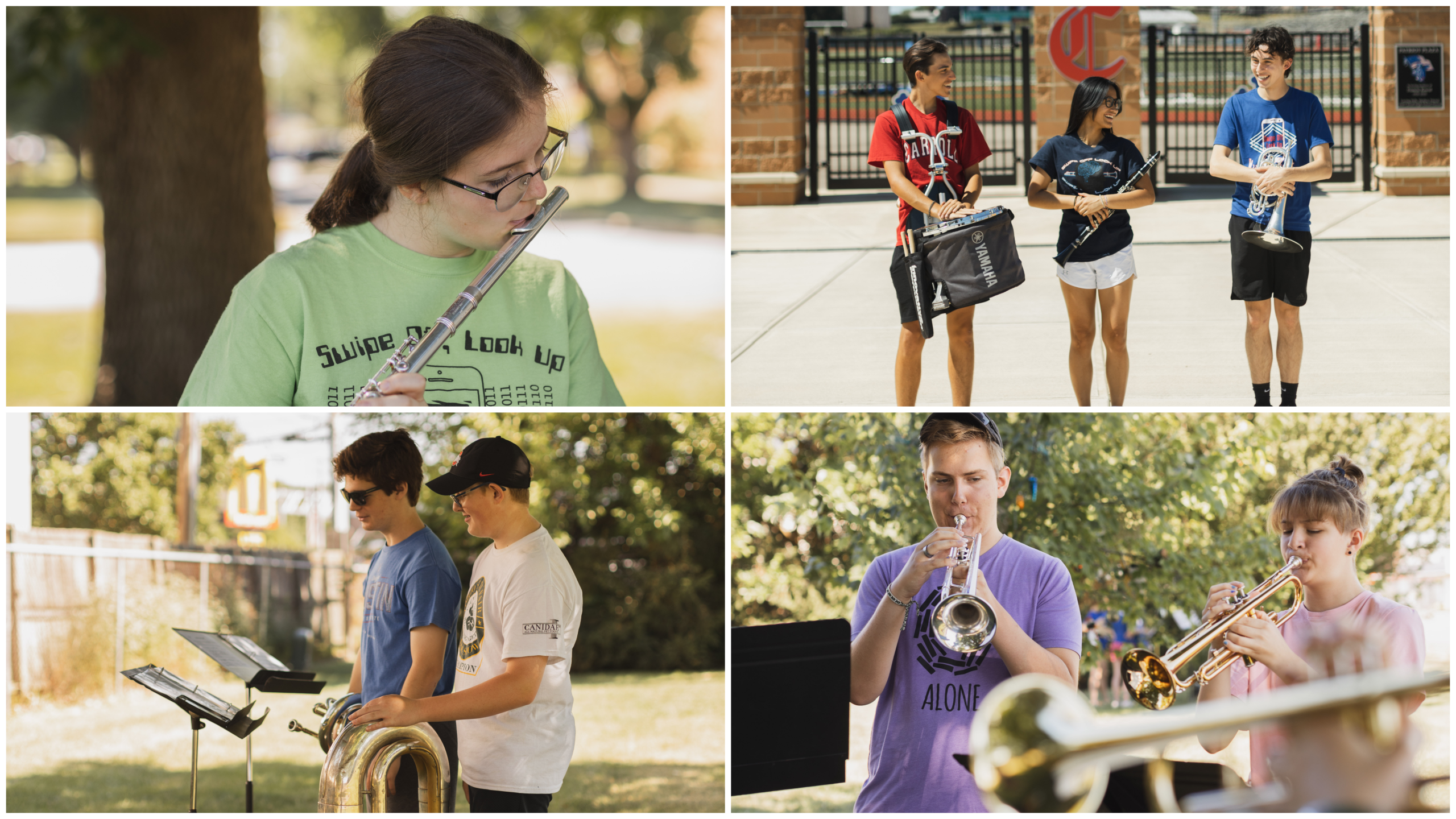 In addition to the notes and sheet music, band students must march to the beat of the same drum, working together to make music.
"Learning how you fit into the whole as a musician is challenging," said Sophomore Claire McEachen, who plays the alto saxophone in the CHS band. "There is a lot of personal responsibility as far as learning the music. There is a layer of trust between everyone while on the field and it can seem daunting having such a large amount of people relying on you. However, this layer of trust allows us to adapt when mistakes happen and motivates everyone to support one another."
And, that's why band programs are so special, according to Paul Kindt, director of the combined Mount Notre Dame (MND) /Archbishop Moeller band.
"Band is more about making great people than it is about making great music," he said. "From parents to staff to members, we keep the family spirit strong by working together and being social. There's an eight-person student leader team (the Core Team) whose only focus is team- building and creating family."
"The Carroll High School music department is a family," said Soucek. "Everyone looks out for one another, and families are drawn to help the program in many ways. The students find that sense of family among their peers as well. They feel safe, welcomed and appreciated not only by the staff, but by each other."
And the students concur. Carter Sokolis, a Junior trumpet player at Elder High School in Cincinnati, said his favorite part of being in the band is "the small-time communal aspect of it."
"I am able to have an impact and each person plays an important role," he said. "But most importantly, it is a time to hang out with some of my best friends both in and outside of school, further strengthening our bond through the shared experiences."
"There's such a special bond in the band," said Sharp, who plays the French horn. "When freshmen come to their first day of high school, they already have 60 or more people they can talk to, a place they can sit at lunch and a place to go before and after school."
The connections made among students extend past the band room and school halls.
Susan Cassidy, a second-year band director at Elder High School in Cincinnati, tells her students "music performs three major functions: art, entertainment and service."
"We serve the community in many ways," said Cassidy. "We march in community parades; some of the students have performed Taps at patriotic ceremonies; and some of my former students perform at Mass in their parishes. At our core, we are a service organization."
According to Cassidy, the Elder band program dates back to1930—she is only the sixth band director in the school's history. The pandemic put a damper on participation, so she started her term with just 27 students, but there are 45 students signed up for the coming school year and she hopes to grow to 100-strong by 2024. Kindt, an alumni of the Moeller band, has been rebuilding the MND/Moeller band since 2016, increasing from 19 students to the current 82. Meanwhile, the CHS band, formed in 1968, has held steady with 75-80 members.
Each band director does double duty by working in Catholic middle schools to develop new talent and interests. Cassidy said that even after getting the job at Elder, she kept her former position at Our Lady of the Visitation "since we need good feeder programs in the Catholic grade schools if we want strong high school band programs."
And that is music to everyone's ears!
This article appeared in the August 2022 edition of The Catholic Telegraph Magazine. For your complimentary subscription, click here.