Thousands Cross the Bridge for Life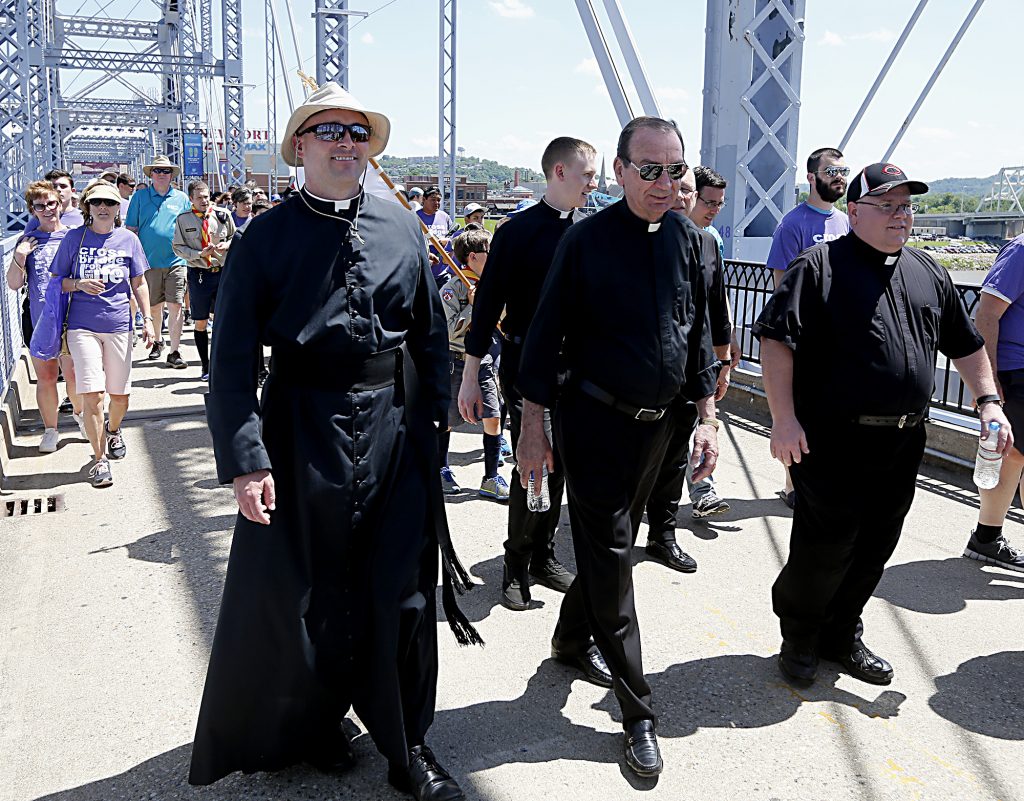 Affirming life and love at area's largest pro-life event
By Gail Finke
Despite dire threats of thunderstorms, the 13th annual Cross the Bridge for Life celebration took place June 3 under a cloudless, azure sky. As always, not a drop of rain fell.
     "A lady called me to say that this was the first year she was going to miss it," said Karen Riegler, one of the event's founders. "She said her son was graduating, and they scheduled the party for that day because it never rains for Cross the Bridge for Life."
     The largest pro-life gathering in the region, the annual event draws thousands of people from both sides of the Ohio River and is particularly popular with families because of its free music, balloon creations, and face painting.
     The signature walk across the "Purple People Bridge" and back is led by pipes and drums from the Ancient Order of Hibernians, Fourth Degree Knights of Columbus, members of the American Heritage Girls, area priests and seminarians, and members of the Troops of St. George. This year, both Covington Bishop Roger Foys and Cincinnati Archbishop Dennis M. Schnurr walked the bridge and gave attendees their blessing.
     More than 20 area pregnancy care centers and other life-affirming groups, including both dioceses, sponsor the event. Conceived as a rare opportunity to make a large pro-life presence without a protest, Cross the Bridge for Life is a way for people who can't attend, or are not comfortable with attending, pro-life demonstrations to make a public impact while enjoying each other's company. For many it's a first step to other pro-life work; for others it's a yearly day to put their faith in action.
     Nail salon owner Lisa Bayne works as a face painter almost every year, spending hours under a dark tent with a never-ending line of eager little boys and girls. A parishioner of Immaculate Heart of Mary Parish in Burlington, Kentucky, when the event began, she had painted faces at the parish festival and was glad to ply her skills at Cross the Bridge for Life as well.
    "At first, I painted tiny pictures on kids' cheeks," she said, until friends urged her to think beyond nail art. "Now I use the whole face. I love to see the boys as Spider-Man or tigers, and the girls as fairy princesses with lots of glitter. I love how their faces light up when they see themselves in the mirror."
     While many people associate the pro-life cause with abortion, this year's even speaker was Bobby Schindler, founder of the Terry Schiavo Life & Hope Network, who spoke about his family's losing fight to save his sister's life in a 2005 court battle that made international news. 
     Schiavo "became, simultaneously, the face of the Right to Life movement – and of the 'Right to Die' movement," Schindler said, urging the participants to live as witnesses for the dignity of all life. "Far too many people believe that our life's worth diminishes when our ability diminishes," he said, making it impossible to talk about dignity. 
     "We have become a nation divided by language. For them, for a person with reduced ability, the only way to have dignity is to die. "We need to heroically witness a culture of life and love in our families and neighborhoods, so that we become a nation with a shared language that affirms life and love."
     Cross the Bridge for Life takes place each year on the first Sunday of June.
    For a gallery of photos, click here.