Throwback Thursday: The Great Flood of 1913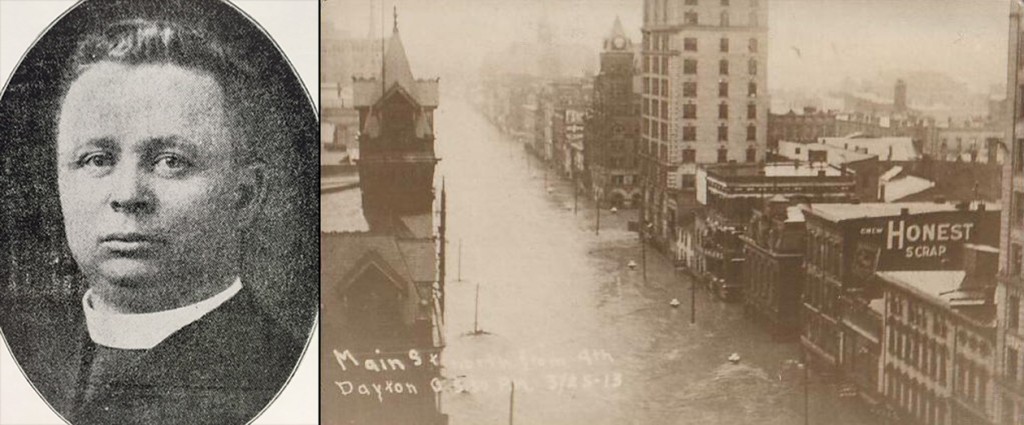 In the spring of 1913 a massive storm stretching from Nebraska to Michigan to Vermont made its way across the country. Tornadoes in the Great Plains claimed several lives and was then soon followed by heavy rainfall. The storm's scale of destruction had never before been seen in the United States, and the town hit the heaviest was Dayton, Ohio.
Rainfall started on Good Friday, March 21, and three series of storms continued until March 26. In that time, the banks of the Miami River rose and some areas of the city were under 20 feet of water.
To respond to the needs of the Catholic Churches not only in Dayton but throughout the entire archdiocese, Archbishop Henry Moeller sent a message to all the churches asking for details about parishioners made destitute, those affected but not as severely, and the damage done to church property. As it took some time to take stock of the damage done and to collect names, in late April and early May several letters reached the Archbishop with names and addresses of parishioners in need. Parishes varied in the amount of destruction done. Several parishes in Cincinnati were affected by the storm, especially along the Ohio River, but none so much as those in Dayton.
For the full story, CLICK HERE. 
Beginning with today's post, The Catholic Telegraph is partnering with Laboring on the Mission, the official blog of the Archdiocese of Cincinnati Chancery Archives, for Throwback Thursday stories.
Welcome to Throwback Thursday, a weekly online feature wherein users of social media share an old photo or anecdote about times gone by. The Catholic Telegraph partners with the Archdiocese of Cincinnati Chancery Archives' blog Laboring on the Mission to bring you a bit of local history each week.
Recent Throwback Thursdays
Catholics fight for conscience rights in 1853
Auxiliary Bishop's resignation leads to new archbishop
Historic papal election, itty bitty headline
Little Sisters of the Poor home dedicated 40 years ago
Consider getting the print edition