Tidy, freshly painted city cheerfully awaits pope's arrival in Cuba
March 26, 2012
By Wallice de la Vega, Catholic News Service
SANTIAGO DE CUBA, Cuba (CNS) – Santiago de Cuba was ready for Pope Benedict XVI.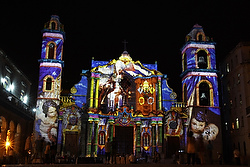 A quick out-and-about mid-morning March 25, the day before the pope's arrival in the city and in Cuba, revealed a freshly paved main airport road, spiffy clean streets and parks, and very cheerful "santiagueros."
"It has been a very quiet few days lately," said Jose Orengo, a young local tourism entrepreneur who has been working on the pope's visit since February. "Like for example, last night, everyone was home and the neighborhood was pretty quiet, which is rare here."
As observed by many, the government and the church have put on Santiago's best face for the occasion. That also means painting buildings, trimming trees and making sure the local residents understand this is a state event as much as a religious one.
March 26, Pope Benedict's arrival date, was to be a local holiday, and pretty much everyone was expected to come greet the pope along the road in the afternoon and join him for Mass in the evening.
"All the people who will be lining up on the road tomorrow have been carefully scheduled," said a guard at Antonio Maceo Revolution Square, who did not want to be identified. He added that children, particularly, would line the roadsides.
The large square was where Pope Benedict was to celebrate Mass. Some residents expected it would be too small for the multinational crowd.
Under sunny, clear skies, the final sound, staging and crowd-accommodation touches were taking place at the square.
"See? We are really, really ready for Benedict," said Orengo. "I don't know about Havana, but Santiago is ready."