Triple wedding combines commitment with culture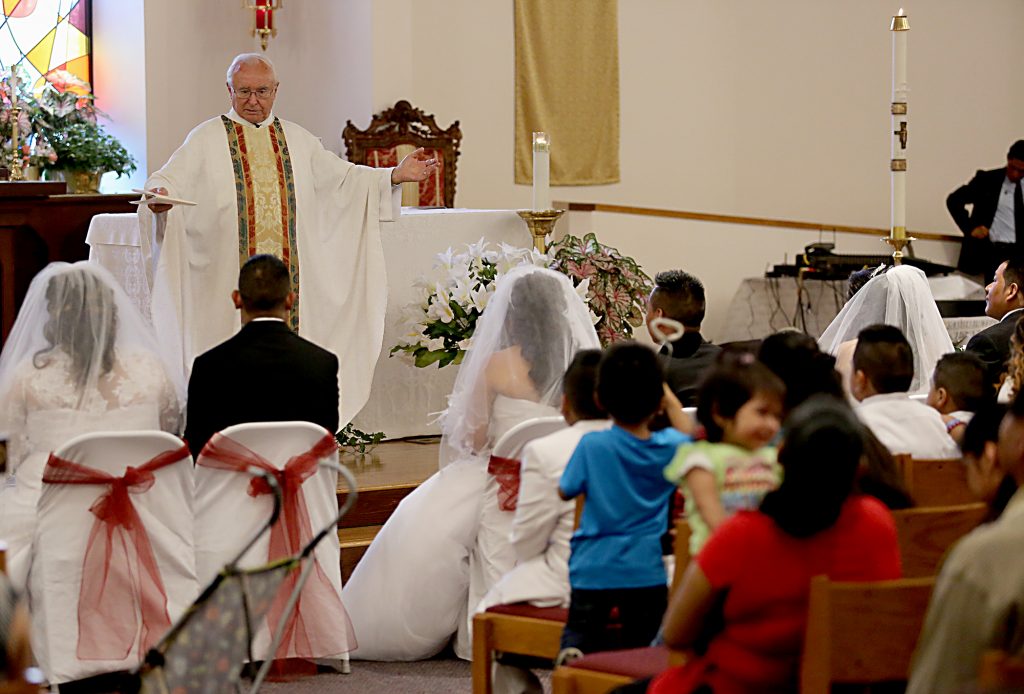 Three Guatamalan couples tie the knot at St. Ann, Groesbeck
By Patricia McGeever
Commitment combined with culture May 21 as three brides and three grooms exchanged vows in a triple wedding. It was a celebration of a sacrament that began when the seeds were planted decades ago in Guatemala, but blossomed in Groesbeck at St. Ann Parish.
"Latino style has celebration and celebration is important," said Comboni Father Louis Gasparini, director of Hispanic Ministry for the Archdiocese of Cincinnati.
The Italian-born, Spanish-speaking priest was the celebrant.
It was a long road to the altar for the couples in this wedding trifecta. Catalina and Ramiro were married in a civil ceremony in Guatemala more than 19 years ago. There are very few priests in Guatemala, so the opportunity for a Catholic wedding isn't always available and many can't afford the costs involved. There is also very little instruction to prepare couples for the sacrament of marriage. In the United States, there was a language barrier. So they went about their lives, eventually having five children. They felt the need to make a change after attending a retreat at Our Lady of the Holy Spirit Center in Norwood.
Through an interpreter via email, the couple said at the retreat they had their "first true encounter with God, which made them realize they wanted their union to have God's blessing."
They are among the dozens of Latinos who regularly attend Mass and charismatic Hispanic prayer services at St. Ann. Most of the couples are not married. Rosalinda and Armando lived together for nine years and have three children. The retreat made them realize "God's blessing was missing to have that complete state of happiness," the couple said, also through an interpreter via email. They said God changed their lives entirely.
Hilda and Herminio, together 10 years with two children, said their "desire to be able to participate in the sacraments of the church and above all, be in a state of grace," is what moved them to the altar.
Father Gasparini said all six were baptized in Guatemala and that faith was a part of their upbringing. "There's not a lot of information but there is love, commitment, faith, and a sense of God," he said.
"We hope the rest of the couples who are not married will get motivated," said Maria Bolanos, the Hispanic ministry coordinator at St. Ann.
The couples took marriage preparation classes at St. Leo the Great in North Fairmount since St. Ann doesn't have a Spanish-speaking class. But before they could walk down the aisle, they met with Father Thomas McCarthy, the pastor at St. Ann, who determined they were sufficiently prepared and the wedding could proceed. About 350 people attended and the reception was held in the parish gym.
"They had this place decorated to the nines," said Ruth Ravenna, a volunteer with the Hispanic ministry at St. Ann. "It was beautiful."
She said she had no idea how much the Hispanic ministry at the parish would blossom in the almost four years since it was founded.
"In the last three and a half years we've had 16 baptisms," she said. "This year we had 17 Hispanic kids make their first Communion. Seven adults went through confirmation classes, and seven junior high students were confirmed." There are 88 children taking religious instruction classes at St. Ann and one-third of them are Hispanic. So, more marriages aren't out of the question.
The couples' wedding day was filled with rituals from their native land and the entire Hispanic community was invited to witness it. That's something Father Gasparini welcomed.
"I want these to be celebrations," he said, "and not performances."