UD Center serves America's Catholic Schools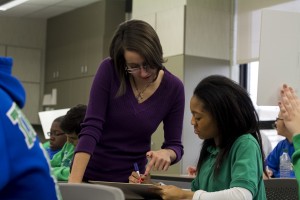 Catholic schools: communities of faith, knowledge and service
By Susan Ferguson
The University of Dayton Center for Catholic Education (UDCCE) seeks to collaborate with Catholic schools in the Archdiocese of Cincinnati and across the country to form communities of faith, knowledge and service. Inspired by our Marianist roots, this has been our mission for 20 years. This Catholic Schools Week we would like to share a few of our stories with the faithful of the Archdiocese of Cincinnati.
Through the effort of the UDCCE initiatives, a young teacher seeks to share his faith with students; a social worker calls on those who can share their treasure with families wanting to bring Christmas joy to their children; a priest and a superintendent inspired by prayer share love for the beauty of God's creation. These stories draw the UDCCE team together and are evidence of witness to encounters with Christ.
FAITH
To Teach as Jesus Did is a seminal church document that describes perspective, attitude, and methodology for those called to the vocation of a Catholic school teacher. It provides guidance to encounter Christ in the work of teaching. With this call in mind, the center has housed Lalanne, a teacher service program, for 17 years. In that time, 170 teachers have committed two years to teaching in under-resourced Catholic schools, living in a faith community, sharing their stories of love and challenge, supporting each other, and growing spiritually and professionally.
Lalanne teachers bond with their students and families as well as with each other. One of our first Lalanne teachers was so at home with his first school that he never left.. Surely the Holy Spirit guides this work How fortunate that a place for this exchange exists, a place where important questions of faith, hope and love are available to those seeking Christ that will inspire students into adulthood.
Another Lalanne teacher helped kindergarten students appreciate and memorize the rosary and videotaped their faces as they proudly recited this special prayer to Our Lady. How precious are the faces of these little ones chanting Mary's given words as they begin to know her and the path she shows to love her Son.
The work of Lalanne teachers are reminders of encounters with Christ that happen daily with so many in Catholic schools.
KNOWLEDGE
For the past five years the Center for Catholic Education has inspired local Catholic school teachers as well as teachers from around the country through the Catholic Education Summit. Each year in June or July, the UDCCE hosted Catholic school experts to share their wisdom, best practice, and faith to lead discussion, pose questions, and motivate action that promotes faith formation and academic excellence in Catholic schools. Topics explored include: partnerships between P-12 Catholic schools and Catholic colleges and universities, urban Catholic schools, academic excellence including standards and the integration of Catholic identity, leadership, family engagement, and rich prayer experiences. The exchanges of this event ripple throughout the school years with innovative practices in classrooms that enhance academic achievement and deeper relationships with Christ through reflective prayer.
In the summer of 2016 Father Michael Fish, a spiritual director from the New Camaldoli Hermitage in California, and Paul Tratnyek helped Catholic educators see the power of Christian meditation in Catholic schools. Tratnyek, a former superintendent of Canadian Catholic schools, encouraged daily practice of listening to God's voice calling us to love that creates a peaceful, calm, and soul filled culture in schools which choose to pause each day to reflect upon gifts given and shared. In addition to this call to prayer, Gail Donahue, an instructional coach from Notre Dame of Maryland University, and Katie Poeppelmeier, an educational consultant with SOITA (Southwestern Ohio Instructional Technology Association) presented the most up to date means to enhance lessons with technology to ensure students readiness to develop their talents to fully serve their God and in so doing, their communities.
In addition to the Catholic Education Summit, the UDCCE has partners with the National Catholic Educational Association (NCEA) to offer workshops and conferences meant to share expert knowledge and stimulate faith-filled, excellent educational practices that ultimately bring students in Catholic schools to come to know Christ in their work and their lives. The next Catholic Education Summit will be held June 22, 2017.
SERVICE
As Catholic schools love and serve students and their families from all walks of life and economic conditions, ECHO (Empowering Children with Hope and Opportunity), helps minimize non-academic barriers to learning. Now serving in 12 schools in the Dayton and northern regions of the archdiocese, ECHO provides mental health and social work services to students in Catholic schools. Principals note their deep appreciation for ECHO's services and proclaim the positive changes in their schools.
Twenty percent of children and teens encounter mental health challenges. Of that number, only 20 percent receive services. As the number of families encountering economic challenges has also risen, effects of poverty magnify social and emotional needs of a significant number of students in Catholic schools. ECHO counselors provide prevention services as well as crisis and ongoing counseling. Some schools also receive social work services through the family advocate. ECHO's Giving Angels Christmas effort brings joy to many families with warm coats, hats, and gloves, as well as a few wants that bring broad smiles on Christmas morning.
The presence of ECHO counselors and the social worker help Catholic schools provide for the education of the whole child, particularly in matters of social and emotional well-being. As teachers and principals are Christ's hands, feet, and heart, ECHO personnel also provide support for students and their families to grow in faith and knowledge.
As Catholic schools are communities of faith, knowledge, and service, the UDCCE gives witness to these as well through collaboration with the Archdiocese of Cincinnati, other mission-driven centers at the University of Dayton and other Catholic colleges and universities, and with our community partners to help bring God's kingdom to all.
Ferguson is the director of the Center for Catholic Education at the University of Dayton.