University of Cincinnati names Zalar chair of Catholic studies
August 1, 2012
By Eileen Connelly, OSU
The University of Cincinnati has named Jeffrey Zalar as the new chair of Catholic studies beginning this fall semester.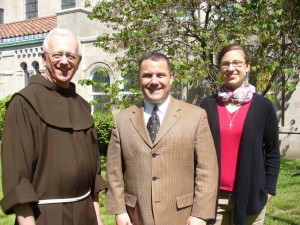 The university received a $2 million gift in 2009 from the Ruth J. and Robert A. Conway Foundation to endow the chair. The Conways envisioned opening a strong local and global dialogue with their gift, encouraging conversation in a range of disciplines, such as history, art, literature, political science, philosophy, classics, women's studies, economics, sociology, geography and anthropology. They also hope the program will complement other humanities courses and programs that touch on religion and spirituality, including Judaic studies, and enhance the futures of students who will live and work in an ever-growing and diverse global community.
"These topics are all very much a part of the church," Robert Conway told The Catholic Telegraph in 2009. "All of these things make for a fascinating curriculum, both for those who stay abreast of it and those who haven't been educated in the faith. We saw this as a good opportunity for our foundation and UC."
Franciscan Father Al Hirt, pastor of St. Monica-St. George Parish Newman Center, which serves the Catholic community at UC, first envisioned a chair of Catholic studies at the university six years ago. He approached university officials with the idea and received endorsement from now retired Archbishop of Cincinnati Daniel E. Pilarczyk. Additional funding became available over the past several years and enabled a search committee to move forward to fill the position, Father Hirt said.
The holder of the newly endowed chair in Catholic studies is expected to develop a comprehensive plan for advancing scholarship in Catholic studies and serving the broader community. This plan has several components, including new opportunities for the study of Catholicism at the graduate and undergraduate levels,  and public lectures and conferences open to faculty, students and the wider community.
"We envision this endowed chair to be an individual ready to engage the entire community in thought, discussion and interaction regarding Catholicism and its relevance and impact on society at large," Father Hirt said. "Jeff in his new role will definitely advance the presence of the Catholic church at UC and in the larger community."
"We're very excited about Jeffrey Zalar joining us as the inaugural chair of Catholic studies," said Valerie Hardcastle, dean of the College of Arts and Sciences. "The position will help us expand and solidify our offerings in religious studies, as well as give us a better way to reach a student population on campus. But, maybe more importantly, Jeff is known for his teaching skills and his dedication to students. I know that he will have an immediate positive impact on both undergraduate and graduate students."
For his part, Zalar, calls it an "act of grace," that he came across the position while scrolling through other listings on an academic job site. A lifelong Catholic, Marine Corps veteran and avid reader and researcher, Zalar brings a variety of practical, academic and spiritual experiences, along with strong familiarity with Catholic tradition to the role. He holds degrees in theology and history from Marquette University and a doctorate in history from Georgetown University. Zalar's career began at Valparaiso University in Indiana, where he participated in the Lilly Fellows Program, which is geared toward excellence in undergraduate teaching. At Pepperdine University in California, he gained what he describes as "invaluable experience" establishing and running academic programs. At the University of Wisconsin, he taught broadly in history, the humanities and religious studies.
"This varied background has helped prepared me to administer the interdisciplinary program in Catholic studies envisioned by the University of Cincinnati," Zalar said. "I hope to develop a program I can grow with the help of my academic peers, students, campus ministry and the broader Catholic community. Teaching about Catholicism requires a broad approach because Catholicism itself is so diverse."
"My role is to provide a serious and sustained study of Catholicism," Zalar added, noting that Catholic scholarship serves a humanistic purpose, promoting the "causes of justice, reconciliation and mutual understanding. That means dialogue with one another. My goal is that students will gain an understanding of the global significance of Catholicism so relationships can be established and differences can be overcome, so the world shrinks as the students are sent out into it."
Zalar has formed an advisory board of his peers and Catholic representatives to provide guidance and wisdom as he moves forward in developing future student programs as well as offerings for the general public, including a speaker series. His first course at UC, "The Catholic Intellectual Tradition," will be offered at the undergraduate level through the history department in spring 2013 and will examine the history of Catholic intellectual life from the foundational theological controversies of the fourth century to the present.
Zalar and his family relocated to Cincinnati when he accepted the position and now reside in Anderson Township. Wife, Kim, is a cardiac nurse; daughter, Rebeccah, will be a freshman at St. Ursula Academy; and son, Joseph, and daughter, Paula, will be in the seventh and fourth grades at St. Mary School in Hyde Park.