Ursuline Academy Announces Recipient of Sister Xavier Ladrigan Excellence in Education Award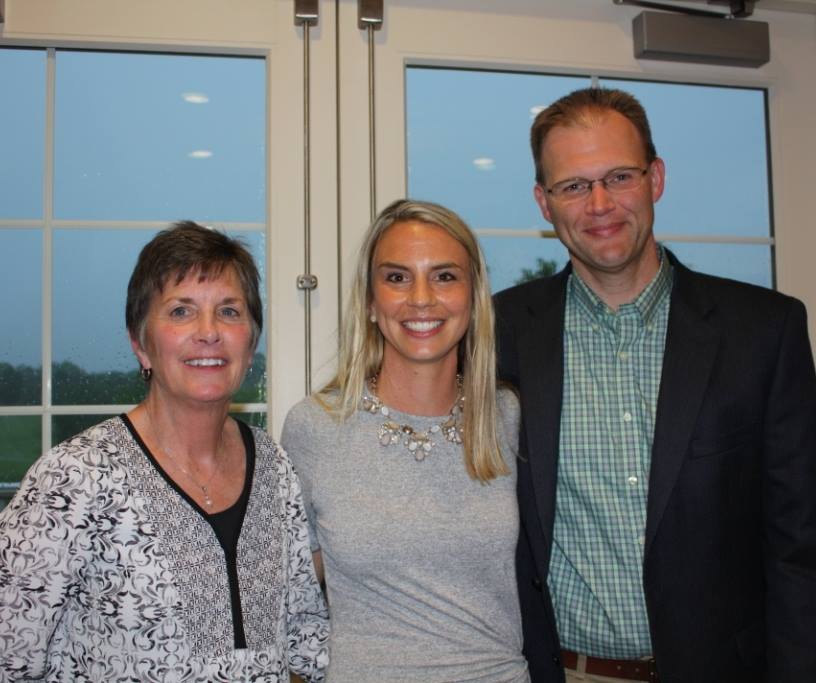 Meghan Kemphause of White Oak has been named the 2017 recipient of Ursuline Academy's Sister Xavier Ladrigan Excellence in Education Award. The award was presented at the annual faculty recognition dinner May 24, 2017.
The Sister Xavier Ladrigan Award was inaugurated in 1992 to honor Sr. Xavier Ladrigan, OSU as she retired from Ursuline's Board of Trustees. Sr. Xavier served as the Superior General of the Ursulines of Brown County and was largely responsible for Ursuline's move to Blue Ash in 1970. She devoted her entire life to education. The award is presented each year to a deserving individual with the knowledge and great faith that her legacy will live on in those who demonstrate an acceptance of the challenges given to each of us.
This is the fourth year that Ms. Kemphaus has taught chemistry at Ursuline Academy. Ms. Kemphaus was nominated by parents, students, and fellow faculty. She was especially lauded for her dedication to her students, her encouraging and welcoming spirit, and her constant effort to make chemistry relatable and valuable for all of her students. Student nominators expressed sincere gratitude for Ms. Kemhaus's constant encouragement in the classroom, and for her interest in her students' development as Ursuline women.
In her remarks about Ms. Kemphaus, Ursuline President Ms. Sharon Redmond shared comments from the many nominations. "Ms. Kemphaus always believes in you, and never tells you your dreams are unlikely," Ms. Redmond said. "Instead, she bolsters that confidence by stating that you will accomplish whatever it is you hope to do… While there are truly some amazing teachers at Ursuline, none have stood out to me the way Ms. Kemphaus has."
With this recognition comes a cash prize, along with funding for professional development for the recipient.
---
Ursuline Academy is an independent Catholic college-preparatory school for young women in grades 9 –12. Founded in 1896 in Cincinnati by the Ursulines of Brown County, St. Martin, Ohio, the school has been located at 5535 Pfeiffer Road, Blue Ash, Ohio since 1970.