Ursuline Students Attend Junior State of America Winter Congress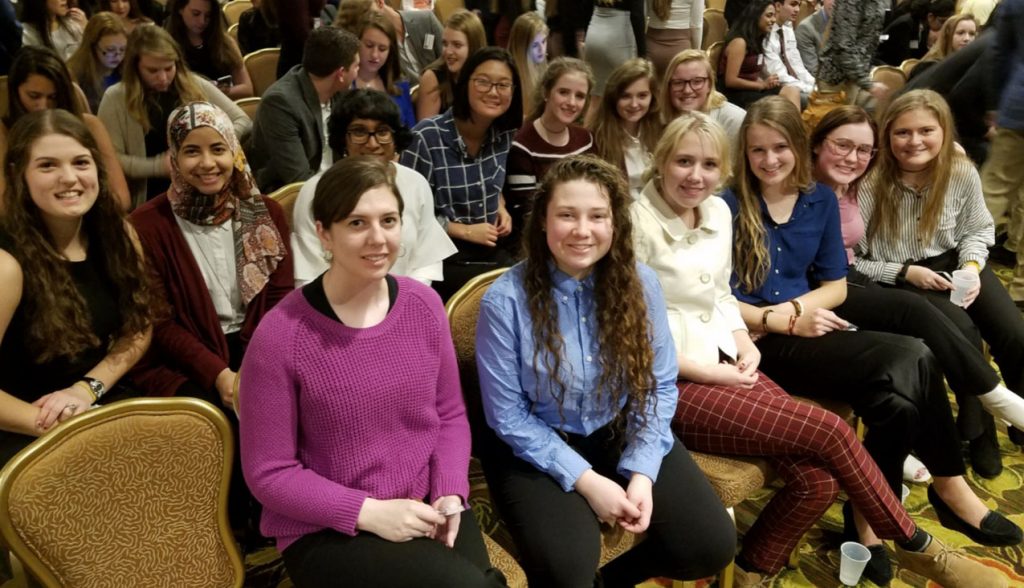 Cincinnati, OH – February 18, 2018: Twelve members of Ursuline Academy's Junior State of America chapter attended the JSA Winter Congress held in Washington, D.C. February 16-18, 2018.
The mission of JSA is to strengthen American democracy by educating and preparing high school students for life-long involvement and responsible leadership in a democratic society. The Winter Congress convention allows student members to participate in debates modeled after Congressional-style legislative processes. Delegates write and submit their own bills to be debated at this convention in both House and Senate Chambers. After a bill is passed in both the House and Senate, in both initial and full committees, it becomes a law. Each chamber is moderated by a chair and a clerk. Winter Congress also hosts a variety of political parties, which delegates can participate in by applying to serve as party chairs or whips, or by attending party caucuses.
Thami Pathmarajah '18 of Sycamore Township, co-president of Ursuline's JSA Chapter, reflected on her experience attending the Winter Congress: "My experience at Winter Congress reaffirmed my interest in public policy. The parliamentary-style debates, which covered everything from immigration policy to the monopolies held by pharmaceutical companies, demonstrated the ability of young people to approach complex problems with open minds in a bipartisan manner. Thus, JSA truly fulfilled their mission to promote meaningful civic engagement through this convention."
---
Ursuline Academy is an independent Catholic college-preparatory school for young women in grades 9 –12. Founded in 1896 in Cincinnati by the Ursulines of Brown County, St. Martin, Ohio, the school has been located at 5535 Pfeiffer Road, Blue Ash, Ohio since 1970.