What keeps me Catholic? Do we dare encounter nature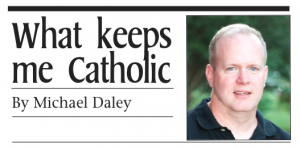 The commercial begins with a real nostalgic feel to it. Old photos in the background. Catchy tune in the air. It then proceeds to ask three generations the same question: When you were a kid what did you do for fun?
The "grandparent" generation speaks of blueberry picking and growing watermelons and plantains. One fondly recalls during winter of inventively taking a metal sign and going sledding with it. Another remembers an encounter with a bear while fishing. The "adult" generation similarly reminisces of going door to door and gathering friends. Days would then be spent playing hide and seek, balls games of all sorts, and building massive forts.
The commercial then takes on a decidedly different tone when the "child" generation appears. In response to the question they answer, expectedly and enthusiastically, playing video games, watching television, texting, and similarly related activities. The time they admit spending on these pursuits is startling. Watching their grandchildren and children talk the grandparents and parents aren't so much embarrassed but sad. Tears actually come to some of their eyes. They realize in a dramatic and simple way what their children are missing spending so much of their lives in a technological bubble.
Besides trying to sell a granola bar, the commercial ends by encouraging viewers to rediscover the wonder and joy of nature. Imagine that.
About the same time, I came across another commercial. Actually it's a spoof prescription drug commercial. But, as they say, there's a fine line between truth and humor. It begins with a series of questions: Are you feeling tired? Irritable? Stressed? Well you might try nature. The voiceover then prescribes Nature Rx to relieve the crippling symptoms of modern life which include cynicism, meaninglessness, uncontrollable rage, and obsession over the smallest of details.
It ends with a cautionary warning: Nature may cause you to slow down, quit your job, or seriously consider what – insert blip– you're doing with your life. Dare we risk encountering nature?
To top it off, I recently saw a special report CNN aired called "#Being 13: Inside the Secret World of Teens." The program spoke with more than 200 students about their social media habits. In this regard one quote particularly struck me: A young girl said: "I don't like dealing with things face to face because it's really easy to hide behind your phone and on face to face, like you have to deal with the other person."
In light of the above examples, please don't get me wrong. I am no chicken little forecasting technological doom and gloom. In fact I use technology – for the better – every day whether it be transportation, education, medicine, nutrition, and communication. Like Pope Francis in his recent encyclical, Laudato Si, I agree that "Technology has remedied countless evils which used to harm and limit human beings."
Yet, I too have become concerned by what can be called the Technocratic Paradigm. In ways never before imagined science and technology "have given those with the knowledge, and especially the economic resources to use them, an impressive dominance over the whole of humanity and the entire world."
As Pope Francis goes on to say, "There is a tendency to believe that every increase in power means 'an increase of 'progress' itself, and advance in 'security, usefulness, welfare and vigour; …an assimilation of new values into the stream of culture,' as if reality, goodness and truth automatically flow from technological and economic power." Like the Sabbath (c.f. Mark 2:27), it appears that at times we have been made for technology rather than technology for us.
The Catholic tradition then is not opposed to technology just the Technocratic Paradigm whereby we become separated from creation and "the intrinsic dignity of the world is compromised." What the Church and Jesus offer is the Relational Paradigm. One that recognizes the radical interconnectedness amongst ourselves, creation and God. Our response should therefore be one of vulnerable encounter and engagement with the other.
What keeps me Catholic – the invitation to live out in wonder and awe the Relational Paradigm.
Michael Daley is a freelance writer and teacher at St. Xavier High School. This What Keeps Me Catholic column first appeared in the December 2015 print edition of The Catholic Telegraph.