When Children Leave the Faith
Our children received the sacraments and attended Catholic schools, but they no longer attend Mass and do not appear to be practicing the faith. Where did we go wrong as parents?
It is natural to be concerned for others' spiritual well-being, especially our loved ones. We desire for them to share in eternal life—just as we hope for heaven for ourselves—and are troubled when they no longer seem to be practicing Catholics. This is a keen worry for parents who attempted to form and educate their children in the faith.
INDIVIDUAL CHOICE

When children drift away from the Catholic Church (or even leave the faith by choice), it does not necessarily follow that parents contributed to their decision. Parents may have lived out the faith in word and deed, but it does not assure that one's children will practice the religion they were taught.
There are many reasons someone may choose to leave— emotional, intellectual, or relational. For an adult, the practice of faith—or the decision not to practice—is a personal choice. Other people may be influences, but the decision is their own. It might be tempting to say, "to each his own," but loving one's children does not mean we have to pretend that their leaving the faith is not cause for sadness.
PERSEVERANCE IN PRAYER

A recent book titled The Saint Monica Club asks how best to respond to fallen-away persons in our families. The book invokes the example of St. Monica, the mother of St. Augustine. She prayed for her son for 17 years before he turned to the Christian faith.
We can imitate St. Monica in her persistent prayer. We can pray for those away from the Church as part of our daily prayer. We can also call on the saints, including St. Monica, or a person's patron or namesake. We should be patient and maintain hope in prayer.
WITNESS OF FAITH

The most important witness we can make for those away from the faith is to live according to Christ and His teachings. We can show forth the love of Christ, especially to our families. Elitism and spiritual pride are counter-examples of Christianity.
We can show the importance of practicing the faith through prayer and devotions, Scripture reading, and frequent reception of Communion and reconciliation. In more subtle ways, we can also communicate the importance of our faith, for instance, through crucifixes, rosaries, and other sacramentals in the home.
INVITATION NOT ARGUMENTATION

Helping someone return to the faith cannot be accomplished by being argumentative or trying to elicit guilt, but this does not mean that religion should not be discussed. Be willing to discuss questions of belief with someone who may no longer be practicing. Ask them to share their perspective. Listen well and then respond: be honest and open and avoid becoming frustrated or angry.
Without insisting or confronting, a parent can extend an invitation. This includes attending Mass as a family on Mother's Day or joining in a prayer before dinner. These small reminders of faith can open the door to a person's return.
When a child leaves the faith, it can be easy to focus on this aspect of their lives, but it is an opportunity to love the person more deeply—to respect them but continue to witness to the truth and beauty of the faith, praying as St. Monica did, that a child might come home.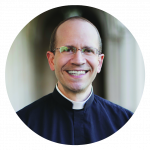 Father David Endres is professor of Church history and historical theology at Mount St. Mary's Seminary & School of Theology.
This article appeared in the December 2022 edition of The Catholic Telegraph Magazine. For your complimentary subscription, click here.