White Mass to honor caregivers for 10th year
Press Release
Dozens of caregivers from across Greater Cincinnati will be honored at a special Mass Sunday Nov. 9 at the Cathedral of St. Peter in Chains in downtown Cincinnati. Called the "White Mass" in honor of the clothing traditionally worn by members of the caring professions, the Mass and reception that follows will recognize both salaried and volunteer health care providers who work in area facilities.
The Mass will be celebrated by cathedral pastor Father Barry Windholtz. Now in its 10th year, the White Mass is sponsored by the Caregiver Assistance Network, a program of Catholic Charities Southwestern Ohio, in partnership with the cathedral and the Knights and Ladies of the Sovereign Order of Malta.
The event is held each year in November, which is National Family Caregivers Month. All health care facilities in the region were invited to participate regardless of religious affiliation and individuals from many different faith traditions will be honored.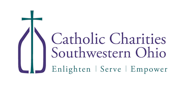 The honorees, each of whom was recommended by his or her respective care facility, will receive a white sash and a white rose during the liturgy, along with a certificate acknowledging his or her exemplary care and service. Nominees from previous years also are invited to participate in welcoming new honorees for 2014. Each healthcare facility was asked to nominate both a salaried and a volunteer caregiver who exemplify the mission of compassionate caring.
The specific criteria for nominations were left to each facility. Nominees represent a wide range of responsibilities – nurses, spiritual advisors, home health aides, music therapists, physical therapists, patient advocates, and more.
Catholic Charities Southwestern Ohio (CCSWO) is a ministry of the Archdiocese of Cincinnati serving the counties of Hamilton, Butler, Clermont, Warren, Clinton, Brown, Adams, Highland, Clark, Logan and Champaign counties. For almost 100 years, we have served the poor and vulnerable in our community. Our mission is to enlighten, serve and empower our clients, benefactors and others who join with us in living the mission of Christ. Learn more at www.CCSWOH.org.