Wyoming college says declining federal funds protects Catholic identity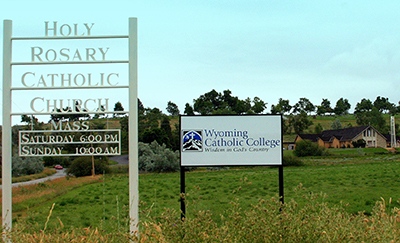 By Nate Madden Catholic News Service 
WASHINGTON — Wyoming Catholic College, a Catholic university founded in 2005 in Lander, announced in late February that it "shall not participate in federal student loan programs."
The decision came after months of analysis and deliberations by the college and its board of directors.
"While the financial benefits are undeniable," said a news release, "the increasingly burdensome regulatory requirements are clearly troubling for faith-based institutions."
The decision to forego federal student loan and grant programs was reached in a unanimous vote by the college's board of directors.
"While respecting that some of our peer institutions have reached a different conclusion on this issue," said Andrew Emrich, the board's chairman, "what is different in our case is timing: At the very point we were grappling with this question, pivotal legal decisions, executive orders, and administrative interpretations were all pointing to some … challenges for institutions of faith."
In a video posted on the college's website, Kevin D. Roberts, its president, if the college had been founded 30 years ago, "perhaps the decision to participate in federal programs would be easy."
"Without being an alarmist, however, it is reasonable to say that the political landscape in 2015 is very different than it was 30 years ago," he said.
Roberts told Catholic News Service in an interview that he finds it an "affront to our Catholic identity that we cannot provide something that would clearly benefit our students and would clearly benefit this institution, because the government has overreached."
"Our Catholic identity might be further in danger as a result of receiving federal funds," he continued. "I say 'further in danger' because it is already (endangered) by the HHS mandate."
As part of the federal health care law, the U.S. Department of Health and Human Services requires most employers to provide coverage of contraceptives, sterilization and some abortion-inducing drugs free of charge, even if the employer is morally opposed to such services.
Wyoming Catholic College is among dozens of faith-based institutions that have filed suit against the mandate. As its case winds its way through the courts it has been granted an injunction against being forced to comply with it.
According to Roberts, a task force was formed in August 2014 to analyze the decision on federal funds from "every conceivable angle" and determined that participation in Title IV would allow the federal government to "foist upon the college … practices that we would not be comfortable" to the college's mission and identity.
Title IV of the Higher Education Act of 1965 covers the administration of federal student financial aid programs.
Last year Wyoming Catholic College was named a candidate for accreditation by the Higher Learning Commission, making it eligible to apply to participate in federal student aid programs.
The commission is an independent corporation founded in 1895 as one of six regional institutional accreditors in the United States. It covers 19 states, including Wyoming, in the nation's north-central region.
Roberts told CNS that the task force found that such involvement could even mean the college would have to admit and provide accommodating facilities, such as special dorms and bathrooms for "transgendered people and people with same-sex attraction who are not living a chaste life."
His official statement in the video affirms that "in the Catholic Church broadly and at Wyoming Catholic College in particular, one could find no more hospitable a sentiment toward ministering to people with great love and charity to all, including the very small percentage of people who have an attraction to people of the same sex."
Most of the conflict comes from a philosophical confusion about human rights, according to Roberts' interview.
"Too many folks who are elected to Congress … have the egregious misunderstanding that the government gives us rights. Our rights, particularly our conscience rights, predate the action of any government," he said.
"I don't think that the future of higher education is going to be very sound, both for secular and faith based institutions, if the government continues to be so involved in it," he said.
Wyoming Catholic College is not the first institution of higher learning to refuse federal funding on ideological grounds.
Hillsdale College in Michigan, the first American college to prohibit in its charter discrimination based on race, religion or sex, had a similar experience in the 1970s regarding affirmative action.
Because some of its students were receiving federal funds, the Department of Health, Education and Welfare demanded that Hillsdale count its students by race, which the college asserted was against its charter.
Following two resolutions and nearly a decade of litigation, the U.S. Supreme Court ruled against Hillsdale in 1984. By the time the decision was handed down, the independent liberal arts college had announced that rather with comply with regulations contradictory to its history and identity, it would instruct its students that they could no longer use federal grants and loans at the college.
Christendom College, a Catholic school in Virginia, opted out of federal funds in the 1980s for reasons similar to those of Wyoming Catholic College.
Thomas McFadden, Christendom's vice president for enrollment and marketing, said in a recent interview: "We wanted to be free from any entanglement from the federal government, so we could be free to be catholic fully, to teach as the Catholic Church teaches."
"The reasons for our decision … are a lot more similar to all of those places than others who are participating (in Title IV)," Roberts told CNS, "Our particular decision at this moment is practically identical to Christendom's."
As an alternative to receiving federal aid, Wyoming Catholic College will continue to offer financial aid packages through various pre-existing scholarships, grants and student loans to be funded internally through the college's St. Thomas More Fund.
When asked about the decision to name the fund after St. Thomas More, Roberts responded, "There are two reasons for that. One is a very strong personal devotion to St. Thomas More, as the patron of statesmen.
"The other is that we as an institution pride ourselves on forming students who are knowledgeable about the faith as well as in secular matters, and who have the skills … to articulate the faith in the public square. So, St. Thomas More is someone who, here, is always close in our prayers."
"As faithful, joyful Catholics," he added, "we (the college) would want, as patron of this effort, an example of someone who was not only faithful, but kept good cheer through the lowest of moments that any of us could expect."
Posted March 16, 2015