Young people who will serve Denver's homeless call former convent home
August 23, 2012
Catholic News Service
DENVER — Inside the old Spanish-style building in the middle of a posh downtown neighborhood, clusters of two to four young men and women unpacked their suitcases and exchanged spirited greetings.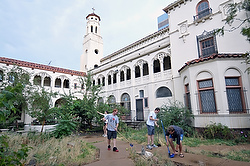 The old Seton House in Denver is their new home.
"It's like a castle," said Hillary DeRose of Arizona.
Nearly 30 missionaries from across the country moved into the former convent in early August to begin their work serving the homeless through Christ in the City, a Catholic program that combines spiritual and academic formation with service.
Denver Archbishop Samuel J. Aquila Aug. 15 blessed and inaugurated the facility for the missionaries before celebrating a Mass and reception.
Christ in the City's program director, Yvonne Noggle, said it was searching for a new building where its missionaries could live and train together.
"With this new location, we can do more ministering on the streets to the poor and extend our services," she told the Denver Catholic Register, the archdiocesan newspaper. "It's perfect for us. God had his hand in this."
Seton House, a convent built in the 1920s, has three floors of living space with a chapel, commercial-size kitchen, living rooms, a dining room, multiple bathrooms and enough space for up to 40 missionaries.
The antiquated building with checkered floors and high ceilings will offer the right setting for the missionaries to form community, pray the Divine Office and gather for meals, Noggle said. Its location is also ideal for their work spent in daily contact with the poor and attendance at Mass at either Holy Ghost Church or the Cathedral Basilica of the Immaculate Conception. Both are only a few blocks away.
"In the line of work we do, it's crucial that we're in the same area as the homeless," Noggle said.
Msgr. Thomas Fryar, pastor of the cathedral basilica, which owns the property, welcomed Christ in the City's move.
"In some ways, it's probably an answer to prayers on both sides," Msgr. Fryar said.
For more than three years, the property sat vacant. It quickly became a burden to the parish, which had sought to find a buyer after the Missionaries of Charity moved to another location in January 2009.
The property was mostly unused except for the north wing of the building, formerly Cathedral High School, which is occupied by Grant Street Studios. A company called Karis Community occupied the convent for a few months this year to care for the mentally disabled. The adjoining brick and graffiti-marked Oscar Malo Jr. Memorial Hall was used briefly by an evangelical church, which the city forced out because of code issues, he said.
"We struggled for three-and-a-half years trying to deal with that and could not find a buyer that would be able to give us the value of the property and make it functional for their use," Msgr. Fryar said.
With a steep sum needed to renovate and bring the complex of buildings into compliance with city code, the cathedral basilica took offers to purchase the property, which included applications for demolition.
The parish was hopeful when Sagebrush Capital offered to build a luxury mid-rise apartment building on the site, but its plans were foiled when preservationists learned the buildings could be demolished.
Neighbors banded together under Capitol Hill United Neighbors along with Historic Denver and Colorado Preservation Inc. to save the buildings by applying for historic designation. The groups posted a history of the buildings online and sought support for its "Save Cathedral High" Facebook page.
Sagebrush subsequently dropped the contract and the application for historic status was withdrawn.
"They are buildings that are past their practicality and past their prime," Msgr. Fryar said. "It's fortunate for us at this point that we're still able to find someone that's able to use them as they are."
The main building once housed Cathedral High School, which opened in 1943, and its successor, Central Catholic High School, which was formed in 1973 when the archdiocese consolidated three Catholic high schools — Cathedral, St. Joseph and St. Francis de Sales. Central Catholic closed in 1982 because of dwindling student enrollment.
The convent was used for 20 years by Blessed Teresa of Kolkata's Missionaries of Charity who originally cared for those with HIV and AIDS and later homeless women, until their ministry was no longer suited for the developing area.
Noggle said it's a privilege for Christ in the City to continue a history of missionary work there.
"It's an honor to be in the line of work of those before us," she said.
Christ in the City is expected to sign a one-year lease.