By John Stegeman
The Catholic Telegraph
From Pope Benedict XVI's resignation (see March 2013 cover) to Pope Francis' election (April 2013 cover) and everything since, The Catholic Telegraph has had the story.
The year 2013 saw the paper's cover redesigned, and an increased emphasis on the website and social media, even if things didn't always go according to plan.
"There's an old line that if you want to make God laugh, make a plan," Editor-in-Chief Steve Trosley said. "That applies in news without a doubt. We started the year with some grand plans but the pace of the news — a papal election for example, the sheer size of the archdiocese and the requests from our parishes, schools and other groups for coverage preempted most of our designs."
Still, more than 500 stories appeared in the pages and website of The Catholic Telegraph in 2013.
With that in mind The Catholic Telegraph nominated 10 stories as the year's best and invited readers select the order via an online survey.
Below, in the order voted by readers, is a glance at the top 10 stories of 2013. Continue reading →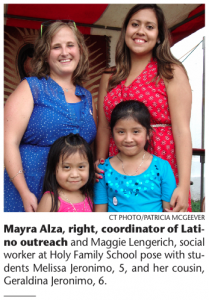 By Patricia McGeever
For The Catholic Telegraph 
If you ask Geraldina Jeronimo, 6, what she likes about the first grade, she will tell you "reading and writing." When prompted, she adds, "recess."
Geraldina attends Holy Family School in Price Hill and her parents are thrilled she's there. "It's very important because she is starting a Catholic education at a young age," says Geraldina's father, Eulalio Jeronimo, through an interpreter. "When they are older they will have a big knowledge of the faith," he adds.  Continue reading →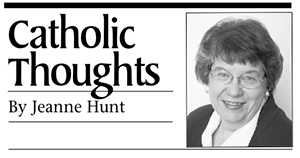 Catholic Thoughts, September 2013
This is pitiful! Recently, an archdiocesan priest was teaching a class for catechetical certification for teachers and volunteers. The class included 28 Catholic schoolteachers. To change things up a bit, Father thought it would be fun to randomly ask the teachers a few questions of faith. The first question he asked was "What are the Ten Commandments?" He pointed to a teacher for a response, but the teacher could not name them. Continue reading →
By Megan Walsh
The Catholic Telegraph
Educators from across the United States met at the University of Dayton (UD) in southwestern Ohio on July 12 for an all-day conference on urban Catholic education.
This year's summit focused on meeting the needs of all learners in the Archdiocese of Cincinnati.
Dr. Kevin Kelly, Dean of the School of Education and Health Sciences, and Susan Ferguson, Executive Director of the Center for Catholic Education at UD, welcomed about 150 teachers, administrators, counselors and graduate students and many more who virtually attended online. Continue reading →
Press Release
DAYTON, Ohio — An unusual procession dedicated to Mary, the mother of Jesus, will travel from a hill high on the University of Dayton campus to its heart during a "Rosary Rally." Continue reading →
By Eileen Connelly, OSU 
The Catholic Telegraph 
Great moments happen every day in The Summit Country Day School's Montessori program.
In classrooms designed for Montessori teaching, materials are carefully displayed to optimize learning, independence and curiosity and ignite the creativity of the youngest Summit students. Montessori-trained teachers recognize the potential of each 2- to 6-year-old and nurture each of them. Continue reading →
IHM School honored by national magazine 
Immaculate Heart of Mary (IHM) School in Cincinnati is one of 12 Catholic schools, spanning the nation geographically, culturally, and economically, to be honored this year by Today's Catholic Teacher magazine.
Now in its 16th year, this annual award recognizes innovative projects in six categories. IHM won in the category of "promoting Catholic identity" for its work in which each grade level adopts a stewardship project related to a social justice issue. Continue reading →
Staff Report
The University of Dayton is hosting its second-annual Catholic Education Summit; a conference highlighting the partnerships between Catholic higher education and PK-12 Catholic schools. Continue reading →
By Jean Lim
For The Catholic Telegraph 
How do you see yourself as hope to a world that desperately needs persons of faith to bring it closer to peace?
That question was the focus of events at Xavier University on April 18 commemorating the 50th anniversary of Pacem in Terris (Peace on Earth) by Blessed Pope John XXIII.  Both the day long high school program and the evening lecture open to the public were sponsored in this current Year of Faith by the Archdiocese of Cincinnati, Xavier University, the College of Mount St. Joseph, the Intercommunity Justice and Peace Center and the Educating for Peace Coalition.
At "New Hope to the World: Called by Our Faith to Be Peacemakers," the 310 high school students and 37 teachers began their day by viewing a powerful video created by McNicholas High School students along with their teacher Jeff Hutchinson-Smyth.
(Read More about the video and watch it here)
The participants were then invited by choir director Chris Albanese and the McNicholas liturgical choir to envision themselves "On That Holy Mountain" where "there shall be peace."
Jesuit Father Michael Graham, president of Xavier University, welcomed the students to their day of reflection and Archbishop Dennis M. Schnurr began the day with prayer. Keynote speaker John Carr encouraged the students to become "a glowing point of light in the world, a nucleus of love, a leaven" (Pacem in Terris, 164). He recently retired after more than 20 years as the executive director of the justice, peace and human development department of the U.S. Conference of Catholic Bishops and recently joined America magazine as its Washington correspondent.
Each student had the opportunity to attend his or her choice of three of 15 breakout sessions led by community leaders, Archdiocese of Cincinnati staff, College of Mount St. Joseph professors and Xavier University students.  The presenters were impressed with the engagement of the students shown by their questions.  A lunch break provided a chance to admire the mosaic created with contributions from students at McAuley, Mercy, Seton, St. Ursula, and Ursuline. More than 100 pieces of artwork with the theme of peace were also on display, coordinated by Caitlin Bertsch and Maria Rosa-Arbona.
Students were invited to reflect on "Where Do You Go From Here?" by Xavier University students Anthony Cirillo and Forest Hempen along with Cara Molulon (McAuley), Quentin Ullrich (St. Xavier), Sheila Eustace (Summit) and Danny Poole (McNicholas). After mingling all day with new ideas and students from all over the archdiocese, school delegations had time to begin group discernment of how to continue their focus on peace and justice issues at their own schools and beyond.
The energy in the Cintas Center banquet room was still palpable in the evening as about 250 members of the public and Xavier University students came together for Carr's presentation "Pacem in Terris: Called by our Faith to be Peacemakers."  Father Graham again welcomed the audience, which included Tony Aretz, president of the College of Mount St. Joseph. Carr pointed out in his presentation that the most quoted part of Pacem in Terris has been its admonition to banish nuclear weapons, but also emphasized John XXIII's focus on the common good with the priority for the poor.  When asked by a Xavier student what Pope Francis would add if he were writing Pacem in Terris today, Carr answered that he would add further emphasis on the environment and the role of the laity.
Donna Park served as the leader of the Educating for Peace Coalition, which worked more than 18 months on the events of the day.  Her passion for peace emanated from her work with the Citizens for Global Solutions.  Other members of the Educating for Peace Coalition were Tony Stieritz, from the Archdiocese Social Action Office; Jean Lim, from Xavier University; Michael Casciato, from the College of Mount St. Joseph; Marguerite Bourgeois, from St. Xavier High School; Linda Goldbach, from McAuley High School; Jeff Hutchinson-Smyth, from McNicholas High School; Bob Bonnici, from Mother of Mercy High School; Tito Sanchez, from Purcell Marian High School; Brenda Bertsch, from Citizens for Global Solutions; Caitlin Bertsch, from Vegan Roots, LLC and Maria Rosa Arbona, a former teacher at St Ursula Academy.
Lim is a adjunct faculty member in Xavier University's theology department. 
By Eileen Connelly, OSU
The Catholic Telegraph
Their time in Tegucigalpa, Honduras was short, less than week for most, but it was enough to be a life changing experience for visitors from the Archdiocese of Cincinnati who traveled to the Central American country in early February. They were warmly welcomed by the Honduran people, inspired by their deep spirituality and had a true experience of the universality of the Catholic faith during their stay.
The pilgrims gathered at our Lady of Sorrows Parish in Monroe on March 12 to engage in further reflection on their journey and discuss what steps God may be calling them to now. Dave Scharfenberger, archdiocesan Justice for Immigrants coordinator, updated the group on immigration reform efforts and shared his own experience of visiting and worshipping with the Honduran people on a trip 15 years ago.
"As you think about where you've been, the people you met and what you can do next, it may be hard to put into words what you saw, learned and felt. But, putting it into words and sharing your experiences with others is one of the greatest things you can do," he said.
Comboni Father Louis Gasparini, director of the archdiocesan Hispanic Ministry Office, told the group that there are things that Catholics, and the church as a whole, can do to carry forward the sense of solidarity they experienced with the Honduran people.
"We don't want two parallel churches —one for Hispanics and one for Americans. We want the people of God coming together to worship, but how we get there will be a process. It will take time to dismantle prejudices and that doesn't always happen in church. It happens at festivals and other gatherings."
"There is no formula. All it takes is welcoming someone with the shake of a hand and a smile and you're halfway there," he added. "You don't have to speak Spanish to do that."
Many members of the archdiocesan contingent didn't speak Spanish, but still found a smile and a few kind words in their native language was all it took to establish a bond of friendship and faith with the Honduran people. The opportunity to worship with them, hear their stories and visit the outreach ministries of St. Dominic Savio Parish, twinning part of St. Margaret of York (SMOY) in Loveland, also added to the experience.
Bob Bonnici, a religion teacher at Mother of Mercy High School, said he found the church to "be beacon of hope" amid poverty and violence, especially in the drug and gang infested neighborhood surrounding the parish of St. Joseph the Worker.
"Inside the parish is a school that tries to provide a safe and educational environment in a neighborhood that is, according to their principal, one of the most dangerous in Honduras," he said. "I was truly humbled by the courage and perserverance of the teachers knowing that I would find it extremely difficult to teach in a situation like that."
Thomas Wray, pastoral associate-evangelization at SMOY, said a new insight he has about the Catholic church as a result of trip is "the centrality of the Eucharist to our common faith and witness. As a convert from Protestantism, I have been blessed to make many previous trips to Central and South America. What struck me during this pilgrimage to Tegucigalpa for the Feast of Our Lady of Suyapa is the sheer power, beauty and joy of the Mass. Nearly three million pilgrims from widely disparate backgrounds assembled in peace and mutuality and hope centered on Christ…truly it is the 'source and summit' of our Christian life."
SMOY parishioner Marti Barnes said she feels it is now the duty of the travelers to "take the message of what we saw to our friends and neighbors and churches. Many people are unaware of how the people of Honduras live, the challenges they face every day, and yet in spite of all this, how wonderful, generous and faith-filled they are."
As a result of this trip, "I want to thank God for the amazing friendships and relationships I made with the others who attended the trip, as well as the people of Honduras," said Emily Hornback, a 2010 graduate of Seton High School and member of St. Lawrence Parish currently in her junior year at Thomas More College. "These relationships are definitely ones that will last a lifetime. Because of the experiences I had in Honduras and these friendships I have created, I feel that God is calling me to continue mission/immersion work not only in Honduras and outside countries, but also in my own backyard. There are so many communities and people in the Greater Cincinnati area that would be just as welcoming and hospitable as the people of Honduras are; all we need to do is open our eyes!"