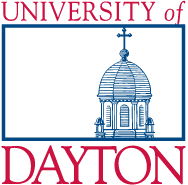 By Erin Callahan
For The Catholic Telegraph
While the nation debates Common Core, Catholic educators can lead the conversation about accountability and standards while still maintaining central values, according to a discussion at the University of Dayton's Catholic Education Summit on July 14. Continue reading →
By Eileen Connelly, OSU
The Catholic Telegraph
Xavier University's student athletes are known for their skills on the court and field. Their prowess also extends to academics: XU boasts a 97 percent graduation rate among all sports teams, which is 12th in the nation and first in the Big East, and a 100 percent graduate rate for senior basketball players.
The secret to their academic success? A faith-filled and fun nun who believes in them — Sister of Notre Dame de Namur Rose Ann Fleming. Continue reading →
By John Stegeman
The Catholic Telegraph
From Pope Benedict XVI's resignation (see March 2013 cover) to Pope Francis' election (April 2013 cover) and everything since, The Catholic Telegraph has had the story.
The year 2013 saw the paper's cover redesigned, and an increased emphasis on the website and social media, even if things didn't always go according to plan.
"There's an old line that if you want to make God laugh, make a plan," Editor-in-Chief Steve Trosley said. "That applies in news without a doubt. We started the year with some grand plans but the pace of the news — a papal election for example, the sheer size of the archdiocese and the requests from our parishes, schools and other groups for coverage preempted most of our designs."
Still, more than 500 stories appeared in the pages and website of The Catholic Telegraph in 2013.
With that in mind The Catholic Telegraph nominated 10 stories as the year's best and invited readers select the order via an online survey.
Below, in the order voted by readers, is a glance at the top 10 stories of 2013. Continue reading →
Editors note: The staff of The Catholic Telegraph wishes to express our gratitude to the following women religious celebrating jubilees in 2013 for their steadfast faith and dedicated service to the Archdiocese of Cincinnati. Additional photos and bios were published in the November 2013 edition.  Continue reading →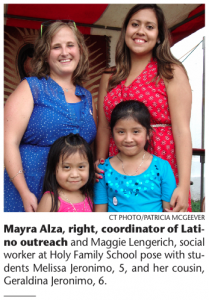 By Patricia McGeever
For The Catholic Telegraph 
If you ask Geraldina Jeronimo, 6, what she likes about the first grade, she will tell you "reading and writing." When prompted, she adds, "recess."
Geraldina attends Holy Family School in Price Hill and her parents are thrilled she's there. "It's very important because she is starting a Catholic education at a young age," says Geraldina's father, Eulalio Jeronimo, through an interpreter. "When they are older they will have a big knowledge of the faith," he adds.  Continue reading →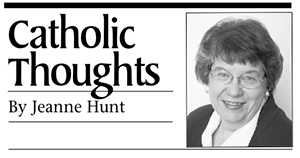 Catholic Thoughts, September 2013
This is pitiful! Recently, an archdiocesan priest was teaching a class for catechetical certification for teachers and volunteers. The class included 28 Catholic schoolteachers. To change things up a bit, Father thought it would be fun to randomly ask the teachers a few questions of faith. The first question he asked was "What are the Ten Commandments?" He pointed to a teacher for a response, but the teacher could not name them. Continue reading →
By Megan Walsh
The Catholic Telegraph
Educators from across the United States met at the University of Dayton (UD) in southwestern Ohio on July 12 for an all-day conference on urban Catholic education.
This year's summit focused on meeting the needs of all learners in the Archdiocese of Cincinnati.
Dr. Kevin Kelly, Dean of the School of Education and Health Sciences, and Susan Ferguson, Executive Director of the Center for Catholic Education at UD, welcomed about 150 teachers, administrators, counselors and graduate students and many more who virtually attended online. Continue reading →
Press Release
DAYTON, Ohio — An unusual procession dedicated to Mary, the mother of Jesus, will travel from a hill high on the University of Dayton campus to its heart during a "Rosary Rally." Continue reading →
By Eileen Connelly, OSU 
The Catholic Telegraph 
Great moments happen every day in The Summit Country Day School's Montessori program.
In classrooms designed for Montessori teaching, materials are carefully displayed to optimize learning, independence and curiosity and ignite the creativity of the youngest Summit students. Montessori-trained teachers recognize the potential of each 2- to 6-year-old and nurture each of them. Continue reading →
IHM School honored by national magazine 
Immaculate Heart of Mary (IHM) School in Cincinnati is one of 12 Catholic schools, spanning the nation geographically, culturally, and economically, to be honored this year by Today's Catholic Teacher magazine.
Now in its 16th year, this annual award recognizes innovative projects in six categories. IHM won in the category of "promoting Catholic identity" for its work in which each grade level adopts a stewardship project related to a social justice issue. Continue reading →