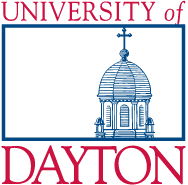 By Erin Callahan
For The Catholic Telegraph
While the nation debates Common Core, Catholic educators can lead the conversation about accountability and standards while still maintaining central values, according to a discussion at the University of Dayton's Catholic Education Summit on July 14. Continue reading →
By Megan Walsh
The Catholic Telegraph
Educators from across the United States met at the University of Dayton (UD) in southwestern Ohio on July 12 for an all-day conference on urban Catholic education.
This year's summit focused on meeting the needs of all learners in the Archdiocese of Cincinnati.
Dr. Kevin Kelly, Dean of the School of Education and Health Sciences, and Susan Ferguson, Executive Director of the Center for Catholic Education at UD, welcomed about 150 teachers, administrators, counselors and graduate students and many more who virtually attended online. Continue reading →
Staff Report
The University of Dayton is hosting its second-annual Catholic Education Summit; a conference highlighting the partnerships between Catholic higher education and PK-12 Catholic schools. Continue reading →
Staff Report
The Summit Country Day School, a Catholic school educating students from age 2 through high school in Hyde Park, announced an $18.6 million capital campaign entitled "Aiming Higher" Tuesday afternoon. Among the initiatives, the campaign would fund a five-story addition to the east wing of the main building. Continue reading →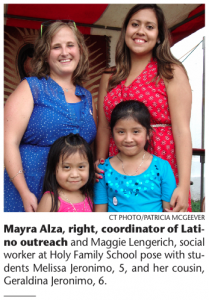 By Patricia McGeever
For The Catholic Telegraph 
If you ask Geraldina Jeronimo, 6, what she likes about the first grade, she will tell you "reading and writing." When prompted, she adds, "recess."
Geraldina attends Holy Family School in Price Hill and her parents are thrilled she's there. "It's very important because she is starting a Catholic education at a young age," says Geraldina's father, Eulalio Jeronimo, through an interpreter. "When they are older they will have a big knowledge of the faith," he adds.  Continue reading →
By Eileen Connelly, OSU 
The Catholic Telegraph 
Great moments happen every day in The Summit Country Day School's Montessori program.
In classrooms designed for Montessori teaching, materials are carefully displayed to optimize learning, independence and curiosity and ignite the creativity of the youngest Summit students. Montessori-trained teachers recognize the potential of each 2- to 6-year-old and nurture each of them. Continue reading →
IHM School honored by national magazine 
Immaculate Heart of Mary (IHM) School in Cincinnati is one of 12 Catholic schools, spanning the nation geographically, culturally, and economically, to be honored this year by Today's Catholic Teacher magazine.
Now in its 16th year, this annual award recognizes innovative projects in six categories. IHM won in the category of "promoting Catholic identity" for its work in which each grade level adopts a stewardship project related to a social justice issue. Continue reading →
October 3, 2012
By Steve Trosley
Archbishop Dennis M. Schnurr told those attending the Summit Tuesday that they had spent two days hearing of the urgent challenges facing the Catholic Church in Cincinnati.
July 13, 2012
Jim Jackson, advancement director of The Athenaeum of Ohio/Mount St. Mary's Seminary of the West for more than seven years announced July 11 he is leaving the position to lead the advancement department at Summit Country Day School in Hyde Park.
Wednesday, July 7, 2010
By David Eck
DAYTON DEANERY — When Christians recognize God's love and gifts and share them with others we fulfill a call to be God's co-workers in building His kingdom.
That was a key message Father Samuel Hose shared during his keynote address at the 2010 Stewardship Summit, held June 23-24 at the University of Dayton. Sponsored by the archdiocesan Stewardship Department, the event featured speakers, workshops and fellowship.