University of Dayton to host Catholic Education Summit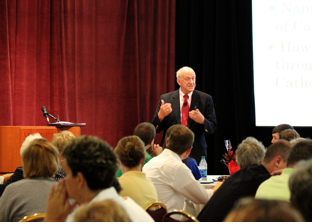 Staff Report
The University of Dayton is hosting its second-annual Catholic Education Summit; a conference highlighting the partnerships between Catholic higher education and PK-12 Catholic schools.
This year's Catholic Education Summit will be held on Friday July 12 from 8:30 a.m. to 4:30 p.m. at the University of Dayton in the John F. Kennedy Union Memorial building. The conference will also be available online if interested participants cannot attend in person.
The summit will have the theme: Meeting the needs of all learners. There will be five sessions throughout the day on topics including Mission and Catholic identity, Governance and Leadership, Academic Excellence and Operational Vitality. Participants will be able to choose from a diverse selection of presentations. Those joining the summit via the internet may only join in on the virtual presentations. Participants are eligible for continuing education credits.
"Educators from all settings – urban, suburban, and rural – will find this conference to be informative," said Susan Ferguson, director of the University of Dayton Center for Catholic Education. "We welcome all teachers, superintendents, pastors, philanthropists, higher education personnel and all who have an interest in Catholic education to attend. The summit holds promise for networking, informing, praying, dreaming, planning and taking action so that the gift of urban Catholic schools will flourish."
Supporters of the summit include educators from PK-12 Catholic schools; personnel from Archdiocesan/Diocesan Catholic School Offices; members of the philanthropic community; faculty, staff, and administrators from Catholic higher education; and vendors supplying Catholic educational materials.
The cost of the summit is $65 to attend on campus and $75 to attend virtually.
Parking on the UD campus is limited and participants will be directed to park in lot S-1 at the corner of Stewart and Brown. Participants should only park there unless special arrangements have been made through Gina Lloyd.
Please register by June 15 online here, email Gina Lloyd or call 937-229-3921.
For more information, please visit their website.