Lay Perspective: Gifts of the church are for our wellness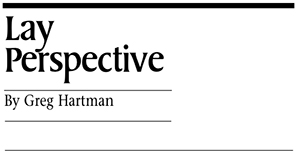 There are many different studies that scientifically prove a strong spiritual base tends to get one through difficult times. Individuals with major health issues tend to do better with faith. In Matthew's Gospel Jesus even tells us, "Come to me, all you who labor and are burdened, and I will give you rest. Take my yoke upon you and learn from me, for I am meek and humble of heart; and you will find rest for your selves. For my yoke is easy, and my burden light." Mt 11:28-30.
It seems so easy, and yet sometimes it's easier to stray from that strong faith. Recently I planned a major event for my parents. I tend to get all Clark Griswold (from the movie Christmas Vacation) when I plan things for them. I desperately want everything to be perfect. That morning I prayed my morning prayer. The forecast was terrible. I accepted the fact that I can't change weather, but I prayed somehow don't let the day be as bad as the forecasters had predicted. It was weather wise, a terrible day. I wasn't the most pleasant person and left some of my faith in the car. At one point, I gave my parents the option of leaving.
Their response was totally opposite, they were enjoying themselves immensely. My Dad exclaimed it was as if being on vacation. I could almost see the Lord looking at me and shaking his head, as if to say, see prayers are answered.
The church has tools for our wellness spring. Sometimes when insomnia grips my life, there's not much on television at 3 a.m. except infomercials. Most of them are about improving one's life. Exercise equipment, financial planning, real estate experts, gadgets that can help you cook like a five star chef, juicers, Botox, teeth whiteners, etc. We've been gifted so much more in the church. The sacraments are our life lines. There's times when it is so difficult to accept that, and it's so simple. The benefits are so incredible, more than the thousands of infomercials we're bombarded with. Besides, you don't have to pay for shipping and handling. It's simply opening our hearts and letting go, letting God in.
Sometimes it's difficult to get stoked about the gifts of church, partly because they are always there. Yet the church is truly our home base, no matter where we are. If we live away from our childhood hometown, the church is where we are no matter where our physical location. It's steady, repetitive (depending on your viewpoint), and exact. It's our home base. In this year of faith, and in the years ahead of us, we get the grace over and over to explore and engage in the wonders of being Catholic. There's times when we phone it in, and aren't too engaging.
Taking just five minutes before or after mass and centering on the gifts we're about to receive can make such a difference. The tremendous gift of the word is truly amazing. How many times have you heard a gospel reading and hear something a little different in that reading. There are applications from the word, written almost two thousand years ago, that apply in today's world. We're all prodigal sons at one time or another. There's days when we're not planted in good soil, when the worries of life choke our faith.
As we head into late spring and early summer, we can grow in our faith, learning more about the faith, and living the faith. Today we're much more connected. We can tap into what Catholics are doing throughout the ends of the earth by a click on the internet. There are thousands of ways we can reach out and spread the faith. We're the living gospel and the badge of faith is a constant reminder to continually share the word with everyone around us.
So take a faith break often this summer and rest in God's grace. Bask in the sunshine, even on cloudy and rainy days, for the burden shared isn't that heavy.