What Catholic School Taught Me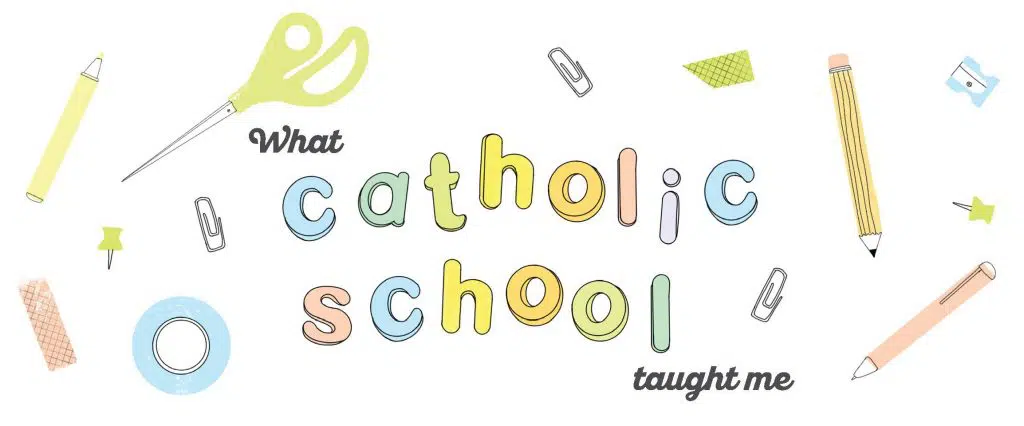 My siblings have long joked that I am a teacher's pet. To make their case, they need only to point out that my favorite day of every summer as a child was school supply shopping.
While my three siblings groaned and grudgingly filled the cart with the required items, I held the supply list like it was a cherished object. Once selected, my items were placed carefully to one side of the cart not to be mixed with the others'. Back at home I neatly filled the brand-new pencil bag and backpack, taking care to fill each slot and pocket. While getting fresh school supplies was a thrill, now I realize the excitement of a new school year stemmed from something much more important.
At Catholic grade school, high school and university, all my experiences in the classroom, on school trips and on playing fields were rooted in faith. My parents made a choice and a sacrifice to put four kids through Catholic schools to ensure the values and expectations we learned at home were mirrored at school. As a child it seemed so natural to blend my faith and character development with my education.
Fast forward 25 years and I am profoundly grateful for my parents' foresight and planning. When I was old enough to have a voice in my own education, I chose to go to a Catholic university where I studied education and religious studies. This is my 17th year teaching in a Catholic school, and I send my two children to a Catholic school. I continue to choose Catholic schools because they have enriched my life in faith, relationships and learning. I was provided opportunities to develop myself academically, emotionally and spiritually. I have constantly been surrounded by a community of people who give of themselves endlessly. And lastly, the Catholic school environment provides me with an opportunity to serve others and God.
To be honest, I never minded the affectionate joking and label of "teacher's pet." However, as a teacher myself and a mother of two I am abundantly aware that not every child fits that term. There are easy kids, smart kids, difficult kids, scared kids, self-aware kids, challenged kids, and the list goes on. But there is one thing they all have in common: Kids get it wrong. All. The. Time. And they are supposed to make mistakes; it's part of growing up.
What I have found in my professional practice and my limited parenting experience is that the most teachable moments are not in my lectures, or lessons, or tests; it is not in my chore lists or structured activities or in setting expectations for my children. The most teachable moments have been in the times where kids mess up – when they made a poor choice, missed the mark, misunderstood or ignored the expectation. It is in these moments where educators and parents can show God's grace, mercy, patience and unconditional love. I choose Catholic schools over and over because I want to teach my students (and my children) about God and how He loves them despite their mistakes or shortcomings.
Catholic schools offer the best of all worlds: academic rigor, spiritual development, character education and limitless opportunities to grow and serve. For me, teaching in a Catholic school allows me to have a career and a personal ministry all in one. I'm blessed to look back on my journey so far and know that my parents set me on the right path to having a faith-filled life.
Stephanie Duggan is the campus minister and an Upper School religion teacher at The Summit Country Day School. She and her husband Liam have two children, Will and Declan.
This article appeared in the August 2021 edition of The Catholic Telegraph Magazine. For your complimentary subscription, click here.