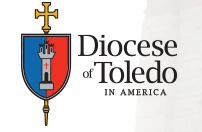 By Cherie Spino & Angela Kessler
Catholic News Service 
TOLEDO — Retired Auxiliary Bishop Robert W. Donnelly of Toledo, Ohio died July 21 at his home in Toledo at age 83.
Afternoon visitation was scheduled for July 28, to be followed by an evening vigil at Our Lady, Queen of the Most Holy Rosary Cathedral in Toledo. Morning visitation and a rosary July 29 was to take place before a noon funeral Mass at the cathedral. Committal was to be at Resurrection Cemetery in Toledo. Continue reading →
By Catholic News Service 
WASHINGTON — To end the U.S.-Mexico border crisis, the United States must address the flow of illegal drugs and arms and the harmful economic policies forcing children and families to leave Central America for the U.S., said the chairman of the U.S. bishops' Committee on International Justice and Peace. Continue reading →
By Mark Pattison
Catholic News Service 
WASHINGTON — Syriac Patriarch Ignace Joseph III Younan, in Washington to meet with federal government representatives and members of Congress, decried the "mass cleansing" of Christians from Mosul, Iraq, by what he called "a bed of criminals." Continue reading →
By Carol Glatz
Catholic News Service 
VATICAN CITY — Taking the chef completely by surprise, Pope Francis unexpectedly showed up to eat with the Vatican's blue collar workers at their cafeteria in the tiny city-state's "industrial park."
By Nancy Wiechec
Catholic News Service 
UPDATE: Despite Chaput's confirmation, the Archdiocese of Philadelphia published the following tweet on July 25.
FARGO, N.D. — Philadelphia Archbishop Charles J. Chaput said Pope Francis has accepted his invitation to attend the World Meeting of Families in the U.S. next year.
Archbishop Chaput made the announcement July 24 before giving his homily during the opening Mass of the Tekakwitha Conference in Fargo. Continue reading →
By Catholic News Service 
WASHINGTON — The Obama administration has filed a brief with the 10th U.S. Circuit Court of Appeals in Denver indicating it plans to develop an alternative for Catholic and other religious nonprofit employers to opt out of providing federally mandated contraceptives they object to including in their employee health care coverage. Continue reading →
By Catholic News Service
NEW YORK — New York Mayor Bill de Blasio said it would be an "extraordinary moment for our city and an extraordinary honor" if Pope Francis visited the Big Apple in September 2015, when the World Meeting of Families takes place in Philadelphia. Continue reading →
By Cindy Wooden
Catholic News Service 
VATICAN CITY — Church law has procedures and penalties for effectively dealing with allegations of clerical sexual abuse, but the Vatican is working to revise a section of the Code of Canon Law to make those norms and procedures clearer and, therefore, more effective, said the president of the Pontifical Council for Legislative Texts. Continue reading →
By John Stegeman
The Catholic Telegraph
With the use of a walker, and a helper at the ready, Archbishop Emeritus Daniel E. Pilarczyk made his way down the fourth-floor hallway at the Little Sisters of the Poor St. Paul's Archbishop Leibold Home for the Aged.
Despite suffering the effects of Parksinson's Disease, the archbishop was affable, alert and more than willing to make a joke during an interview with The Catholic Telegraph in late July. Continue reading →
Staff Report
Heeding the call to a New Evangelization, The Catholic Telegraph has been active on social media sites Facebook and Twitter for several years. On July 23, 2014 the newspaper's official Twitter feed, @cathtelegraph, picked up its 6,000th follower. Continue reading →