Staff Report
Heeding the call to a New Evangelization, The Catholic Telegraph has been active on social media sites Facebook and Twitter for several years. On July 23, 2014 the newspaper's official Twitter feed, @cathtelegraph, picked up its 6,000th follower. Continue reading →
By John Stegeman
The Catholic Telegraph 
NET Ministries opened the organization's first regional office in Cincinnati July 1.
The youth evangelization organization, which announced it would be opening a regional office here late last year, has been working in this archdiocese for years, hosting more than 50 retreats in 2013. With the opening of the regional office, they will be able to reach even more young adults. Continue reading →
Staff Report
Subscribers to The Catholic Telegraph's print edition (and remember you can sign up here for a subscription at no cost to you) will begin receiving their August editions of the newspaper around Tuesday, July 29. Continue reading →
Staff Report
Lest one believe that summer fun is nearing an end as July rolls along, The Catholic Telegraph's 2014 Festival Guide includes 40 more festivals between now and the end of September. Continue reading →
By Catholic News Service 
WASHINGTON — The U.S. Senate July 16 voted to block consideration of a bill aimed at reversing the U.S. Supreme Court's ruling in Burwell v. Hobby Lobby and forcing businesses to provide contraceptive coverage for employees even if they object to it on religious grounds. Continue reading →
By Dennis Sadowski
Catholic News Service
SYLVANIA, Ohio — Looking over her latest work, Sister Jane Mary Sorosiak picked up a piece of hardened clay depicting the face of St. Joseph and began touching up pinkish tones of glaze that will transform into a glossy flesh-colored finish once fired and cooled.
By Simon Caldwell
Catholic News Service 
MANCHESTER — Senior Anglican leaders have voiced their support for assisted suicide just days before a crucial debate on the subject in the British Parliament. Continue reading →
By Mary Bertolini
For The Catholic Telegraph 
The Catholic Church's door swings both ways for Catholic Hispanics in the United States, just as it does for all other cultures.  Many come in, but there are also those who leave.
Sixty-seven percent of Latino adults identified themselves as Catholic in 2010, but only 55 percent did so in 2013, according to PEW Research Center. How they can be kept in the pews is simple: don't keep them in the pews. A great number of Hispanics are charismatic, and one word to describe them is exuberant. This liturgical energy is often overwhelming to the traditional U.S. Catholics who are used to a more tempered style of worship. Continue reading →
By Cindy Wooden
Catholic News Service 
VATICAN CITY — The General Synod of the Church of England voted July 14 to authorize the ordination of women as bishops and approved motions pledging to respect and work with people who believe that, theologically, the vote was a mistake.
Before the vote, Archbishop Justin Welby of Canterbury, spiritual leader of the Anglican Communion, told the synod that "to pass this legislation is to commit ourselves to an adventure in faith and hope. Like all adventures, it carries dangers … uncertainties and for success will require integrity and courage." Continue reading →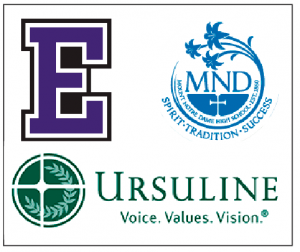 Staff Report
Elder High School principal Tom Otten announced a recent gift of $2.5 million received from the school's "Guardian Angel" family.
Otten explained that the family, who wishes to remain anonymous, earned the nickname "because they seem to be aware of our most pressing needs, yet choose to avoid the spotlight. Instead the donor family has chosen to work through their investment advisor seeking ways they can help Elder."  Continue reading →