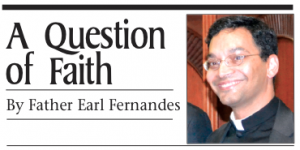 Dear Father: What's the purpose of a homily? Is it to reflect on the scriptures, to teach or give catechism, to talk about the saint of the day or current events? 
Dear Reader: The answer to your questions can be found in recent church documents. Your question deals with the function of the homily. First, we need to look at its context. Pope Francis (Evangelii Gaudium, 135) said that "The homily can actually be an intense and happy experience of the Spirit, a consoling encounter with God's word, a constant source of renewal and growth."  Benedict XVI noted (Verbum Domini, 6): "The novelty of biblical revelation consists in the fact that God becomes known through the dialogue which he desires to have with us." Continue reading →
By Nicole Pellicano
Catholic News Service
VATICAN CITY — The Vatican opened the "Gift of Mercy," a shelter for homeless men, just a few hundred yards away from St. Peter's Square.
Housed in a Jesuit-owned building, the shelter was created by and is run with funds from the papal almoner, who has taken a variety of initiatives to assist the homeless people in the area surrounding the Vatican.
Archbishop Konrad Krajewski, Pope Francis' almoner, inaugurated the shelter Oct. 7 by celebrating Mass for the first guests. The shelter offers 34 beds in an open-floor, partitioned dormitory, according to a statement from the Almoner's Office Oct. 12. Continue reading →
Press Release
Marianist Father Robert Craig Jones was ordained a priest on Oct. 3, 2015, at Queen of Apostles Chapel in Dayton, Ohio. Archbishop Joseph Tobin, C.Ss.R, of the Archdiocese of Indianapolis, presided at the ordination. Continue reading →
By Julie Asher
Catholic News Service
WASHINGTON — Father Ben Garrett said he has "never felt more useful in my life" as a priest than as a Navy chaplain meeting the pastoral and sacramental needs of service members.
"Being a priest in the military is extremely fulfilling," he said. "Not only is it a need for our people, but it's also a great blessing for the priest himself.
"Our men and women in uniform take on great sacrifices on behalf of our country, and they need to be taken care of spiritually," he told Catholic News Service.
Father Garrett, who was ordained for the Washington Archdiocese in 2006 and joined the U.S. Navy in 2009, was one of the military chaplains who gave their perspective on "serving those who serve" for a group of priests 10 priests who came from around the country for an Oct. 5-8 retreat aimed at helping them discern if they have a call to the military chaplaincy.
Sponsored by the U.S. Archdiocese for the Military Services, the retreat included an overview of the archdiocese, a look at life in the five branches of the U.S. armed forces through chaplains' presentations and remarks by military officers, as well as visits to several military installations, including the U.S. Naval Academy in Annapolis, Maryland; the Air Force's Joint Base Andrews, just outside Washington in Maryland; and Arlington Cemetery, the Pentagon and the Army's Fort Myer post, all of which are in Arlington, Virginia, just across the Potomac from Washington.
The retreatants ranged in age 30 to 45 and came from dioceses in New Jersey, Arizona, Ohio, Georgia, Texas, Florida and Illinois. Continue reading →
By Carol Glatz
Catholic News Service
VATICAN CITY — Two couples attending the Synod of Bishops on the family said what surprised them most about their first synod in Rome was reading inaccurate media coverage of the closed-door proceedings, the diversity problems families face around the world and the synod fathers' great concern and compassion for the family.
Even though Ketty De Rezende of Brazil studied and lived in the United States and Canada, she said hearing about the diversity of challenges families face in other parts of the world came as a surprise to her.
Ketty, with her husband Pedro, are active in Brazil in the pastoral care of families facing difficulties. But much of what they encountered in the Americas was very different from some of the problems needing attention in Asia and Africa, she said.
Ketty and Pedro De Rezende, professors in mathematics and computer science, respectively, at the University of Campinas, Brazil, spoke to the press Oct. 12 during a Vatican news conference.
The many difficulties facing families, discussed during the first week of the synod, "did surprise us. I think we weren't quite aware of all these challenges," she said.
Pedro told reporters what surprised him most was "what the press has been publishing."
"Many, many times it doesn't reflect what we see in there," he said.
The synod proceedings are closed to the press, but synod participants are allowed to be interviewed and to release their written speeches to the public. Continue reading →
By Eileen Connelly, OSU
The Catholic Telegraph
Their faith initially brought Brian and Kathleen DeRouen together as graduate students at the University of Dayton and ultimately let the couple to a hilltop house in West Virginia where all are welcomed with compassion and open arms.
Brian originally hails from the San Francisco Bay area; Kathleen grew up at St. Ann Parish in Hamilton. At UD, both were active in campus ministry, shared many classes and attended the same meetings. "We kept finding more reasons to spend time together," Brian DeRouen recalled. "There were many signs that the Spirit was moving to bring us together." Continue reading →
By Cindy Wooden
Catholic News Service
VATICAN CITY — Although the public is given glimpses of what happens inside the Catholic Church's world Synod of Bishops, the meetings themselves take place behind closed doors.
Celebrating its 50th anniversary this year, the Synod of Bishops has been the object of a continual hunt to balance creating a protected space where bishops could speak freely — something that was especially important a couple of decades ago when some members came from Soviet-bloc countries — with letting Catholics at home know that their bishops were working prayerfully and seriously on issues they, too, would find important.
As a theologian, bishop and then-prefect of the Congregation for the Doctrine of the Faith, Pope Benedict XVI had attended 15 of the 20 general, special and regional synod assemblies held between 1965 and his election as pope in 2005. One of the first things he did as pope was to institute an hour of "free discussion" at the end of the synod's evening session each day. Unfortunately, several synod members said, some synod participants insist on reading a text there, too, basically giving themselves the chance to make two formal speeches.
Cardinal Lorenzo Baldisseri, synod general secretary, said this year's synod will see participants spending more time working and discussing issues in small groups and less time listening to speeches.
Because the number of bishops in the world — and at the synods — continues to grow, the amount of time they are given for speeches to the assembly has been reduced. Prior to 2005, they each had eight minutes. For the 2008 synod, it was reduced to five minutes. This year it has been slashed to three minutes. Continue reading →
By Lindsay Hueston
Catholic News Service
PHILADELPHIA — A woman religious who teaches a course at the Philadelphia prison Pope Francis visited Sept. 27 believes the pope's outreach to prisoners will have an impact on the criminal justice system in America.
"He'll be aware of the injustices that may occur in the prison system," and his presence will raise public awareness about prison systems around the country, said Mercy Sister Elizabeth Linehan, a professor of philosophy at Jesuit-run St. Joseph's University in Philadelphia.
"He's aware of the United States' reputation as 'the great incarcerator,' with our country having a higher percentage of our population in prison than any other country's proportion," she added.
She also said she hopes the pope's visit to the Curran-Fromhold Correctional Facility will bring to light such injustices as men not convicted of a crime yet serving prison time while they await trial, and some others imprisoned without having bail set.
Sister Elizabeth has taught a course titled "Inside-Out" at Curran-Fromhold and other prisons in the Philadelphia area for several years. The course brings together student-inmates from jails and university students from the outside world to form one class, taught together weekly inside the prison walls.
She said the course is designed to break down stigmas and barriers by encouraging dialogue and discussion, particularly regarding freedom, fairness and justice.
The pope met with men and women inmates of the Philadelphia prison and some of their family members for about an hour on the last day of his U.S. visit. He presented himself at the prison "as a pastor but above all a brother" to the inmates. Continue reading →
By Carol Glatz
Catholic News Service
VATICAN CITY —Canadian Archbishop Paul-Andre Durocher of Gatineau, Quebec, said the synod should reflect on the possibility of allowing for female deacons as it seeks ways to open up more opportunities for women in church life.
Where possible, qualified women should be given higher positions and decision-making authority within church structures and new opportunities in ministry, he told Catholic News Service Oct. 6.  Continue reading →
Staff Report
The Archdiocese of Cincinnati's two unbeaten teams continue to steam along as conference play begins to get serious. By this point clear favorites are emerging to win each league and for many, the attention is already on playoff scenarios.
If the season ended before this weekend's games, six of the 15 schools from the archdiocese would make the post season. Continue reading →