Press Release
The Roman Catholic Archdiocese of Cincinnati will join Christians throughout the world in celebrating Holy Week, the most sacred time of the Church year, beginning with Passion Sunday (Palm Sunday) on April 13.   Continue reading →
From Staff & Wire Reports
Ursuline Academy won its second-straight OHSAA Division I Swimming state championship Feb. 22 in Canton, scoring 281 points.
The school sent nine swimmers to state, winning eight of 11 events in the process. Continue reading →

Staff Report
The following is a glance at the inner-workings of the new OHSAA competitive balance proposal.
For a story on the proposal, click HERE.
Ohio high school sports are divided into divisions based on enrollment. This way big schools play big schools and small schools play small schools, leading to more competitive equality.  Continue reading →
By John Stegeman
The Catholic Telegraph 
Despite similar measures being voted down in 2011, 2012 and 2013, the Ohio High School Athletic Association (OHSAA) has put a competitive balance proposal back on the table for voting this May.
The 2014 proposal, which was unanimously approved by the OHSAA Board of Directors and a 27-member Competitive Balance Committee, seeks to address perceived competitive inequality in Ohio high school postseason tournaments between public-closed enrollment, public-open enrollment and non-public schools. Continue reading →
By Carol Zimmermann
Catholic News Service 
WASHINGTON — Responding to concerns about Catholic involvement with Girl Scouts, a U.S. bishops' committee released key points from its dialogue with Girl Scout leaders outlining major concerns of church leaders and the national organization's responses. Continue reading →
By Cindy Wooden
Catholic News Service 
VATICAN CITY — Pope Francis said the assassination of "my confrere," a 75-year-old Dutch Jesuit in Syria, "filled me with deep sadness and made me think again of all the people who suffer and are dying in that martyred country." Continue reading →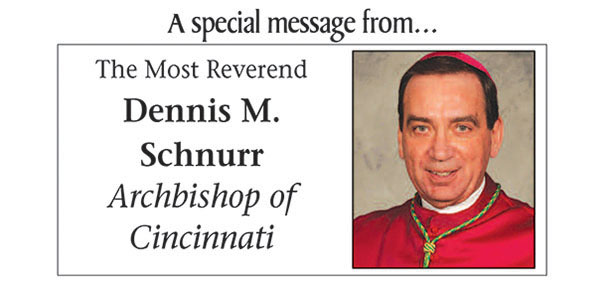 Dear Brothers and Sisters in Christ,
The season of Lent, as a journey with Christ towards the Cross the Resurrection, always reawakens our sense of solidarity with our sisters and brothers living in the holy Land. It was there that the Apostles first heard the voice of the Lord Jesus, were made partakes by grace in the Mystery of Redemption, and then to announce it with the witness of their lives. Around them the first Christian communities began to blossom, beginning from Jerusalem. Continue reading →
By Eileen Connelly, OSU
The Catholic Telegraph 
As a child growing up in St. Louis, Mo., one of Franciscan Sister Rose Marie Weckenmann's favorite activities was making a trip to the neighborhood library and returning home with stacks of books. How fitting then, that her love of the written word led Sister Rose Marie to a ministry that would enable her to share it with others through the archdiocesan Media Center in Cincinnati.  Continue reading →
By Patricia McGeever
For The Catholic Telegraph 
If you ask retired salesman Richard Eisele how he occupies his time he'd tell you, "I'm in the collection business."
It's serious business, and he's not in it alone.
"I ship humanitarian aid to people who desperately need it," he said. Continue reading →
By John Stegeman
The Catholic Telegraph 
Sometimes people can forget the power of saying thank you.
In the zeal to serve and spread the Gospel, dinners and other events related to church affairs often serve multiple purposes. Some are fundraisers and social gatherings, others aim to raise awareness or spread a particular devotion. Continue reading →