By Catholic News Service
PEORIA, Ill. — A seven-member team of medical experts convoked by the Vatican reported there is no natural explanation for the survival of a child delivered stillborn and whose heart did not start beating until 61 minutes after his birth. Continue reading →
By Cindy Wooden
Catholic News Service 
ROME — Lent is meant to wake up Christians and help them see that God can give them the strength to change their lives and their surroundings, Pope Francis said.
Before receiving and distributing ashes at an evening Mass March 5, Ash Wednesday, Pope Francis gave a homily focused on a line from the prophet Joel: "Rend your hearts, not your garments." Continue reading →
By Carol Glatz
Catholic News Service
VATICAN CITY — When Cardinal Jean-Louis Tauran walked onto the central balcony of St. Peter's Basilica, telling the crowds in Latin: "I announce to you a great joy. We have a pope!" not many people recognized the name of then-Cardinal Jorge Bergoglio of Buenos Aires, Argentina.
Now, just one year since his March 13, 2013, election, there are still many things most people do not know about the 265th successor of Peter. Continue reading →
Staff Report
The 2014 Fish Fry guide, presented by The Catholic Telegraph is now available online HERE.
Nearly 4,000 people visited the Fish Fry calendar in 2013, making it the third-most popular feature on www.thecatholictelegraph.com behind the Festival Guide and Mass Time Calendar. Continue reading →
Feb. 28, 2014
Staff Report
Though first announced Feb. 11, the resignation of Pope Benedict XVI took effect one year ago on Feb. 28, 2013. Continue reading →
By Steve Trosley
The Catholic Telegraph
More than 400 people braved a small group of placard-carrying protesters and snow-clogged parking lots to hear Bishop Thomas Paprocki speak on the Catholic teachings on marriage and same-sex relationships Feb. 12 in the Bartlet Center at the Athenaeum.
Bishop Paprocki, leader of the Springfield, Illinois, diocese, attracted media attention last year after he performed a minor exorcism in the cathedral there after the Gov. Pat Quinn signed a law recognizing same-sex marriage. Continue reading →
Staff Report
Every year thousands of students from the 23 Catholic high schools of the Archdiocese of Cincinnati graduate and go on to college. A select few continue their athletic careers competitively at the next level.
The following is a list of Catholic school students throughout the archdiocese who signed during the winter signing period to play collegiate athletics.  Continue reading →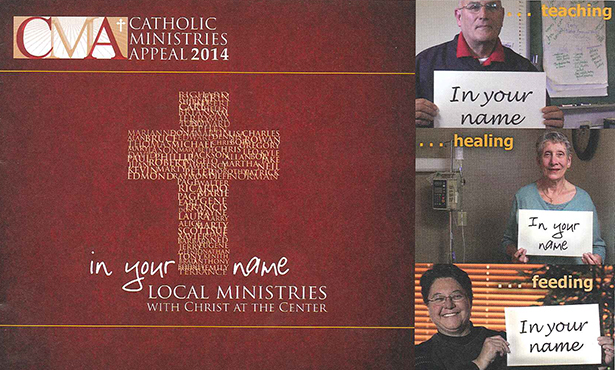 Staff Report
The 2014 Catholic Ministries Appeal (CMA) got underway the weekend of Feb. 22-23, kicking off the annual fund drive that fuels a collection of ministries through the 19 counties of the Archdiocese of Cincinnati. Continue reading →
By Mark Pattison
Catholic News Service
WASHINGTON — The upcoming movie "Son of God" should be seen as "a love story," according to two of its executive producers, the husband-and-wife team of Mark Burnett and Roma Downey. Continue reading →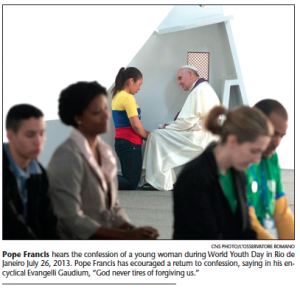 The following is a closer glance at the Sacrament of Reconciliation in light of the archdiocesan initiative "The Light is ON For You." All parishes of the Archdiocese of Cincinnati will be open from 7-9 p.m. on March 18 to offer confession. Read more about that event here.
"Those who approach the sacrament of Penance obtain pardon from God's mercy for the offense committed against him, and are, at the same time, reconciled with the Church which they have wounded by their sins and which by charity, by example, and by prayer labors for their conversion." — Catechism of the Catholic Chuch, 1422 Continue reading →