A New Face in Catholic Identity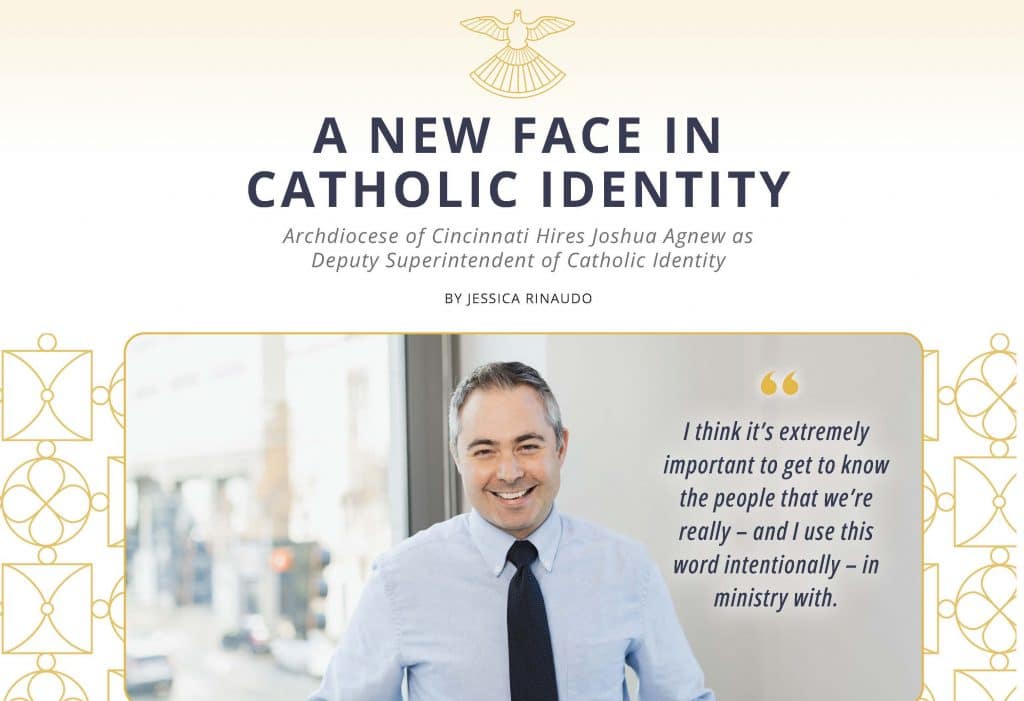 Recognizing the importance of a strong faith presence within our Catholic schools, Archbishop Dennis M. Schnurr approved a new position: Deputy Superintendent of Catholic Identity. The search for the right candidate went far and wide until recently, when Joshua Agnew was hired to take on this crucial role.
As a former Catholic school teacher, administrator and even employee in the Diocese of Springfield in Massachusetts' Catholic Schools Office, Agnew has experience at all levels.
"I did teach in public school. I've taught in Catholic school. I have been an administrator in Catholic school, in the middle and high school levels for all kinds of things. I've been a choir director… I've done all of that in the public, in the private and even the homeschool spheres," Agnew said.
Throughout his career, Agnew has drawn on his own classroom experience to better understand teachers and administrators' needs.
"There's so many things that go into being an arts teacher… doing those types of duties for almost a decade, it really prepared me as somebody who can be an administrator and not forget what it's like to be in that classroom," he said.
Agnew continued, "There's a lot that goes on in a Catholic school. It's not just, 'Here, it's something we'd like you to implement. Go do it.' No, it doesn't work that way because it's a very different culture, especially than a public system. And so, understanding what goes into being a Catholic school principal and Catholic school teacher and how different it is, I think is something that I'm strong in."
Promoting Catholic identity in schools is a big job with a lot of potential. When asked about his vision for Catholic identity, Agnew looks straight to the heart of our faith.
"Salvation," said Agnew. "For mankind that is the goal and the purpose of the Church and keeping that at the forefront. … And then as an extension of that, we have all of the Church's social teachings. We have the wonderful ministries of our church that serve the poor, that serve families like us, Catholic schools that serve families with the education of their children… All can bear fruit and merit. And if you see it that way, everything you do, no matter how small, no matter how great, can be done for the glory and for the Kingdom of God.… I feel my role is going to be as Deputy Superintendent of Catholic Identity to help our folks who are already doing this work."
To get started, Agnew first plans to get to know the educators, administrators and pastors in the Archdiocese of Cincinnati, then to learn more about each person, individual school's character, and their combined needs.
"It's about learning what they do, but it's [also] about meeting them as people because what we do as the Church, we're human beings doing it. We're not names or numbers. And so I think it's extremely important to get to know the people that we're really – and I use the word intentionally – in ministry with," said Agnew.
"It's exciting to see that an archdiocese is willing to invest in a position [for Catholic identity in schools] and a team to help," he continued. "I don't want to use the word implement, because there are many good things that are already happening, but solidifying and helping to grow the identity within our Catholic schools. [We can] find ways that a fusion of the faith can be integrated into the life and culture [of the school] if it doesn't exist, and if it does exist, to help really give them that support that they need to continue. I want to be a resource and to support them in their mission, which is an extension of the evangelizing mission of the Church.
Moving to Cincinnati from Massachusetts for this position, Agnew is father to eight children aged 1 to 15. They are thrilled to be nearer to family in the Cincinnati area.