Looking Back: Former Reds mascot makes connection to faith through youth ministry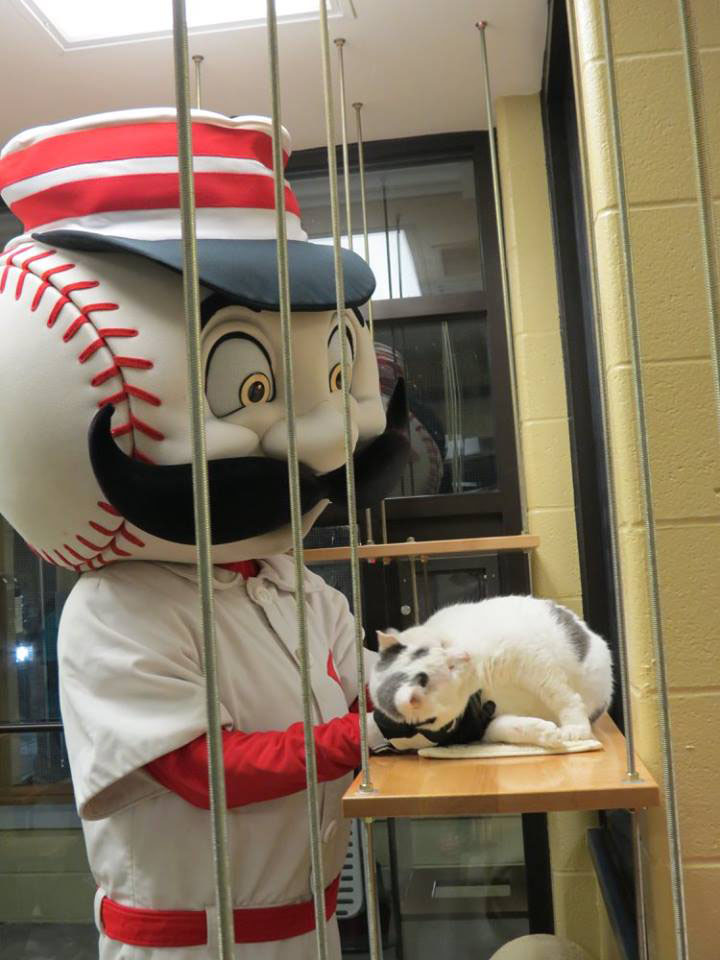 By Eileen Connelly, OSU
The Catholic Telegraph 
Bradley Barnes recalls the youth ministers who inspired him when he was a child and in his teenage years. Now he hopes to do the same for the young people at Guardian Angels Parish in Mt. Washington, where he has served as coordinator of youth ministry since last October. Aiding him in connecting with the youth is a unique (and fun!) role he played until recently – that of Mr. Redlegs, mascot of the Cincinnati Reds.
Barnes, the oldest of four children, grew up Protestant and has fond memories of the Assembly of God church his family attended.
"It was a great church family," he said. "The children's ministry was how God formed my heart. It introduced me to my faith in real and organic way, not just a catechetical way."
He was introduced to Catholicism by his future wife, Meghan, but emphasized, "it wasn't in a formalized way. Her faith was and is very important to her and how it played out in her life was very attractive to me."
With Meghan as his sponsor, Barnes was received into the Catholic Church in March of 2010. The couple was married a short time later.
Barnes, 30, worked a variety of jobs over the years, but never forgot what he describes as the "blessing" of his own youth ministry experiences. His goal to become involved in ministry himself was realized when he and his wife moved from Cincinnati's west side across town and became members of Immaculate Heart of Mary (IHM) in Anderson Township. There, said Barnes, an opportunity he knows came straight from God, "fell onto my lap."
What started as a volunteer role in youth ministry, soon evolved into a paid, part-time position. Before long, another unique opportunity came Barnes' way. He has always enjoyed portraying different characters and had previous experience as a mascot for the UC Bearcats and a local company. After the band he was in at the time played a gig a Great American Ball Park, Barnes looked into becoming a mascot for the Reds. He started as a substitute and went on to spend three full seasons as Mr. Redlegs.
"I was present for the games, amping up the fans and the energy of the games," Barnes explained, noting that the majority of a what a mascot does takes place outside of the regular season, including visits to Cincinnati Children's Hospital and the Ronald McDonald house and appearances at special events, such as high school pep rallies and fish fries at local Catholic parishes.
His time as the Reds mascot was an opportunity to "share joy and happiness with people. It was very humbling and I felt very blessed."
Barnes said there was a definite connection between his role as Mr. Redlegs and his Catholic faith.
"Part of my goal as a mascot was to be Christ to other people. I couldn't talk as Mr. Redlegs, but I could gesture. Before I would put on my costume, I would always pray that somehow I could be present to someone and communicate God's love to them in some way."
"My faith isn't separate from other things I do," he stressed.
He left his role of Mr. Redlegs behind last fall when he was offered a fulltime youth ministry position Guardian Angels. The young people know about his time as a mascot and Barnes feel it has offered some "teachable moments," providing an example for the young people on how they can connect with and be Christ  to others, build their confidence and develop people skills.
Barnes' approach to youth ministry is rooted in his faith and his own experience as a young person.
"My youth pastor helped me experience God's love in a tangible way," he said. "I want provide our youth with opportunities to srecognize that they are created in the image and likeness of God, to encounter God's love and be able to say 'yes' to Him."
Among his current activities is planning for a week long summer young camp (Camp Bosco) for middle school students held in conjunction with IHM that will focus on faith formation, the sacraments and Christ's presence in the young peoples' lives. Along with the youth ministry team at IHM and archdiocesan Office of Youth and Young Adult ministry, he is actively working to involve other parishes in the program.
This story originally appeared in the February 2015 print edition of The Catholic Telegraph.