2017 brings new hopes for life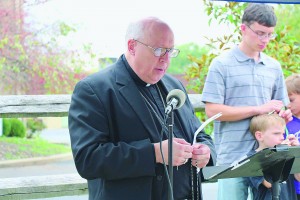 Long-time March for Life participants are looking to this year's national event with hope and expectation.
While both Republicans and Democrats have occupied the White House in the 44 years since Roe v. Wade and Doe v. Bolton, no candidate for president has ever promised to do more to restrict abortion than Donald Trump promised to do. Pro-life leaders here say they are cautious but hopeful about the next four years, and that they expect that hope to spread to this year's March for Life in Washington, DC.
"I am anticipating a March filled with its usual enthusiasm, but a much more hopeful atmosphere," said Margie Christie, assistant executive director of Dayton Right to Life. "Our attendees for the past few years have participated in the March with enthusiasm, but no real hope for any change. This year's event should be full of enthusiasm and hope for great change.
"I hope to see an atmosphere of change and true realization of a better future for women and children in the United States. We are hoping to see folks excited to be pro-life and excited to effect real change in their communities – things that judges and legislatures won't overturn."
Thousands of people from the Archdiocese of Cincinnati attend the March, which has been held every year on the anniversary of the Roe v. Wade decision (this year, because of the presidential inauguration, it will be held the following week). From a simple walk down the Mall from the Washington Monument to the U.S. Capitol, it's grown to a multi-day event with conventions, Masses, prayer services, visits to legislators, performances, talks, and presentations attended by hundreds of thousands from around the country.
"My hope is that there will be realistic media coverage of the number of persons, especially youth and young adults, who walk for life, advocate for an end to abortion, and welcome women and men who have lost children due to abortion to seek forgiveness and healing," said Colleen Gerke, Director of the archdiocese's Respect Life Office.
Underreporting participants, when the March is mentioned at all, has been so egregious that marchers flood social media with satirical memes and tweets every January, joking about half a million people sneaking into and out of the capitol unnoticed. "Social media has been a big help because of media suppression," said Paula Westwood, Executive Director of Right to Life of Greater Cincinnati. "For years I would take students to the March and I'd say, 'Look at how many people are there, and then watch to see what the news coverage says.'"
Photos on social media and live television broadcasts by ETWN have allowed anyone to see the size of the march, as well as how large, multicultural, and young the pro-life movement is, said Westwood, who hopes that the new president will send a representative to the March this year.
"For the past eight years President Obama did not send any message of support for to those at the March, as had pro-life presidents in the past," she said. "I anticipate an air of hope this year, based on campaign assurances. But we must wait to see what President Trump will do."
Volunteers from Right to Life of Greater Cincinnati organized student buses to the March for years, until insurance and logistics made the task too large. Now, while some families and organizations make their own arrangements, the Archdiocese handles most of the plans. Some schools send large contingents and some only a few, but most high schools in the archdiocese, as well as some elementary schools and colleges, send participants.
Chaminade-Julienne High School in Dayton has sent a delegation for 10 years. In 2015, Students of Life for America chose the school's Eagles for Life club as its Eastern High School student club of the year because of its year-round pro-life activities.
Club moderator and CJ religion teacher Karen Emmerich says that Eagles for Life members are excited about this year, but will continue to attend for as long as the March is needed, whatever the the political climate.
"No matter who is in political office, our Eagles for Life members are optimistic that they can be on the forefront of making pro-life changes in our city and nation," she said. "There has been progress recently, and our students hope they can continue making a positive impact by advocating for the value of all human life and by praying for and working toward a world where no one feels that abortion is the only viable option."
The 2017 March for Life will be held Jan. 27 at noon. "The excitement this year is palpable, with so many wonderful pro-life opportunities facing us in culture and public policy, said March for Life President Jeanne Mancini, quoting Tolkien: "'Even the smallest person can change the course of the future.'"