2019 Spirit of Sister Dorothy Stang Awards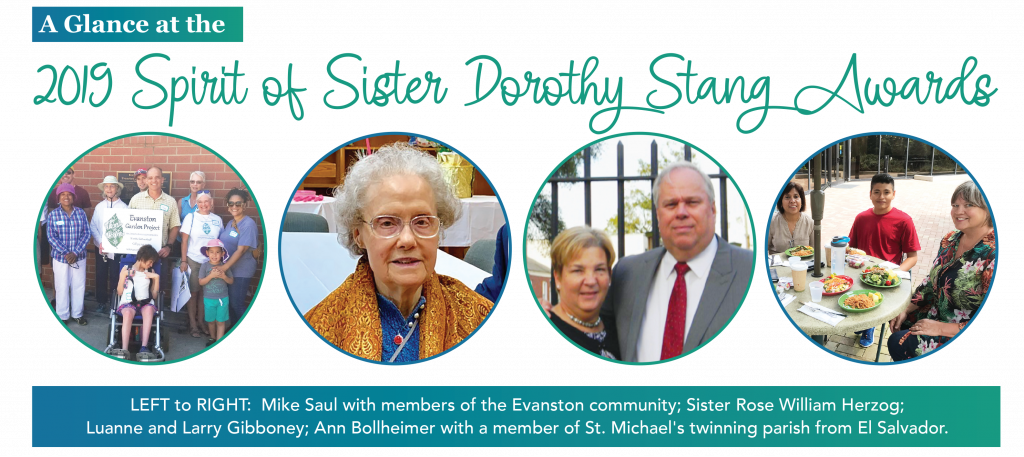 These awards honor the works of Sister Dorothy Stang, who went to Brazil nearly 50 years ago along with four other Sisters of Notre Dame de Namur. In 1966, the sisters established a new convent at Coroatá in the state of Maranhão. As the sisters learned about the oppression of the farmers at the hands of landowners, they began to teach the people about their rights as human beings. While she was recognized globally for her work in defending the human rights of the poor, she became a target for those who wanted her work stopped. She was murdered in Anapu, in the Amazon Basin of Brazil in February 2005. For Sister Dorothy it was always about the people. In a letter home Dorothy said, "I don't want to flee, nor do I want to abandon the battle of these farmers who live without any protection in the forest. They have the sacrosanct right to aspire to a better life on land where they can live and work with dignity while respecting the environment."
The archdiocesan Mission Office gives out the Spirit of Dorothy Stang Awards each year. They honor those in the Archdiocese of Cincinnati who exemplify the values of Sister Dorothy through their social justice ministry and teaching. This fall, there are 47 parishes giving awards to individuals, groups or couples. The individuals on these pages are just a small sample of the big work of many people.
MIKE AND TERRI SCHWARZ
Cathedral of St. Peter in Chains, Cincinnati
Mike and Terri Schwarz are longtime parishioners of the Cathedral of St. Peter in Chains. For more than two generations, the Schwarz family has been a crucial part of parish life. Their devotion to the Cathedral's Conference of St. Vincent de Paul, and through that the poor of downtown, Over-the-Rhine, and the West End, is amazing. Mike has spent countless hours volunteering his time to meet the needs of the poor.
Together they have given food and prepared meals from their own kitchen. They have employed people at their home who otherwise would not have work. They have befriended those whom society has discarded. They believed in those who have lost all hope. To add to the spirit of Sister Dorothy Stang and her love of the poor and the environment, Mike turned their backyard into a greenhouse, offering to anyone the fruits of his labor. They continue to give the gifts of their lives in service to the Church and to their neighbors.
ANN BOLLHEIMER
St. Michael Parish, Ft. Loramie
Ann Bollheimer is a long-time parishioner and former staff member of St. Michael Parish in Ft. Loramie. Bollheimer was the prime motivator for the parish twinning relationship with San Cristóbal in El Salvador and has been on several trips to El Salvador, taking parishioners with her each time. They have hosted members of San Cristóbal in Ft. Loramie as well. Many great things have come to the parish due to this relationship. The English Speaking/Teaching project is one example. In San Cristóbal, projects have flourished as well, including a library that was established in 2017. The center currently has 20 computers and 200 books, and houses many activities. By far the most cherished outcome of this relationship is the friendships and spiritual connection that it has fostered.
MIKE SAUL
St. Robert Bellarmine Chapel, Cincinnati
Four years ago, Mike Saul decided to enter into deep relationship with the low-income neighbors surrounding St. Bellarmine, primarily in the Evanston community. He began visiting the Evanston Recreation Center weekly and started a program for people there to buy affordable, local and organic produce in partnership with OurHarvest Co-op. That initiative evolved into a truly collaborative program called "Fresh is Better: The Evanston Garden Project." This project seeks to build relationships around healthy, locally grown food. Saul launched this project with a team of parishioners and Evanston residents, including members of the Evanston Community Council, to install educational garden beds at the rec center and residential beds for individuals to have a relationship with the earth and, through mentoring relationships and friendships, with one another. The program has installed 60 beds to date, helping serve the needs of around 50 families through healthy, organic produce.
To complement these initiatives, he has helped launch an annual Plant Swap/Sale, with a variety of plants, including edibles, for as low as a quarter, many of which he grew in his own home. Over the last year, he also helped revitalize the local community Holloway Hope garden. This has been a deeply transformational project for the entire parish, helping the community to build real and sustained relationships.
SISTER ROSE WILLIAM HERZOG
St. John the Baptist Parish, Harrison
Sister Rose William Herzog was a Sister of Charity blessed with a missionary spirit, although she never was in "the missions." Through her many years at St. John the Baptist School in Harrison, she always brought forward her belief that Catholics were by nature missionary people. Even in retirement, when she tutored children, she would let them know that their Missionary Childhood Association offerings needed to be turned in. She told the students stories of children in the missions and the effects of their offerings on different groups and individual missionaries, helping the students to understand the needs of others and the power they have to make a difference. Sister Rose died this past June, but her understanding of mission lives on in the hearts and actions of the students she touched.
BETTY MCGUIRE
Holy Family Parish, Middletown
Betty McGuire has been an incredibly positive force at Holy Family Parish for many years. In service to missions, McGuire made quilts in the theme of the yearly Vacation Bible School and the next year auctioned them off with all the proceeds going to the Daniel Comboni Community Clinic in Guatemala. She has volunteered her time to do this for more than 10 years. Additionally, she makes rosaries for parishioners of Holy Family Parish, and regularly sends rosaries to several African priests and their parishioners. Those efforts to assist others continued as McGuire raised funds to help the pastor of Agwata Catholic Parish in Uganda so that he could purchase a laptop. She later gave a donation to help with his tuition. McGuire was widowed in 2000 and never had a driver's license, but she has no trouble getting rides as she involves other parishioners in all of these truly incredible acts of community.
LARRY AND LUANNE GIBBONEY
St. James the Greater, White Oak
Larry and Luanne Gibboney have participated and promoted outreach efforts for more than 30 years. Working with Little Brothers Friends of the Elderly, they both regularly care for the aging by organizing campaigns to secure food and distribute Thanksgiving dinners and Christmas packages.
Larry is a member of a large men's spiritual group known as FATHERS, which operates out of St. James. He has acquired and warehoused supplies for the groups' service to the Queen City Soup Kitchen. When supplies run low, the Gibboneys provide what the kitchen needs out of their own pockets.
Most recently, the Gibboneys have begun to support C.A.I.N. Churches Active in Northside. This group is supported by 13 member churches and provides a food pantry, shelter homes and outreach to people in need in Northside and College Hill.
KATHY GROENDYK
St. Helen Parish, Dayton
Kathy Groendyk grew up in a family who lived Catholic social teaching as part of their everyday life. So when more than five years ago she learned about Fair Trade products, she decided this would be her way to give back to those who have so little. She wanted more of the money she spent to go to the people who grew and created the products, not the corporations. Fair Trade sales do just that, helping farmers and artisans have a better quality of life, while also, at least in terms of coffee and chocolate, preventing further environmental degradation.
Since that beginning decision, Groendyk has spearheaded the parish's monthly Fair Trade sale, offering a vast array of products for sale. More importantly, she has kept the importance of a global economic approach at the forefront of the parish imagination.