A Bright Future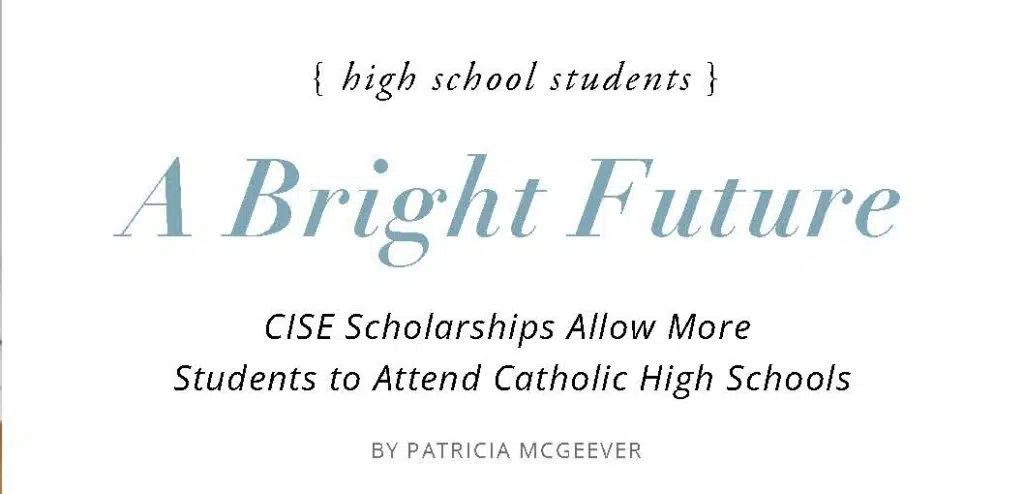 A record number of freshmen at Cincinnati's Catholic high schools this fall will come from the city's inner-city Catholic grade schools. In disadvantaged neighborhoods, they are supported by the Catholic Inner-City Schools Education Fund (CISE) whose mission is to help children out of poverty by providing quality education. This year, 203 eighth graders graduated from CISE schools, and 148 of them are moving on to Catholic high schools.
"The total enrollment last year in high schools was about 300 students," said Phil McHugh, Interim Director of CISE. "So if we can keep this pace up for the next few years, we'll have doubled the number of CISE elementary school students in Catholic high schools."
Guadalupe (Lupita) Bucio graduated from St. Cecilia this year and is enrolled to begin at Mount Notre Dame this fall.
"I really did like it," said Lupita of her grade school experience. "There were a lot of opportunities and a lot of preparing me for what's next." Her parents switched Lupita and her older sister, Fatima, from public school after meeting St. Cecilia's principal. They learned about opportunities St. Cecilia offers and how Ohio's Ed Choice Vouchers could cover some tuition.
"We are Catholic, so it was just good for us," said Lupita's mother, Lilia. "I always said to them, we saw in that moment we were doing the right thing. We liked the school."
Lupita received one of the 100 CISE scholarships awarded this year. Every CISE eighth grader can apply to receive between $3,000 and $6,000. The objective is clear: Ensure a child's financial situation does not prevent him or her from attending a Catholic high school.
"Through the generosity of our donors and our partnership with the local Catholic high schools, we're now in a position to offer a Catholic high school education to any CISE eighth graders who desire that," said McHugh.
For Lupita's family, every little bit helps. "We work, but definitely we cannot afford it," said Lilia of the tuition. "For example, now, in high school, it's almost $16,000 every year." Add the cost of extracurricular activities and the price is out of reach for many families.
Lupita is looking forward to participating in sports and theater at Mount Notre Dame (MND). Right now, she's studying piano and vocals.
"I want to be a singer and an actor," she said. "I'm hoping that MND will help me out with a lot of things I'm looking forward to doing, to prepare and to really look forward to the career I'm interested in having."
This article appeared in the August 2022 edition of The Catholic Telegraph Magazine. For your complimentary subscription, click here