A Letter From Archbishop Schnurr: On The 40th Anniversary Of Roe v. Wade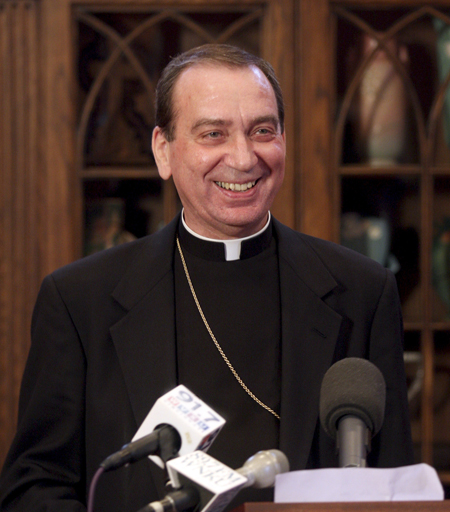 My dear friends in Christ,
The 40th anniversary of Roe v. Wade, the tragic U.S. Supreme Court decision that legalized abortion at all stages of pregnancy by judicial fiat, is a sobering and dispiriting occasion. Many of us have spent most or all of our lives fighting to restore a culture of life in the United States. We reflect painfully upon the 54.5 million lives lost and the millions more lives changed forever by abortion in these past four decades.
We are also keenly aware that the value of life at all stages has been cheapened. Video games, movies, and television glamorize but also reflect a culture that is often violent. The horrific shooting of children and their educators recently in Newtown, Conn., has provoked much soul-searching about this as well as a deep sadness.
In this Year of Faith, however, there is much reason for hope. While public opinion polls vary, it is clear that the legality of abortion has not led to a general acceptance. A majority of Americans in many polls agree that abortion ends a human life and that it is morally wrong.  Moreover, 41 states set new limits on abortion in 2011 and 2012.
A strong pro-life spirit in our country is much on display when Catholics join with people other faiths and of no faith to speak and act for life. About 2,000 youths from our area alone attended the Youth Rally and Mass last year at the March for Life in Washington. The Archdiocese facilitates buses to the event and a send-off the night before. I have attended the March for Life in the past and will again this year. Locally, the annual Cross the Bridge for Life at the Peace Bell in Newport, Ky., attracts about 4,500 participants. Bishop Binzer and I have both participated.
Apart from these major opportunities to demonstrate our commitment, the number of organizations involved in respect life activities on a daily basis is truly inspiring. Each year the Respect Life Fund, which was started by Cardinal Bernardin in 1973, awards grants to more than two dozen such groups in the Archdiocese through the generosity of parishioners donating to our yearly collection.
For example, 20 pregnancy centers in Greater Cincinnati and 19 in the Miami Valley serve women experiencing unplanned pregnancies. And Project Rachel, started locally by the Family and Respect Life Office of the Archdiocese, offers retreats, support groups, one-on-one companioning, and clergy referrals to bring comfort and hope to women who have lost a child through abortion. Several of our Catholic human service agencies promote the loving option of adoption, and we have also advocated for public healthcare and safety net programs that help to ensure that all families and children have their basic needs met. These are concrete actions by which we show our love for mother and child. The need for this work will never go away, no matter what the legal status of abortion.
So we have much to be grateful for 40 years after Roe v. Wade. But at the same time, the struggle to build a culture of life culture continues and faces new obstacles. Notably, the mandates imposed by the Department of Health and Human Services under the Affordable Care Act will, if not overturned by the courts, require virtually all employers to offer insurance covering, not only birth control and sterilization, but also abortion-inducing drugs.
The theme for Respect Life Sunday last October was "Faith opens our eyes to human life in all its grandeur and beauty." Throughout this Year of Faith, please continue to pray, work, and speak up for that life, which comes to us from God.
Wishing you a grace-filled New Year, I am,
Sincerely yours in Christ,
Most Reverend Dennis M. Schnurr
Archbishop of Cincinnati