"A slice of Heaven" Carroll High School rededicates its St. John the Evangelist Chapel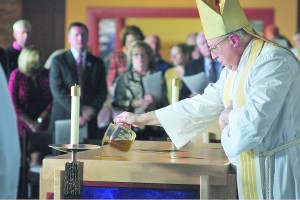 Carroll High School began a new era in November as dozens of alumni, faculty and staff members, students, and friends of the school gathered for the rededication of St. John the Evangelist Chapel.
Bishop Joseph R. Binzer led the congregation through the chapel doors in a solemn procession to begin the rededication Mass, where he used newly consecrated holy water to bless the assembly, walls, and altar.
The rededication Mass and following reception culminated months of work on the $360,000 construction project and years of contributions to the Future for Carroll Major Gift Initiative, More than 80 families and individuals contributed to the campus-improvement fund to make the vision of a renovated chapel come to life.
Work began in April and ended in August. The project increased the chapel's size from 1,000 to 3,150 square feet, with a seating capacity of 200 and space for a Campus Ministry Center.
The new holy water font provides a symbolic reminder of the sacrament of baptism to all who enter. The bowl, created by Carroll Art Department Chair Betty Peterson, uses the same glass as the chapel windows, which feature images of water. The altar and ambo were designed and handcrafted by Joe Jackson, a 2003 Carroll graduate The restored tabernacle connects with the water theme with symbols of fish as well as water.
Larry Blanford, a 1972 Carroll graduate, who attended the rededication Mass with wife, Lynn, said the chapel "seemed a slice of heaven."
"Before the renovations, the chapel seemed small, dark, and not particularly set off as a place of worship. It seemed inadequate to support the integration of faith with education, which Carroll strives to achieve in the formation of students," Blanford said. "Now, it is modest, but beautiful, with the restored original tabernacle at the center. The new entry clearly calls out the presence of a holy place. The heartfelt design and workmanship, the many thoughtful contributions of Carroll staff and families, and the spirituality it brings to the school, will hopefully inspire many hours of prayer, serenity, and sacrament to everyone who enters."