Carey: Office to focus on young adults
By Eileen Connelly, OSU
Just after the start of the new year, Luke Carey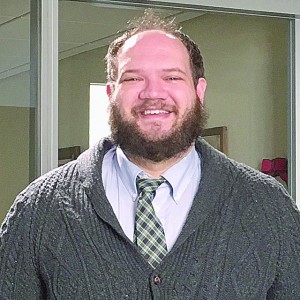 found himself deep in prayer as he discerned the direction his ministry will take.
Carey, the former associate director of the archdiocesan Office for the New evangelization, has been named director of the Office for Young Adult Evangelization and Discipleship. The Dayton native and Franciscan University of Steubenville graduate brings a background in Catholic education and youth ministry to his new role, which he said, is still taking shape.
"I've always enjoyed evangelizing my peers and in college really tried to provide support for people who were trying to live their faith," said Carey, who recently turned 34.
One of the first things on his agenda, said Carey is to determine "what do we mean by a young adult? In some places it's defined as ages 18-40."
The wide age range presents a challenge in terms of ministry, he acknowledged. "You can't treat a 22-year-old the same as someone who is 35," said Carey. "We need to understand there are differences."
His prayer in early January provided some guidance in how to address these differences and approach his ministry. "I felt the Lord saying, 'bring them to me.' For me, this means meeting people where they are, to really reach out to wherever young adults are in the archdiocese."
"What I want to do is more at the grass roots level, just getting together with people for coffee and praying with them," he explained. "Events are good, but they're not enough. If that's all I'm doing, it's not enough. It's not personal. I like getting into the nitty gritty of what's important to people."
"We have to ask ourselves who we're walking with, how we're walking with them, and what we can do help them grow in their faith," he added. "It's about preaching the Gospel in word and action, and in terms of ministry to young adults in the archdiocese, this can only come about through relationships and time."
The relationship piece is critical, Carey emphasized, because so many young adults who are trying to practice their faith feel isolated. "It's hard for young adults to live their Catholic faith," he said. "For it to thrive, there has to a strong faith community. My prayer is that I can help make the archdiocese a place where young adults who are practicing their Catholic faith can thrive."
Whatever direction his ministry takes, Carey is committed to witnessing his faith to others. "I'm convinced that the best thing I can do is love Christ and have a relationship with him and let everything else I do flow from that," he said.