Abuse education effort begins year 12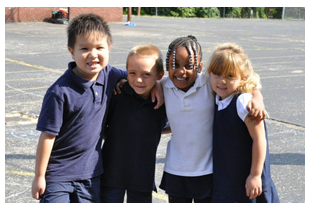 Press Release
Archdiocese of Cincinnati
As Catholic school students resume classes, the Partnering to Protect Children child abuse and peer abuse prevention is set to begin its twelfth year of operation in Archdiocese of Cincinnati schools.
Since 2003, a total of 58,156 students, 920 parents and 862 school staff members at our schools have taken part in the school-based program conducted by the Council on Child Abuse under contract from the archdiocese.
The council developed the program to help educators, parents and children in grades K-12 define and identify child abuse, peer abuse/bullying and other inappropriate behaviors, and teach strategies to address these problems in schools.
First, Council staff members make presentations to school personnel and parents prior to the presentations to children. Then trained professionals use DVDs, interactive discussions, small group activities, role-playing and follow-up handouts with the children. After classroom presentations, children have an opportunity to speak individually with Council staff to ask questions or share concerns. Children's disclosures requiring adult intervention are forwarded to the appropriate personnel or authorities for intervention and follow-up support.
At the Archdiocesan schools involved in the program since 2003, the Council reports that there have been:
● 2,484 children identified as needing intervention of some sort;
● 1,652 disclosures of current, previous or possible bullying;
● 506 disclosures of family or other concerns; including witnessing domestic violence and animal abuse
● 94 disclosures of current, previous or possible sexual abuse;
● 88 reports to Children's Services;
● 105 disclosures of current, previous or possible physical abuse.
"Prevention education for adults and children have proven effective in the identification, intervention and prevention of child abuse and peer abuse," said Eve Pearl, executive director of the Council on Child Abuse of Southern Ohio. "Research has shown that these prevention programs help create safer schools where children don't fear teasing, bullying or violence, and can be more receptive to learning."
Before the creation of Partnering to Protect Children as an Archdiocese-coordinated and funded program, the Council on Child Abuse had supplied programs to 90 Archdiocesan schools on an individual basis from 1990 to 2002. Those efforts reached almost 26,000 students, almost 800 parents and 350 staff members.
The Roman Catholic Archdiocese of Cincinnati is the 38th largest Catholic diocese in the country, with almost 500,000 Catholics, and has the sixth largest network of Catholic schools in terms of enrollment.  The 19-county territory includes 213 parishes and 113 Catholic primary and secondary schools.
Posted Aug. 19, 2014