Accept the Invitation to Act

"There's a new episode of The Chosen," my husband said. In minutes the two of us were eagerly settled in the living room with our five children, ready for our favorite show. The kids' questions during episodes range from "Is Jesus in this one?" to my favorite, "Why does Mom cry every time we watch this?" That makes me laugh, and they're spot on. Most of The Chosen episodes bring me to tears over Christ's love and humanity, and when we tune in I become more certain of how approachable our Lord is.
IMPACT
It's effective shows like The Chosen that are fantastic at drawing people closer to Jesus and transforming hearts. The Internet is chock full of content made for exactly this, and the reach seems to extend farther each day. I've personally seen how God uses shows, podcasts and even TikTok to make an impact.
On the Formed platform, my little boy Thomas watched the half hour animation, The Day the Sun Danced, a brief account of Our Lady of Fatima's appearance and messages to three shepherd children in Portugal. Mary's words were honest, yet gentle when she spoke of Purgatory, Hell and the need to pray the Rosary. Each time Thomas watches it, he wants to live differently and refocuses his attention toward Heaven. Compelled by the whole story, even as such a little boy, he prays for souls in Purgatory and offers Rosary decades often. I saw the same animation when I was a little girl and it fascinated me to a lasting degree – the show itself, Mary's voice and the miracle of the sun have stayed with me since childhood; when recalled, there is always a clarity that compels me to disregard distractions and set my sights on our Lord.
REINFORCEMENT

Of course, the life of faith in an imperfect soul can be inconsistent. Decades after I first saw The Day the Sun Danced, my faith lacked the same clarity as when I was little. I struggled to trust God and felt lost and uncertain. An episode of The Abiding Together podcast refortified the image of Jesus as the Good Shepherd, and ultimately gave me confidence to know I was loved and sought by God. I'll never forget the picture painted by the podcast hosts: they said that it's the Good Shepherd's job to protect us from evil, that we don't have to do it ourselves. From this simple idea, I understood that all I need to do is recognize the sound of my Shepherd's voice so I can follow Him over the cacophony of the world. And so I picked up my Bible to better hear what Jesus wants to say to me.
TAKE A STEP

It's amazing how powerful a tool high- quality media is for the New Evangelization; yet while evangelical media's impact reaches far and wide, it's paramount to retain the objective – moving people to a real, personal connection with Jesus. YouTube videos and Instagram posts that provide a better understanding of Catholicism or deeper relationship with Christ are good, but rendered meaningless if we don't accept the invitation to act. A podcast on the Sacrament of Reconciliation should send us to the confessional, compelling us rather than just being interesting.
So take a step. The next time you're struck by an episode of The Chosen, your favorite podcast or a simple truth in a meme, receive it, then act. Return to Confession, pick up your rosary, run to adoration and reunite yourself with the God Who spoke to your heart.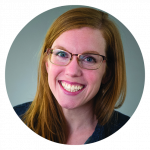 Katie Sciba is a national speaker and Catholic Press Award- winning columnist. Katie and her husband, Andrew, have been married for 14 years and are blessed with six children.
This article appeared in the February 2022 edition of The Catholic Telegraph Magazine. For your complimentary subscription, click here.