Acts of Devotion: Dedication to the Mother of God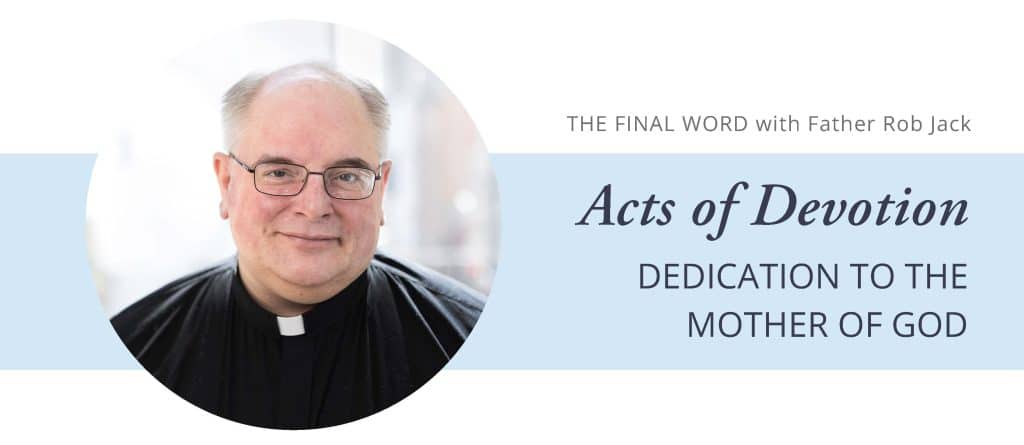 We must never lose sight of the basics of our faith. Faith in Jesus Christ, prayer and devotion are about as basic as you get. Religious devotions are little "snacks" for our souls so we can make it through the day with the help of the Lord, His Blessed Mother and the communion of saints. Here is a quick review of the Blessed Virgin Mary's place in our lives.
Why are Catholics devoted to the Blessed Virgin Mary?
There are two reasons that devotion to Mary is important for Catholics. The first is that Mary was chosen by God to be the Mother of Jesus Christ, true God and true man. Her consent to become the Mother of God, known as her "fiat," manifests her love of God and desire to serve Him. Her cooperation in God's saving plan provides the Eternal Word of God with a true human nature, so that Jesus Christ is like us in all things except sin. Thus, Mary is venerated by all Christians as the "New Eve," who gave birth to the "New Adam," Jesus Christ.
The second reason for Marian devotion is the command of Jesus her Son. "Son, behold your Mother; Mother behold your Son" (Jn. 19:25-27). Jesus gives His mother, Mary, to the apostle John as they stand together at the foot of the cross. When Jesus entrusts Mary and John to each other, Jesus makes Mary the spiritual mother of John, and by extension, the whole church. The Blessed Virgin Mary is truly our "spiritual mother." Mary loves all Christian believers as much as she loves Jesus. She exercises her maternal presence in the lives of every Christian to this day.
How do we practice our devotion?
There are many ways to show devotion to the Mother of God. The oldest Marian prayer is from the 3rd Century, "We fly to thy protection, O holy Mother of God. Despise not our petitions in our necessities, but deliver us always from all dangers, O glorious and blessed Virgin." We present our requests and needs to Mary that she may give them to her Son, Jesus. St. Louis de Montfort and others taught that the surest and quickest way to Jesus is through His Mother, Mary.
Another way we can show devotion to Mary is by striving to model her great faith. Elizabeth praised her by saying "Blessed is she who believed that the Lord's words to her would be fulfilled" (Lk 1:45). Mary is the best teacher in the life of faith by constantly reminding us to look to her Son. The Rosary helps us to see the life of Jesus through the eyes of His Mother. We reflect on the Seven Sorrows of Mary so that we can learn how to use the suffering in our life to strengthen our faith during hard times. She teaches us that by pondering God's actions in our lives, we will grow in God's love.
What are the spiritual benefits of devotion?
When we commit ourselves to Jesus through Mary, our life takes on a Marian attitude. Marian devotion deepens our bonds to the heart of Jesus Christ, making us a more perfect channel of divine grace. It also frees our hearts from many fears and burdens because of our increased trust in the power of the Holy Spirit to sustain us in this life.
Finally, devotion to Mary moves us out of ourselves to serve and intercede for others' needs, especially those who know little of the Blessed Virgin Mary. "Pray for us, O Holy Mother of God, that we may be made worthy of the promises of Christ."
Father Rob Jack is a priest of the Archdiocese of Cincinnati. Ordained in 1992, he currently hosts the daily radio show "Driving Home the Faith" on Sacred Heart Radio. He earned an STL (Licentiate in Sacred Theology) in Mariology from the International Marian Research Institute in Dayton, OH. He is from Middletown, OH.
This article appeared in the May 2022 edition of The Catholic Telegraph Magazine. For your complimentary subscription, click here.