Catholic at Home: Giving Advent it's due
Five years ago my husband, and I began to make concerted efforts toward celebrating Advent and waiting for the liturgical Christmas season to deck the halls and hang stockings with care. Truly waiting cultivated my sense of liturgical seasons, and on a superficial level, I found I wasn't done by December 25 as with Christmases of yore.
When it comes to celebrating Advent, we've discovered a more joyful Christmas when we wait with intention. Before we go into the benefits of giving each liturgical season its due, let's cover some dates. Did you know that the Christmas Feast lasts until Epiphany (Jan. 6) and the Christmas season until the Baptism of the Lord (Jan.10)? Here, you'll discover some perks of waiting it out.
WE EXPERIENCE SOME OF THE WAIT THE WORLD ENDURED

From the fall in Genesis to the night Mary delivered her Son, the world held its breath awaiting a Savior, one who would bring love beyond comprehension. Our wait is brief, yet, in four weeks, we can meditate on how desperately humanity needed Christ. Now is the time to read a daily devotional during Advent, use a Jesse Tree to follow Christ's lineage and play Advent music like "O Come, O Come Emmanuel" and "Come Thou Long Expected Jesus."
YOUR HOME DECOR ECHOES CHURCH DECOR

Before we began celebrating Advent with intentionality, our home was Christmas-ready right after Thanksgiving. The tree up and decked, every inch of the house smothered in wreaths and a full nativity scene on the mantle; but then we'd walk into our parish each Sunday of Advent and see modest decor of purple and pink – colors of preparation and waiting. To me, this was an indication that perhaps I should rethink some aspects of our celebrations. So we don our evergreen wreaths with purple and pink ribbons, light our Advent wreath nightly, and keep the Christmas decor stored until Christmas Eve.
IT BUILDS OUR ANTICIPATION FOR CHRISTMAS

Our family's collective giddiness seems to peak just before Christmas Eve Mass. In church we sing carols, enjoying the huge nativity scene on display. Because we spend the weeks leading up to Christmas reading the Old Testament, hearing the story of the Birth of Christ is thrilling. The sensation is so joyful that every year I feel deeply humbled and grateful for the Incarnation.
IT CAN RELIEVE SOME OF THE PRESSURE

There's often a sense of panic during December – cooking, shopping, shipping and parties! One year, I decided to make eggnog, a big egg casserole for Christmas morning and slow- cooker hot chocolate for my family to enjoy all day, and I still had to finish my Christmas cards. Feeling the self-imposed pressure for perfection on Christmas Day, I remembered the whole feast is 12 days long! So breathe easy. Feel free to send Christmas cards well after the New Year, and scatter your family's favorite traditions and dishes across the season to extend your celebration! Part of the gift in the tradition or festive meal can be the peace with which it's presented.
I encourage you to add to this list of benefits by celebrating Advent and giving the time of preparation soulful attention. It yields a joyful Christmas season and deeper understanding of the miracle of Christ's birth.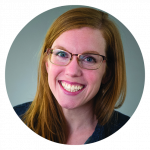 Katie Sciba is a national speaker and Catholic Press Award- winning columnist. Katie and her husband, Andrew, have been married for 11 years and are blessed with six children.
This article appeared in the December 2020 edition of The Catholic Telegraph Magazine. For your complimentary subscription, click here.