Advisor to pope to speak at Athenaeum in March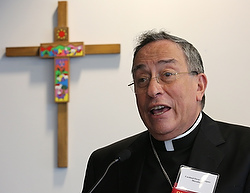 Athenaeum of Ohio Report
Cardinal Óscar Andrés Rodríguez Maradiaga, one of the nine members of the Council of Cardinals advising the pope, will present two lectures on March 11 at the Athenaeum of Ohio.
"I know from personal experience that the cardinal is a courageous defender of the most vulnerable in society; he is a prophetic voice in calling for justice and reform in the church. At the same time he has always proved himself to be a gentle and compassionate pastor," said Father Benedict O'Cinnsealaigh, president of the Athenaeum and rector of Mount St. Mary's seminary, who initiated the cardinal's visit along with Father Earl Fernandes, dean of the Athenaeum.
Cardinal Rodríguez will present a talk entitled "The Vision of Pope Francis for the Church" at 7:30 p.m. in the Athenaeum's St. Gregory the Great Chapel.  The event will be free and open to the public as part of the LeBlond Lecture series.
In the morning, Cardinal Rodríquez will have a special meeting, prayer service, and talk with women and men religious of the Archdiocese of Cincinnati at the Athenaeum's Bartlett Pastoral Center. The topic of the talk will be:"The Joy of a Consecrated Life: New Wine in New Wineskins." (The event is by invitation only.) The cardinal is a member of the Salesians of Don Boscoe and serves on a number of Vatican Congregations including the Congregation for Consecrated Life.
"The Holy Father has declared 2015 a Year of Consecrated Life and so we want to honor his intention by having a special opportunity for those men and women in our archdiocese to meet the cardinal," Father O'Cinnsealaigh explained. "In addition, anyone who wants to hear what Cardinal Rodríguez has to say about the future of the church can come to the evening lecture."
Cardinal Rodríguez was appointed by Pope Francis to chair the newly established Commission of Cardinals as special advisors to the Holy Father. He is the Archbishop of Tegucigalpa, Honduras, president of Caritas Internationalis, and was president of the Latin American Episcopal Conference from 1995 to 1999.
The 73-year-old cardinal has become friends with faculty and staff at the Athenaeum — visiting  several times over the past decade as he helped establish a seminarian exchange program between Mount St. Mary's and the Archdiocese of Tegucigalpa.
For more information, visit www.athenaeum.edu or call 513-231-2223.
Posted March 1, 2015