After nearly 15 years as M.C., Deacon Francis Wagner retires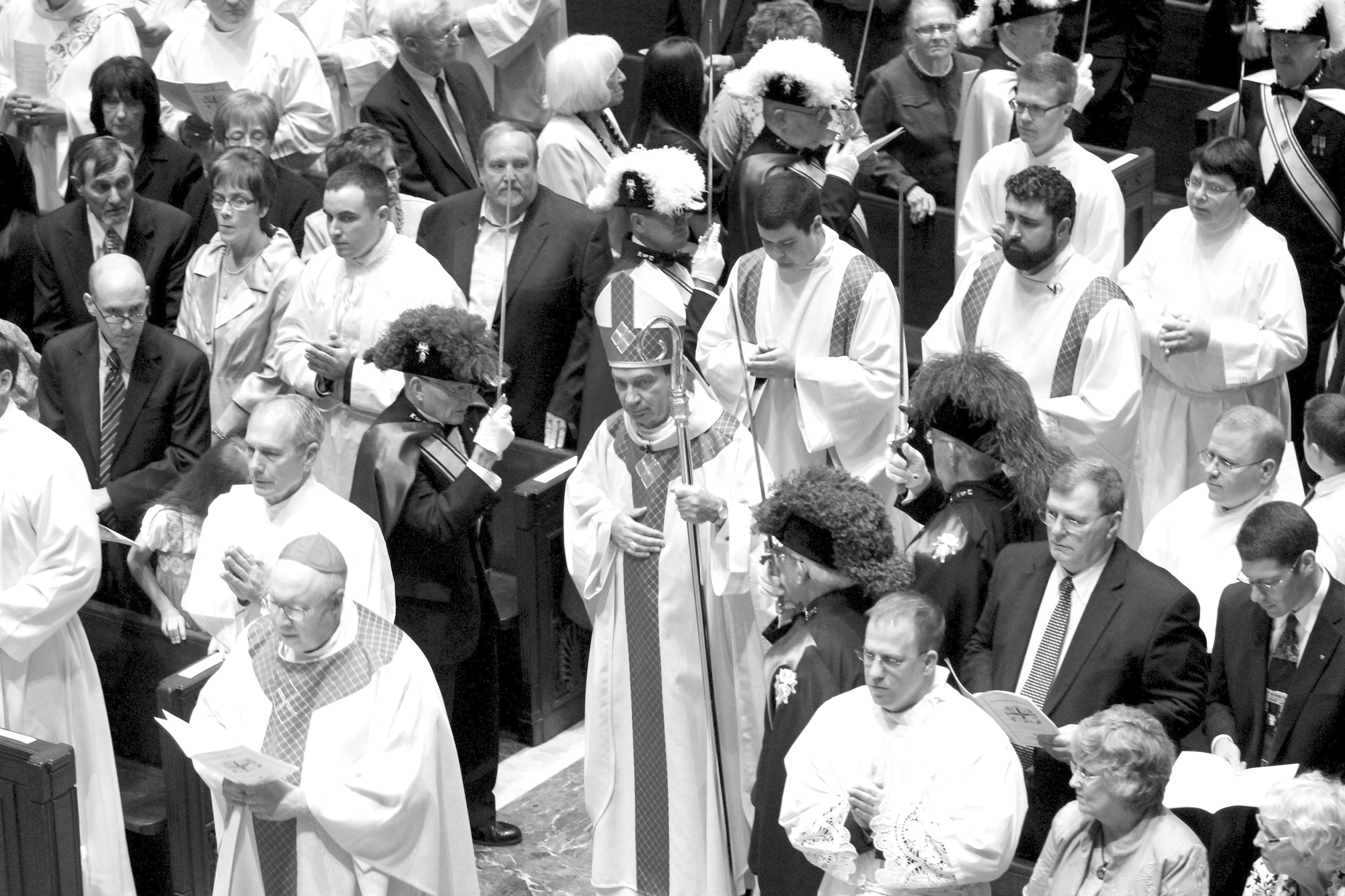 "Traffic cop" lays down his badge
By Gail Finke
Francis Wagner never expected to be a deacon, much less the Master of Ceremonies for two archbishops. 
A graduate of Holy Family and Elder schools, he went on to Xavier University, Harvard (where he earned a degree in Russian economics) and Indiana University (another degree, this time in urban economics). He spent five years at Arthur Anderson in Chicago before returning to Cincinnati for what he thought would be a short-term job with the city. Instead, three decades in urban finance led him to numerous high-profile positions, including Income Tax Commissioner, Director of Purchasing, and City Treasurer. 
For most people, that would have been enough public service for a lifetime.
But a brochure from the seminary, and a push from his wife, led the man who likes to think of himself as "basically a bookkeeper" to pursue ordination as a permanent deacon. And that led to 15 years of helping archbishops and bishops celebrate Mass across the archdiocese.
At first, he said, he worked at the city while serving at Masses, baptizing, celebrating weddings and funerals, and helping with annulment cases at St. Michael Parish. Then, in 2003, Archbishop Daniel E. Pilarczyk called.
"I'd only been ordained for a few months," he said. "He asked me to be his Master of Ceremonies, and to eventually be his administrative assistant. I retired from the city after almost 33 years and told the city manager I was going to work for a higher power."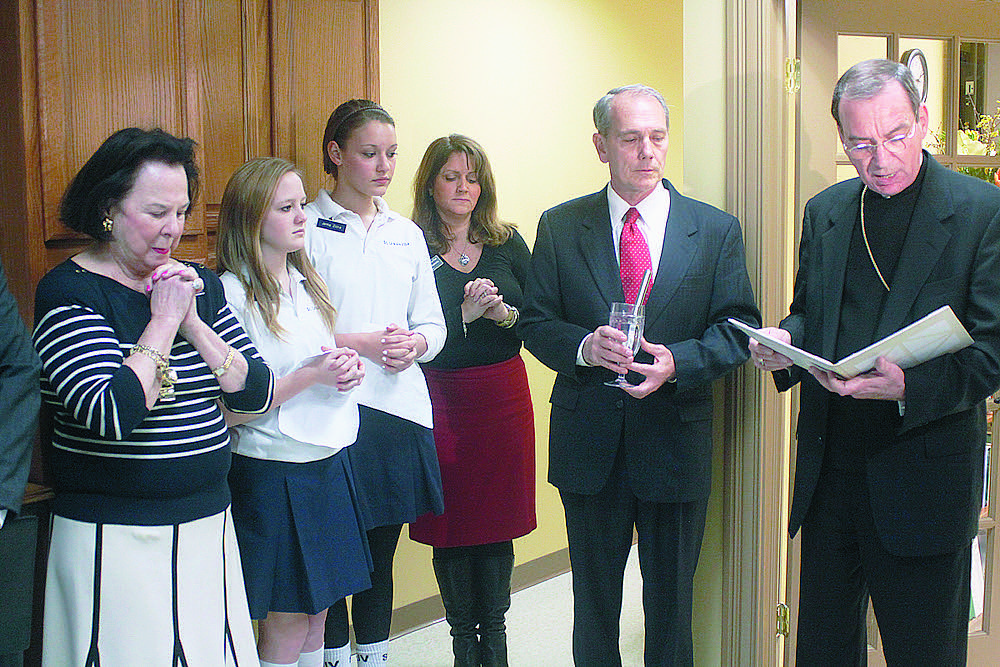 Although he never did become the archbishop's administrative assistant, Deacon Wagner said, he has been called on for many special projects over the years, from helping to select a healthcare plan for employees and a payroll system to serving on search committees. "To me, that was fun," he said. "Requesting RPFs for systems, evaluating and selecting them, hiring, motivating – that wasn't work. I enjoyed all of it."
 The real work, he said, was helping with Masses and other liturgies. In a typical year, the archbishop and bishop each attend 60 or more confirmation Masses, as well as parish anniversary Masses, funeral Masses, school Masses, and a variety of other celebrations. While Mass with a bishop isn't much different from a typical Mass, it's different enough that most priests and servers need help with where to stand and sit, what to do with the mitre and crozier, and a number of other details.
 An M.C.'s job, Deacon Wagner explained, is to "make the archbishop look good when he is celebrating Mass, and make the people feel good when their shepherd is with them celebrating Mass.
 "Archbishop Pilarczyk said the M.C. is the traffic cop, and that's exactly what it is. You tell people what to do, when to do it, and where to go." Sometimes those people are young servers, who are terrified that they will make a mistake in front of the whole parish. And sometimes they are experienced priests who are used to celebrating Mass, not concelebrating with a bishop.
At a recent funeral, for instance, "had 16 priests, all of them used to being the celebrant," he said. "So I had to tell each of them where to go and designate someone to distribute the Precious Blood. Priests are used to distributing the Body of Christ. They all have experience distributing the Precious Blood, but for some of them it hasn't been since their deacon days."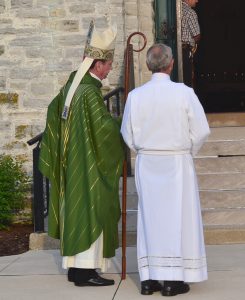 The job also requires diplomacy. Parishes request the archbishop or bishop as much as a year and a half in advance, he said, and are given planning sheets to fill out with the music and readings. Sometimes, they have to be reminded to return them. Sometimes, the plans have to be changed.
 "I have to make the suggestions in a way that doesn't offend anyone," Deacon Wagner said, whether that means moving hymns to before or after Mass, or completely changing plans. Either way, the M.C.'s job is to make the Mass appropriate to the occasion and the parish happy to have it that way.
Although Deacon Wagner is retiring, he's not about to stop working for the church. "They're exploring asking Rome to consider making the cathedral a basilica," he said. "So I'll be working on that and a few other projects. My wife, June, is very active at All Saints, so there are some projects out there for me too. And I'll be teaching a course for permanent deacons at the seminary."
He also plans to enjoy his Evendale home and his 52 nieces and nephews, and to swim with June in the Senior Olympics as well as accompany her when she competes in the upcoming Pan Am Games ("She's the athlete," he said, "I just swim") He's scheduling visits to the 10 remaining parishes in the archdiocese that he has never been to, so that he can be one of the few residents who have been to Mass at all of them.
 In his years with the archdiocese, Deacon Wagner said, he's come to see first-hand how hard the offices work for the people. "It's evident that the people feel we're doing something right," he said. "The mind-boggling enrollment expansion at the seminary, the archbishop's really clear effort to be out at high school and grade school Masses, the increase in religious vocations and religious orders requesting to move here all say that. I see it in people's faces at Mass – especially children's faces – their responsiveness during prayers and singing."
Though not the cause of any of those things, Deacon Wagner said he has been blessed to be part of them. "I like to say that I was a beer and pretzel kind of guy, and that my goal has been to become a cold beer and salted pretzel kind of guy," he said. "I hope that when I die, I'm able to convince St. Peter that I've played a little part in the Lord's plan for His kingdom."
Click here for our companion article about the new Master of Ceremonies,  Father Jason Williams, who will begin the position July 1.