Welcome to the job, Father Williams!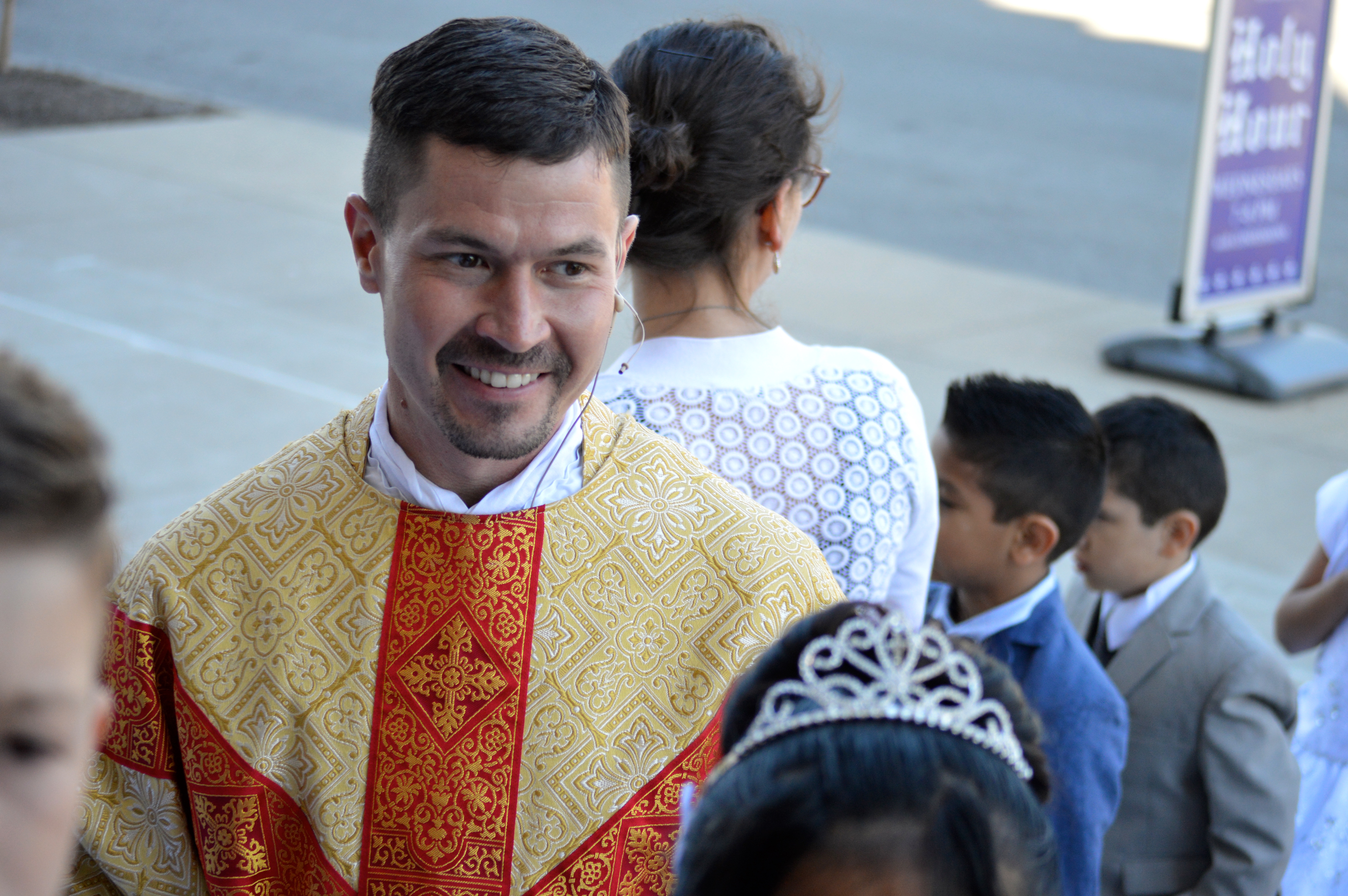 A shorter version of this article appeared in our print edition:
"Welcome to the job, Father Williams" – current M.C.s share thoughts
By Gail Finke
Father Jason Williams doesn't know what to expect when he becomes the next Master of Ceremonies for Archbishop Dennis M. Schnurr.
Ordained two years ago, the priest is still acting as parochial vicar for St. Cecilia, St. Margaret-St. John, and St. Anthony Parishes.  He will become the new M.C. on June 1  and will also join the formation team at Mount St. Mary's Seminary of the West. "I didn't know the position was open" when he got the call from the archbishop's office, he said. "I haven't had a lot of time to even talk about it yet."
Father Williams, who grew up in Massilon, Ohio (Diocese of Youngstown), and whose experience before ordination included six years as a Navy submarine reactor operator and several years with the Legionaries of Christ, said he will miss parish life. "I've loved it," he said. "It's going to be tough to leave, but I'm excited to visit so many places in the archdiocese, and about the chance to work with the archbishop, to get to know him and his vision for the archdiocese, and to help him as I can."
Deacon Francis Wagner, who is retiring as M.C. after 15 years, said the job is one of service. He advised that Father Williams to attend to the details, such as where the bishop he's working with likes to have things placed on the altar, and to remember that the job calls for diplomacy and discretion.
"Archbishop Pilarcyzk was an academic and, at the time I worked with him, the Chair of the Worship Commission for the United States Conference of Catholic Bishops. We would often eat dinner before Masses and solve all the problems of the archdiocese," he joked. "Archbishop Schnurr is an administrator, and Chair of Finance for the USCCB. He doesn't eat out much, because of food issues, but we talk about business. Whoever you're with, you need to respect their need for confidentiality."
Father Ryan Stenger, the current M.C. for Covington's Bishop Roger Foys, said that attention to detail, love for the liturgy, humility, and a sense of humor are the qualities a master of ceremonies needs.
"There are many details involved in the celebration of a pontifical liturgy and the master of ceremonies is ultimately responsible for all of them, even if he delegates the actual execution to others in certain cases, " said Father Stenger, who has acted as M.C. for Bishop Foys since 2016. "The master of ceremonies has to love the liturgy enough to take that responsibility seriously.  At the same time, I think it's important that he have humility and a sense of humor.  Things will inevitably go wrong–often in ways never before imagined–and he can't let that become a source of stress or anxiety, but instead he should trust that the Lord is pleased with our sincerity and effort and acknowledge that even the most perfectly celebrated liturgy still falls short of the glory due Him."
Father Stenger, who also has a number of other positions at the Diocese of Covington, suggested that Father Williams see the role of M.C. as a blessing. "A liturgy that is celebrated with dignity and beauty is able to raise our minds and hearts to God, so that we may be more closely united to Him," he said, and so being part of such liturgies means bringing others closer to God. 
Father Stenger's predecessor, Father Dan Schomaker, served as Bishop Foys's M.C. for eight years. "Whenever we do God's will through our obedience to our bishop, it's a blessing," he said, but Father Williams can also expect the special blessing of getting to know the archdiocese as few others do. "You have a unique perspective on the local church no other priest has. I have been to all the Covington parishes but two, and I know every priest."
Father Schomaker, who is now the diocese's vicar of episcopal celebrations and holds several other positions, as well as being a pastor, said the role of M.C. is pastoral, but in a different way from parish work. "One of the M.C.'s jobs is to bring forth the beauty the Roman liturgy has," he explained. "''Sacrosanctum concilium' said the Eucharist is 'the source and summit of our being,' and in a pontifical Mass people can experience the fullness of God's beatitude, as far as worship is concerned. It already exists – the M.C. doesn't make it happen – but it's his job to bring it forth."
In his 15 years as M.C., Deacon Wagner said he has visited all but 10 parishes in the Archdiocese of Cincinnati and has participated in blessings, anniversaries, funerals, weddings, and events of all sorts.
M.C.s, he said, are "workers in the vineyard." He would tell any M.C., what he plans to tell deacon candidates at the seminary next year: "They are being ordained for service. And when you're an M.C., that's service to the archbishop, and to the people of God."
What is a Master of Ceremonies?
The term "Master of Ceremonies," or M.C., originated in the Catholic church, and referred to an official who took care of Masses and other liturgies for the pope. Today, bishops have M.C.s, as do parishes that celebrate the Tridentine Latin Mass. The main role of the M.C. is to coordinate the priests, deacons, servers, and other people involved in a Mass or other liturgy. An M.C. for a bishop or archbishop travels with him to liturgies outside the cathedral, goes over the plans for them beforehand, and works with the servers, priests, deacons, and other people participating in those liturgies on the day they occur.
For our story about Deacon Francis Wagner's 15 years as M.C., click here.