After papal request, Cuba makes Good Friday 2012 a national holiday
April 2, 2012
By Carol Glatz, Catholic News Service
VATICAN CITY (CNS) – The Vatican spokesman praised Cuba's decision to accept Pope Benedict XVI's request to make Good Friday a national holiday this year.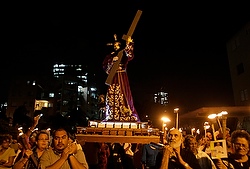 "It is certainly a very positive sign," Jesuit Father Federico Lombardi, the Vatican spokesman, said April 1.
Good Friday, the commemoration of Jesus' passion and death, falls on April 6 this year.
During the pope's private meeting with Cuban President Raul Castro in Havana March 27, the pope asked for further freedoms for the Catholic Church in the communist nation, including the declaration of Good Friday as a holiday.
The Cuban government accepted the proposal March 31 after the pope's March 29 return to the Vatican.
Father Lombardi said the Vatican hopes that the holiday will enable people to attend religious services and have "happy Easter celebrations."
The Vatican hopes Pope Benedict's March 26-28 visit to Cuba "continues to bring the desired fruits for the good of the church and all Cubans," the spokesman added.
Only Good Friday 2012 has been made a public holiday; the government hasn't decided whether it will become a permanent celebration, news reports said.
Blessed John Paul II's trip to Cuba in 1998 led to Cuba recognizing Christmas as a recurring public holiday.
Though the church estimates 60-70 percent of Cubans are Catholic, church officials estimate that only about 2.5 percent of Cuba's population of 11 million can be considered practicing Catholics today, a fraction of the proportion prior to the revolution, though it represents a significant rise since Pope John Paul's visit 14 years ago.