Property purchase paves way for church relocation
April 2, 2012
FRANKLIN —St. Mary Catholic Church in Franklin recently finalized the purchase of 17 acres of land on Yankee Road at Springs Blvd. in Springboro.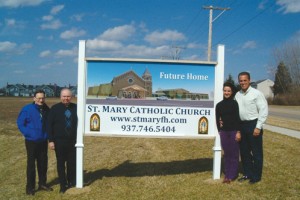 A sign was recently erected on the property to announce the future home for the church. The parish is currently involved in a capital campaign to fund the relocation and building of a new church and parish center.
The current church and facilities in Franklin have not been able to accommodate the growth of the parish in recent years. There are total of 910 parish families; more than 300 have joined the church since 2005. The parish conducted a study regarding relocation in 2009, and the majority of parishioners support the move to a new location in order to better serve the St. Mary community.
In relocating to Yankee Road and building a new church, St. Mary will have the necessary space to worship and welcome new members. In addition, a larger parish center will accommodate church activities and provide more classroom space for the religious education programs. The Yankee Road location also provides abundant off-street parking, beautiful grounds for outdoor celebrations and events and is more centrally located within the parish boundaries.