Archbishop Letter: CRS collection 'opportunity to help Jesus in disguise'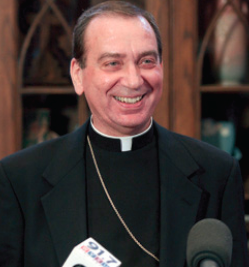 My Dear Friends in Christ,
Through humanitarian aid, resettling displaced individuals and families, and providing legal and advocacy services for migrants, the Catholic Relief Services Collection allows us to see every encounter with a person who is suffering as an opportunity to help Jesus in disguise.
In the Archdiocese of Cincinnati, this collection will occur the weekend of April 18 and 19. The Catholic Relief Services Collection funds six Catholic agencies that work to serve our suffering brothers and sisters around the world.
Evidence of how you help Jesus in disguise through the Catholic Relief Services Collection is the story of a man in West Darfur, Sudan, who fled from his home with his family because of violence in the region. In a new town, the family found refuge in a compound filled with other displaced families. They lived for two years in a makeshift shelter of cardboard, sticks, and plastic. Some fathers slept outside in order to make room for their families inside. The living conditions were unsanitary and degrading. Many children became sick.
In response, Catholic Relief Services (CRS) worked with local authorities to relocate these families, numbering more than 2,300 people. CRS staff provided plans for simple houses, with frames that could be collapsed. The families contributed labor and local materials. Together with CRS staff, they built clean and spacious dwellings, which have dramatically changed their quality of life. When the families return to their villages one day, they plan to take their new houses with them.
In addition to supporting Catholic Relief Services, the collection also will
• Feed Jesus' hunger in suffering refugees through the USCCB Department
of Migration and Refugee Services (MRS).
• Offer legal assistance to Jesus in struggling immigrants through the Catholic
Legal Immigration Network, Inc. (CLINIC).
• Reach out to comfort Jesus' loneliness in isolated workers through the
pastoral work of the USCCB Secretariat for Cultural Diversity in
the Church.
• Advocate on behalf of Jesus in the poor and abandoned through the
public policy work of the USCCB Department of Justice, Peace, and
Human Development.
• Send aid to Jesus in the victims of natural disaster through the Holy Father's
Relief Fund.
For more information on the Catholic Relief Services Collection and the organizations it supports please visit www.usccb.org.
You have my deepest gratitude for your generous support for this critical, global solidarity effort, which helps Jesus in disguise.
Sincerely yours in Christ,
Most Rev. Dennis M. Schnurr
Archbishop of Cincinnati
—–
This letter appeared in the April 2015 print edition of The Catholic Telegraph.