Editor's Note: The call to have a missionary spirit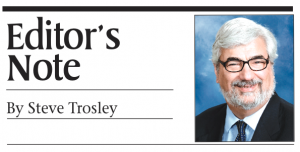 Cardinal Óscar Andrés Rodríguez Maradiaga SDB delivered the LeBlond Lecture March 11 at the Athenaeum.
The St. Gregory the Great Chapel was packed like an Easter Vigil Mass, and not just with seminarians, although they were everywhere in that growing place. As you will see elsewhere in this edition, the cardinal spoke of many things, including his shared belief with Pope Francis that Catholics need a missionary spirit.
The Archbishop of Tegucigalpa, Honduras, knows the poor well as his country has them in surplus. And his advocacy for them is well known, as he is a regular visitor to Cincinnati. (Our Mission Office also sends missioners to that country fairly regularly and our regular readers may recall our Sister Eileen Connelly's reports on past visits.)
In discussing the "recipe" for Pope Francis' vision for the church, Cardinal Rodriguez emphasized working for the poor – "not poverty" – picking up on a theme that has marked the first two years of the current Holy Father's reign. That is, that he expects us to get down with those in need and lift them up as opposed to reaching down to them to give them a hand. It's a subtle difference but important if you give it some thought. (And what better time to give it some thought than Holy Week?)
To illustrate his advocacy for a missionary spirit, he offered a little parable: St. Paul was not feeling well so he went to the cardiologist. The doctor put the stethoscope to St. Paul's chest and, instead of thump-thump, thump-thump, he heard this coming from St. Paul's missionary heart: "Preach the Gospel!"
The cardinal went on to say that Paul traveled more than 30,000 kilometers to preach the Gospel, so hearty was his missionary spirit. Much of that had to be traveled on foot.
My experience with that part of the world is limited to Israel and Jordan but most of the area around the Mediterranean is difficult to travel even now. I can't even imagine how it must have been then. The region is rocky. You can't walk more than 50 yards in a straight line without having to go over or around a boulder of some sort.
Flat is also difficult to come by. When we walked from the Mount of Olives to Gethsemane, the roadway was steep and winding. It was downhill all the way but having surrendered my knee cartilage to the surgeon's scalpel in 1968, this pilgrim's need to suffer was realized.
I suspect St. Paul was in much better shape than I when he roamed the Mediterranean world, but he certainly must have had a noble, spiritually driven missionary heart to cover 30,000 kilometers.
It's all rather miraculous when you think about it, the world's great religion spread by a couple dozen people, mostly on foot, in a time before Facebook or Fords.
_______________________
We heard from many readers who were concerned that there was some design in not having the obituary of founding right-to-life advocate Dr. John (Jack) Willke in our March edition.
One caller even suggested that perhaps Dr. Willke was on the "outs" with Archbishop Dennis M. Schnurr – or that we had made an unforgiveable error of omission. First, our archbishop is not given to snubs.
Secondly, although February is a short month, the USPS still requires a minimum number of days to process and deliver.
We were able to post Dr. Willke's obituary and bio on our website, www.thecatholictelegraph.com, immediately upon learning of his passing. Dr. Willke's story is in this edition of The Catholic Telegraph for those readers who prefer a printed version.
This Editor's Note column by Steve Trosley originally appeared in the April 2015 print edition of The Catholic Telegraph.