Archbishop Schnurr answers questions from Catholic high school students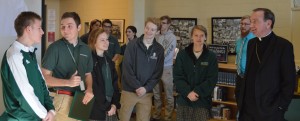 Archbishop Dennis M. Schnurr spent more than an hour Monday answering questions from high school students from throughout the archdiocese to kick off Catholic Schools Week 2017.
Students from 15 Catholic high schools had the opportunity to participate in the teleconference, which was broadcast from McNicholas High School in Cincinnati. Through teleconferencing, the archbishop was able to see and hear the students from other high schools as they asked questions and listened to his answers.
Before the start of the teleconference, Archbishop Schnurr told the students that the theme chosen by Pope Francis for the XV General Assembly of the Ordinary Synod of Bishops taking place in October 2018 will be "Young people, faith and vocational discernment."
"The Holy Father doesn't just want to talk about young people, but to hear from them," Archbishop Schnurr said. "Young people are not the church of the future. You have a lot to offer the church and this country now. We want the church universal to hear your voices in the months ahead."
The first question, posed by an Alter High School student, dealt with the church's stance on immigration, which begins, said Archbishop Schnurr with "the dignity of all human persons. We recognize that every person has the right to life, liberty and the pursuit of happiness. We also recognize that every country has the right to its own boundaries."
The archbishop emphasized that it has much to do with how the term "refugee" is used. "If human dignity is being threatened, if someone is truly fleeing for his or her life, in those situations, we do everything we can do assist them to secure their lives and the lives of those dear to them."
Students from Bishop Fenwick High School were also interested in the topping of immigration, asking how we can "feed the hungry, and clothe the naked?"
Archbishop Schnurr praised the efforts of Catholic Charities Refugee Resettlement Program in this regard, along with expressing gratitude for the generosity of archdiocesan parishes and schools. "I'm very grateful to all those in the archdiocese who reach out to those who are most in need," he said.
The archbishop also noted the lobbying efforts of the United States Conference of Catholic Bishops on Capitol Hill, saying, "We want to a be a voice for the voiceless."
A Carroll High School asked, "How do we be pro-life, but also pro-justice?"
"There's not a conflict," Archbishop Schnurr responded. "Justice is served when we recognize the dignity of every human person. We're never going to have the justice that God intended until we recognize the dignity of every human person, even if we disagree with them."
"What is your biggest challenge as archbishop?" asked a student from Lehman Catholic High School.
"Helping our people understand that the teachings of Christ are there to bring us fulfillment and joy," Archbishop Schnurr responded. "As I go around the archdiocese, I hear from people 'we would really like to have a better understanding of our faith."
"We're making progress," the archbishop said, "but we really need to find programs that reach all people."
Questions from Mother of Mercy and Seton High Schools dealt with how young people can respond to situations of hatred, intolerance and violence. Archbishop Schnurr emphasized treating others with dignity and respect, while also noting that, "you don't have to agree on every issue, but remember that everyone is created in the image and likeness of God. We are called to love God and love neighbor."
"We have to be very careful that we don't spew hatred," he added. "We're not going to conquer hatred with more hatred. We'll conquer hatred with love."
Mount Notre Dame students ask for advice regarding how young people can stay engaged in parish life. In response, Archbishop Schnurr noted the responsibility of parishes and pastors to provide programs that are "open and inviting to young people."
"Every parish has a parish council. Why not invite young people to sit in and have a role in how programs are shaped," he said. "We are reorganizing youth ministry programs at the archdiocesan level. I hope we can tap into your energy and enthusiasm for the faith."