Archbishop Schnurr calls for special collection for super Typhoon Haiyan victims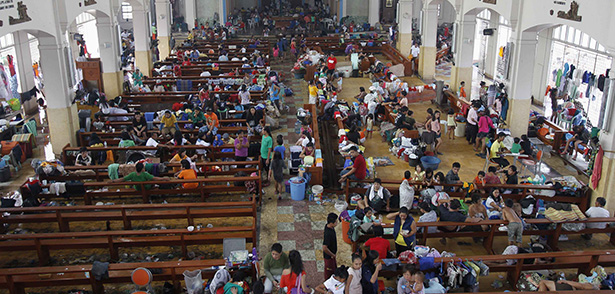 Staff Report
Cincinnati Archbishop Dennis M. Schnurr has asked parishes of the Archdiocese of Cincinnati to consider taking a second collection either this upcoming weekend, Nov. 16-17, or the weekend of Nov. 30–Dec.1 to respond to the devastation wrought by Super Typhoon Haiyan in the Philippines and Vietnam.
Thousands of people are feared dead, and 9 million have been affected.
"As we keep all of the people impacted by this tragedy in our prayers, particularly those who may be family members and friends of your own parishioners," Archbishop Schnurr wrote in a letter to pastors. "I ask that you also pray for Father Harold Geers, OFM, Father Ken Hendricks and Father Hilaire Valiquette, OFM, three missionaries from our own archdiocese living there."
The funds from this special collection will be used to support the efforts of the United States Conference of Catholic Bishops (USCCB) and Catholic Relief Services (CRS) as they respond to immediate emergency needs for such necessities as water, food, shelter and medical care and assist in the long-term recovery from the disaster. CRS is already on the ground mobilizing relief efforts Collected funds also will be used to support the long-term need to rebuild the Church after widespread destruction.
"My thanks in advance to all of your parishioners for their concern for the victims of this natural disaster and for their outstanding generosity," wrote Archbishop Schnurr, who is attending the USCCB's annual fall meeting in Baltimore. "May our support and prayers give some comfort and hope to those so greatly in need."
Below is the complete text of the archbishop's letter to pastors.
"Cardinal Timothy Dolan has asked that Catholics throughout our country support the recovery efforts taking place in the Philippines and Vietnam in the wake of devastation wrought by Super Typhoon Haiyan.  Thousands of our brothers and sisters are feared dead, and 9 million have been affected.  As we keep all of the people impacted by this tragedy in our prayers, particularly those who may be family members and friends of your own parishioners, I ask that you also pray for Father Harold Geers, OFM, Father Ken Hendricks and Father Hilaire Valiquette, OFM, three missionaries from our own archdiocese living there.

I am asking that parishes in the Archdiocese of Cincinnati consider taking a second collection either this upcoming weekend, November 16-17, or the weekend of November 30-December 1. 

The funds from this special collection will be used to support the efforts of the United States Conference of Catholic Bishops and Catholic Relief Services (our official international humanitarian agency representing the U.S. Catholic Church) as we respond to immediate emergency needs for such necessities as water, food, shelter and medical care and assist in the long-term recovery from the disaster. Collection funds will also be used to support the long-term need to rebuild the Church after widespread destruction.  CRS is already on the ground mobilizing relief efforts, and I encourage you to direct your parishioners to the agency's website at www.crs.org to stay informed about their ongoing work.

Please forward all proceeds from this special collection as soon as possible to the Archdiocesan Finance Office, and indicate that they are for "Philippines Relief."  Everything that is submitted to this fund will be forwarded to the U.S. Conference of Catholic Bishops for their intended purpose.

Please note that the designated collection for the Catholic Campaign for Human Development is scheduled to take place November 23-24.  This Collection is vitally important for our ability to fight the roots of poverty in the United States and here in the Archdiocese, and I ask you not to substitute one collection for the other.

My thanks in advance to all of your parishioners for their concern for the victims of this natural disaster and for their outstanding generosity.  May our support and prayers give some comfort and hope to those so greatly in need.

Sincerely in Christ,
Most Reverend Dennis M. Schnurr
Archbishop of Cincinnati"