Archbishop Schnurr welcomes election of Pope Francis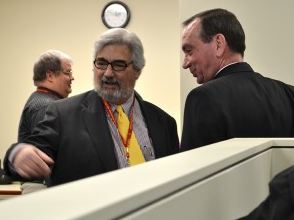 Press Release
Most Reverend Dennis M. Schnurr, Archbishop of Cincinnati, made the following comments about the election of the Pope Francis:
Read More:
Habemus papam: We have a pope
Argentina's Cardinal Bergoglio elected pope, chooses Francis
"We have a Pope! With Catholics and all people of good will I greet with joy the news that the Chair of Peter is no longer vacant.
"Inspired by the Holy Spirit and supported by the prayers of the faithful, the cardinal electors have chosen the right man to lead the church as Chief Shepherd at this point in history. Like St. Peter and all of his successors, the new Holy Father faces great challenges but also great opportunities to "go and make disciples of all nations" (Matthew 28:19).
"We pray for the new Pope, that God will continue to grant him wisdom, courage, and strength."
Archbishop Schnurr held a news conference at 4 p.m. Wednesday at the Cathedral of St. Peter in Chains Synod Hall.
The Archdiocese of Cincinnati will celebrate the election of the new Pope with a Mass at St. Peter in Chains Cathedral (downtown Cincinnati) at 5:15 p.m. Tuesday, March 19. Auxiliary Bishop Joseph Binzer will preside at the Mass.
The Roman Catholic Archdiocese of Cincinnati is the 38th largest Catholic diocese in the country, with almost 500,000 Catholics, and has the sixth largest network of Catholic schools in terms of enrollment. The 19-county territory includes 214 parishes and 114 Catholic primary and secondary schools.