Archbishop Timothy Broglio Featured Speaker at La Salle Veteran Appreciation Day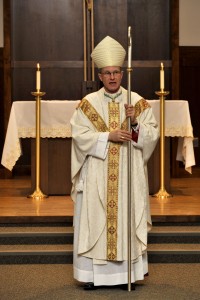 On February 15, 2017 La Salle High School will host their annual Veteran Appreciation Day featuring guest speaker Archbishop Timothy Broglio, Archbishop of Military Services.
"We are excited to have such a high profile guest speaker at our Veteran Appreciation Day," says Matt Dierkers, Director of Advancement at La Salle. "Each year the La Salle Veteran Appreciation Day Committee searches for a guest speaker that encompasses our Lasallian Catholic identity while honoring the service of military veterans. As a man that has dedicated his life to Catholic beliefs and serves our country, it is an honor that Archbishop Broglio will be the guest speaker this year."
Archbishop Timothy P. Broglio was born in 1951 in Cleveland Heights, Ohio. He attended St. Ann Elementary School, Cleveland Heights and St. Ignatius High School, Cleveland, Ohio. He earned a Bachelor of Arts in Classics at Boston College, an S.T.B. in Theology and a Doctorate in Canon Law from the Pontifical Gregorian University, Rome. On November 19, 2007 Archbishop Broglio was named the fourth Archbishop of the Military Services, USA, and installed on January 25, 2008, the feast of the Conversion of St. Paul.
Additionally, members from the Archdiocese of Cincinnati will attend, including La Salle alum Bishop Joe Binzer '73.
Special to this years' ceremony will be a recognition of all Vietnam Veterans. As part of the ceremonies, anyone that served "in theatre" or "in supportive roles" during the Vietnam War era will receive special recognition for their service with a commemorative Vietnam Veteran lapel pin, authorized by the United States government.
"These men and women served our country during a time of extreme conflict." Says Tim Waechter, Chairman of Veteran Appreciation Day Committee and Vietnam Veteran. "They did not receive the recognition of the service to their country when they returned from Vietnam. We, the committee, feel that they deserve to receive special recognition for their service and dedication to our country and was the sole reason behind pursuing this special recognition through our government."
According to the Vietnam Veteran Commemoration website, the commemorative lapel pin is "a lasting memento of the nation's thanks." To date, La Salle is the only local high school to apply for and receive approval of the United States Government to award this commemorative pin.
La Salle's Veteran Appreciation Committee invites ALL veterans to attend the Veteran Appreciation Day. The day includes a social hour, the assembly, and lunch and is free to all veterans regardless if you are a La Salle graduate. To register for the event, please go to www.lasallehs.net/2017vad or call Lea Wiesman at 513-741-2389 or email her at [email protected]
La Salle is located at 3091 North Bend Road in Green Township and has served students from the Greater Cincinnati area since 1960. The school website is www.lasallehs.net.

MISSION: As a Catholic School in the Lasallian tradition, La Salle High School prepares young men to achieve their full potential in body, mind and spirit.

VISION: Students will be guided to live as disciples of Jesus Christ.